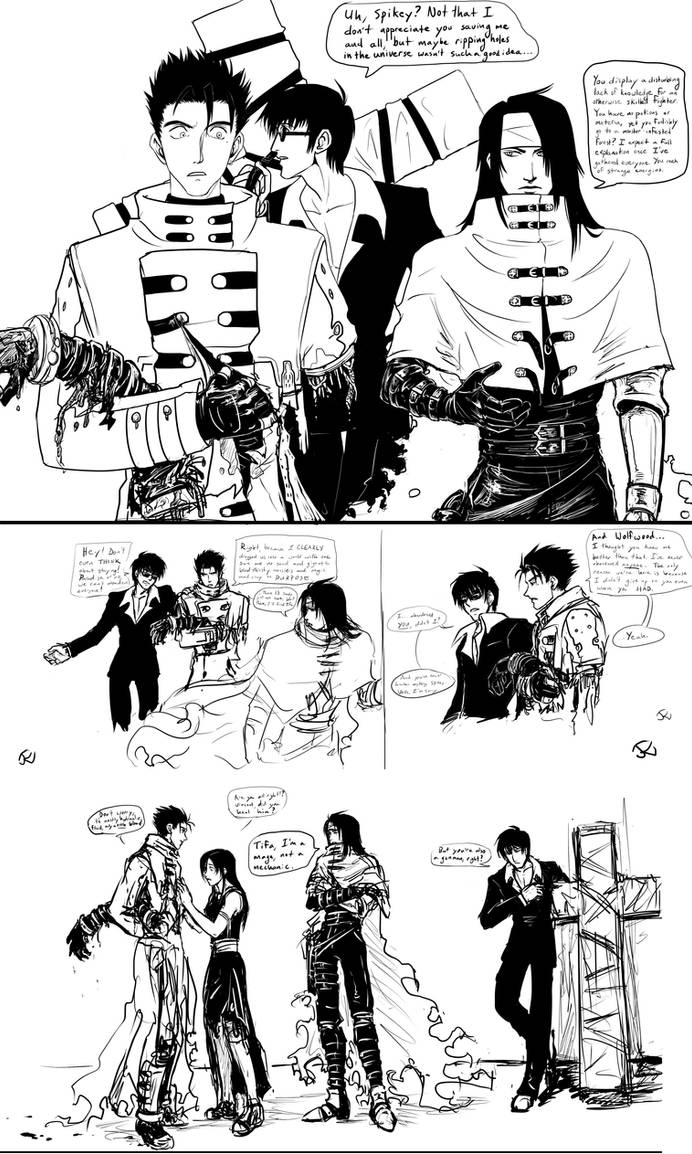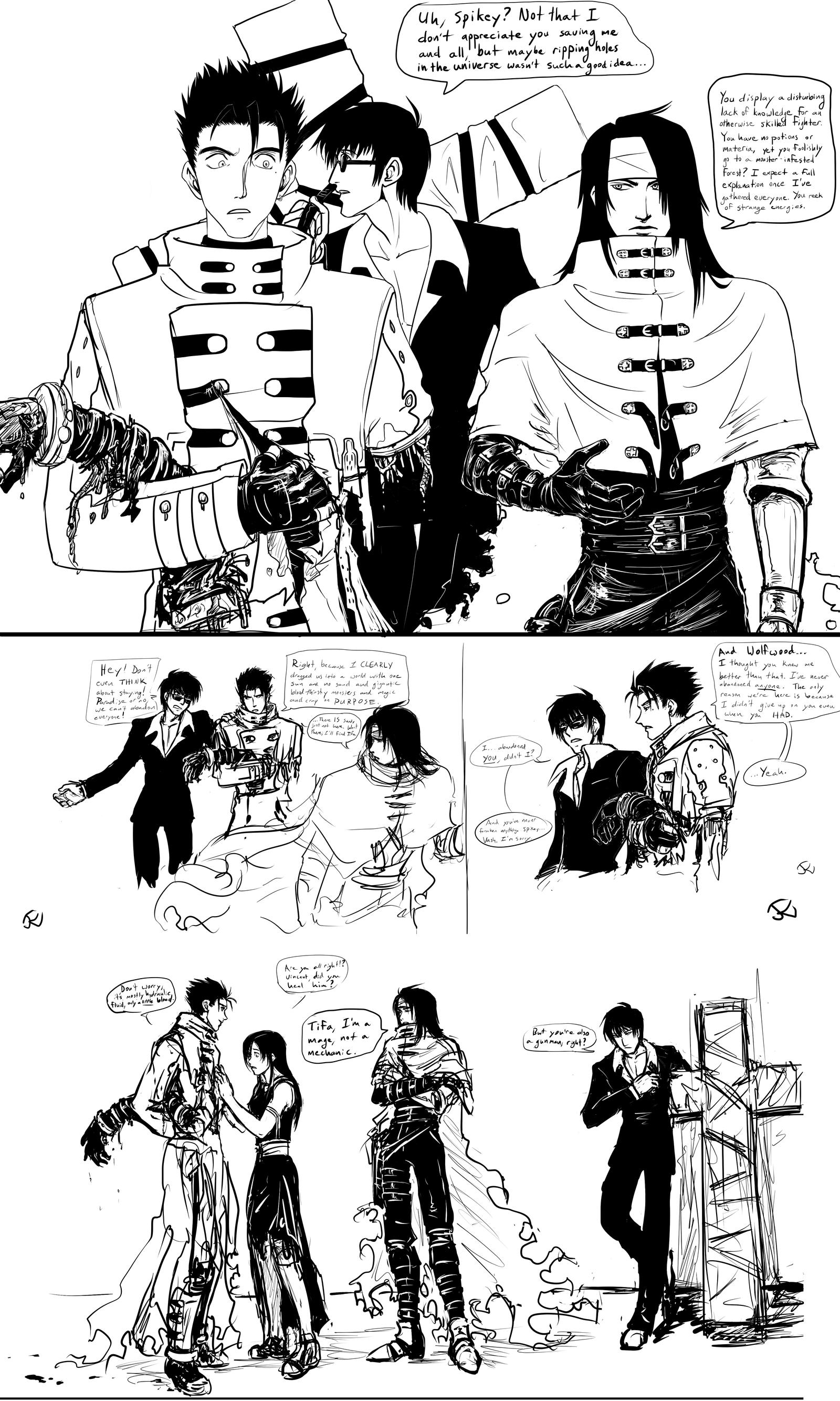 Watch
Colored version of the top panel:
[link]
Well, Second Chance turned into a crossover suddenly.
More pictures and a synopsis can be found here:
[link]
This is based on my Second Chance timeline, which is based on the Trigun Maximum manga. That's why Vash's hair is black. If you haven't read the manga (you poor thing!), I highly suggest you do so. The anime is a candle to the sun in comparison to the manga. The anime was good, but it's simply outclassed by its source material. The original wins, in this case.
I'm going to redo these, most likely, as there are elements in the synopsis that I hadn't yet incorporated when these were drawn.
Vincent Valentine leads a confused Vash the Stampede and Nicholas D. Wolfwood out of the Forgotten City after he found them while investigating the strange energy spike caused by their arrival. Getting ambushed by Vlakorados certainly isn't high on Vincent's list of favorite pastimes, but the encounter just beyond Bone Village is a good chance for him to learn about these newcomers through observation. Cid dropped Vincent off in the area, and they are on their way to meet him. From there, they will head for Edge. Vincent normally wouldn't waste energy on random strangers, but he can sense that something about Vash is distinctly OFF.

The way you draw Vash is amazing, I love it!
Reply

Thank you! I'm rather proud, since it's taken a lot of work to be able to draw him like this consistently.
Reply

For some reason, I keep laughing over "Tifa, I'm a mage, not a mechanic."
Reply

Well, Vincent has to remind them once in a while that he's not JUST a gunslinger/rage monster berserker. His magic stat was fantastic, but most people just remember the monsters and his broken ultimate weapon. Which reminds me, I wonder if Dirge of Cerberus made an intentional callback to that glitch. In the original game, Death Penalty (his ultimate gun) did damage based on the number of enemies he's killed. People exploited a number overflow math error where if you kill enough enemies, the damage number loops back around into the negative numbers, which kills everything in one hit (even Emerald Weapon!). In Dirge of Cerberus, you get Death Penalty in the final chapter, and it also kills everything but the boss in one shot!
Reply

"I'm a mage, not a mechanic" haha
Reply
As messy as better. I really like your sketches. You know, it got feelings. You're a passionate artist, and that's the thing I like the most when it comes to your work.

Congrats and never stop. You're a Genius (I mean, in a good way).
Reply

Oh, thank you! It's good to know, because I always wonder how the unpolished look affects my art. I'm glad you find it appealing, since trying to draw in a cleaner style isn't anywhere near as much fun!

<3
Reply

Reply

LOL this project looks awesome - love how vincent is all like "...im a MAGE, not a mechanic." rofl
Reply

Thank you! Yeah, Vincent needs to remind folks now and then that he's not JUST a gunslinger/rage monster berserker.
Reply

ptheh yeah - not to mention master strategist - vincent can pack a punch too without his guns or transforming - people tend to forget these things, so sad cause its part of his character
Reply

I LOOOVE THE WAY YOU DRAW, its excellent! the postures, expressions, everything!
Reply

This project looks amazing!!!
Wow.
I can't wait to read the whole thing!!!
Reply

Sorry for the late reply, but thank you! I'm glad this project is the one that finally succeeded!
Reply