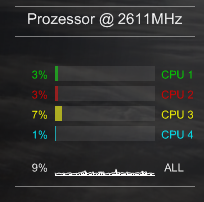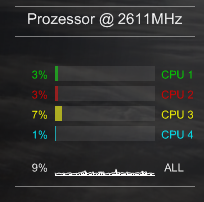 Watch
Here I have realised my "Beta-Version" of this CPU-Meter.
It's not finished yet but could be still something that some others search right now.
I got 4 different Bars with different colors for every CPU 1-4 and finally one Graph-Bar for the Full-CPU-Load.
My next step will be to get a different look. I got a lot of time right now

so lets wait untill i've done it.
EDIT 09.08.2011
I just saw that I typed "CPU 2" on the 4th CPU. Just fixed that right now and uploaded the new files.
For those that allready loaded this ... just oben the .ini and change under the Topic "CPU 4 Info" the value of the "text="CPU 2" up to "CPU 4"

sry 4 that guys just didn't see this because I got not much time when I released it.

What I also forgot to say is that the 5th Graph just takes all values of every CPU 1-4 and divides it by 4 to get an average value of the combined CPU-Load