Hello.
It's been a long time since I've talked to you lot, but I really need help again and I did try, but now it's time I looked outside myself.
I turned off my internet, exited a whole bunch of programs to get this large fractal rendered. 9400x6500 and after waiting up for over 6 hours so I could post it to a few places, I get an error message that said that the space I was saving it too was too small, but all I get is the option to try again or cancel without being given a chance to pick a new location. Now in defense of my first location I set it to, it had over 800 gigs of space, so I know this fractal was nowhere close to filling that up. Here is the readout I got.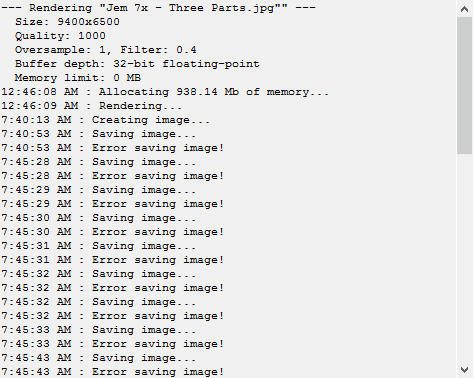 I'm not prepared to do it again, so soon, but I do need this fractal rendered. Is there anyone here willing to render this fractal for me? Anyone? If you can, please note me. If you have a clue as to why I'm getting this message please leave a comment below.
Oh. Specks on my system.