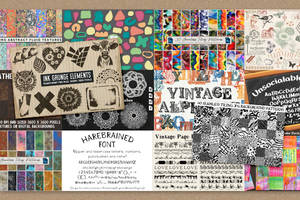 HG Designs Subscriber Area
Lots of high resolution goodies for graphic design including textures, photoshop brushes, seamless patterns and more.
---

Description
First try at making a non-pixelfont! And damn, it was hard. I made the letters in illustrator but for some stupid reason I couldn't copy
them into font creator without losing vectorpoints...
So, it didn't turn out quite the way I planned, but well

hope you enjoy it anyways.
To download press the 'download to desktop' button.
Please fav if you download and give credit if you use!
EDIT
The downloadable file now also contains
Spinach Outline.ttf
!
More Jelloween fonts...
S P I N A C H .ttf
by T. Koster
---------------------------------------------------------------------------------
Spinach Freeware font was completed, and made available for
download on 09/04/2006.
Even though I make this font available as freeware for personal use,
it may NOT be re-distributed on any media, it may not be sold, it
may not be renamed or converted and it may not be made available
for download on any web page/ftp site without my permission.
E-mail me and ask for my permission. I will more than likely give
it to you. If you want to use it commercially, contact me first.
jelloween@hotmail.com
[link]
I shall, in no event, be liable for any damages arising out of use
of this font.
E N J O Y !!!
---------------------------------------------------------------------------------