Deviation Actions
Daily Deviation
June 17, 2008
*
jelloween
brings us another fun font! Font: PUPPETEER - free is a grungy blackletter font that will add instant charm to any project. The little grunge details makes it stand out from other blackletter fonts.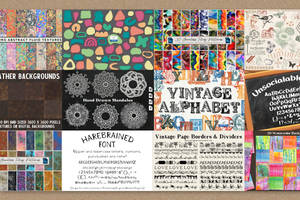 HG Designs Subscriber Area
Lots of high resolution goodies for graphic design including textures, photoshop brushes, seamless patterns and more.
---

Description
Just a quick grungy blackletter font, while I'm waiting for my superduperslow teachers to review my Master's Thesis...
It's lowercase only, BUT lowercase and uppercase letters have different patterns so you can mix and combine 'em to avoid repeating letters. HOORAY!

Read the included README file to learn what you may and may not do with it.
Favourites and comments if you download or like it are VERY VERY (did I say VERY yet?) VERY much appreciated!
And of course, give proper credit if you use it anywhere public...
Btw, the preview pic was made using the awesome old poster tutorial from
[link]

Copyright (c) 2008 by Tjarda Koster. Some rights reserved. This work is licensed under a Creative Commons Attribution-Noncommercial-No Derivative Works 3.0 License.