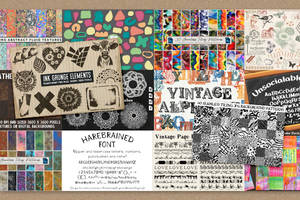 HG Designs Subscriber Area
Lots of high resolution goodies for graphic design including textures, photoshop brushes, seamless patterns and more.
---

Description
Blinkie 10
is the first pixelfont I have made since a very long time. It contains many, many accented characters and symbols to suit a wide range of languages.
Use at (a multiple of) 10pt with anti-aliasing turned off.
As far as I know, Blinkie 10 works in flash.
not-so-SMALLPRINT
Give proper credit if you use. A comment or

if you download it would be appreciated. Me likes to know where my fonts go

More Jelloween fonts...
Blinkie 10 is Copyright (c) 2007 by and a Trademark (tm) of Tjarda Koster