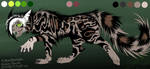 I doubt I will ever draw this kitty again.
I cannot connect with her anymore....
If you want you can have her.
I'm open for offers as I'm not sure how much characters go these days.
We can have an auction as well.
I think not drawing her and just ditching her completely would be a waste of my effort in the past so maybe find a new home would be better thing to do.