Journal Entry:
Thu Jan 5, 2012, 3:30 PM
Hi friends,
After one year of caricatures, it is time for me to thank all of you for your great support and kind words throughout this year. It has really been amazing to have such a cool feedback from you guys.
Thank you very much everybody !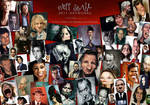 And remember that you can find exclusive artworks on my Facebook page. Come say hi !

www.facebook.com/JFStahl
Best wishes to you all !
Jeff Stahl
Journal Entry:
Tue Jan 25, 2011, 4:42 PM
Feel free to check the tabs above to follow me on Facebook, on my blog, or on my music page. Hope to see you there !