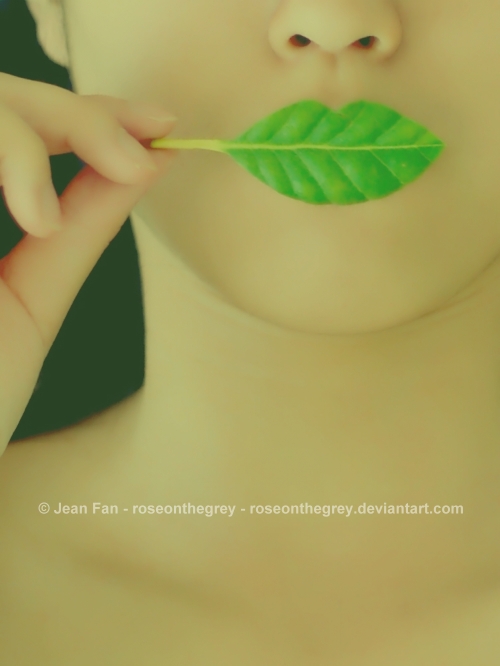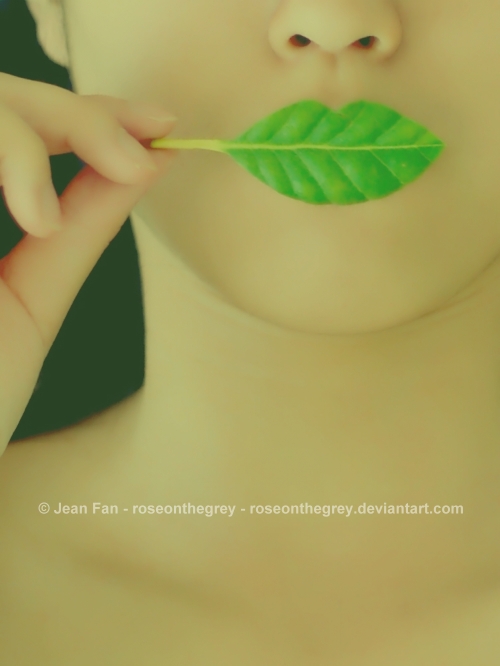 | JFotography | Facebook | Tutorials | Stocks | Actions/Scripts |
---

Tutorials and Resources
- DIY backdrops:
[link]
- Take self-portraits:
[link]
Materials and Methods
Nikon D80 + 50mm F1.8 + IR remote. Leaf cut into the shape of a lip. Lighting used to accentuate the curves of the leaf to prevent it from looking flat. Color balancing in post editing to make everything more green. Noise reduction due to ISO 1600. Decreased contrast for faded look.
Additional Comments
I always imaged Mother Nature as an elf

---
This photo is protected under a Creative Commons Attribution-Noncommercial-No Derivative Works 3.0 License. Licenses for commercial and derivative use of this photo are available for purchase. Please contact me if interested. Under the Creative Commons license, this photo may be displayed on other websites as long as:
1. Credit is given in writing stating "Photo by Jean Fan (JFotography)"
2. A link is provided back to the original photo or JFotography.net
3. All other conditions under the Creative Commons license are met
Any use of this photo other than as authorized under this Creative Commons license or copyright law is prohibited.