Since i bought my first computer a long time ago i´ve been working digital. Vectors have been the perfect way to express myself, and I have loved every second of it.
But now. I have lost it. I keep staring at my computer but nothing happens. Six months ago I bought a brand new Wacom Cintiq 21 but it´s just collecting dust at my desk. I bought new softwares and thought that would take me out of my creative block. It usually do. But I have´nt even opened Painter 12 and CS5 just did not feel all that new and inspirational that I had hoped.
I have to attack the problem from a different angel so from now on I have turned my computer off and started to work with, pens, markers and just about anything thats just not digital. And it feels kind of great that every stroke counts and every colour I choose, I have too live with until the picture is done or I throw it away. Of course, in the end, the result is a lot more difficult to get exactly as I want it. But who cares about that when everything just feels fun again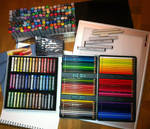 And just for the record. I´m not leaving digital art for good, I just need a break.