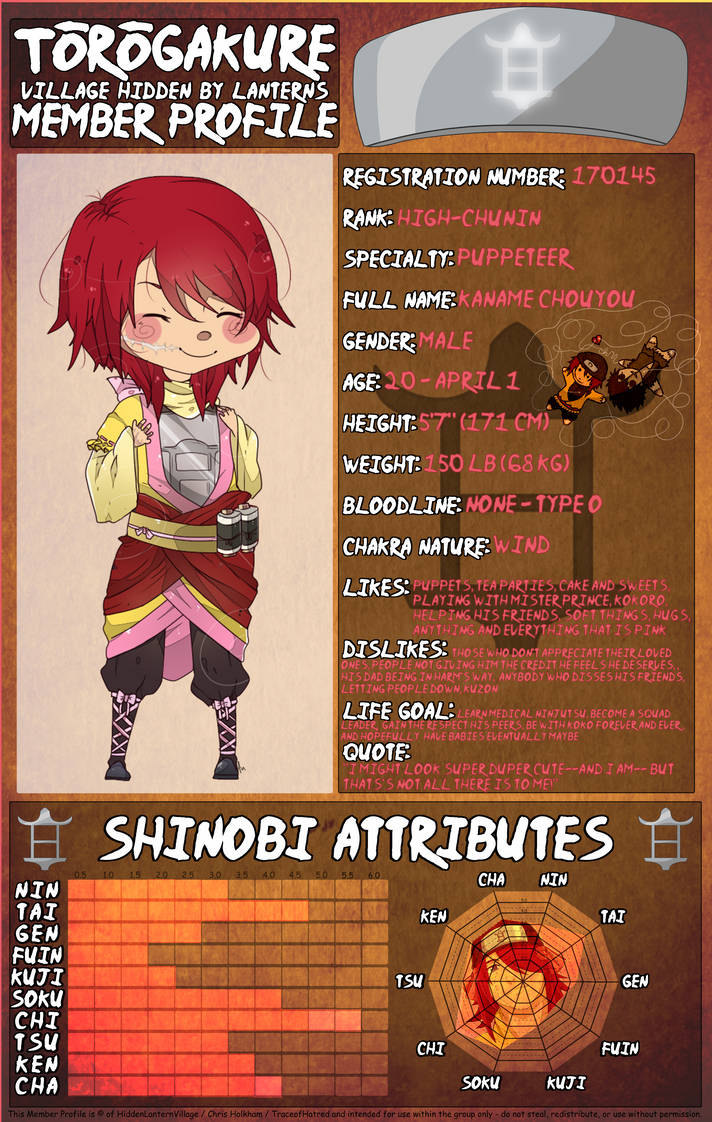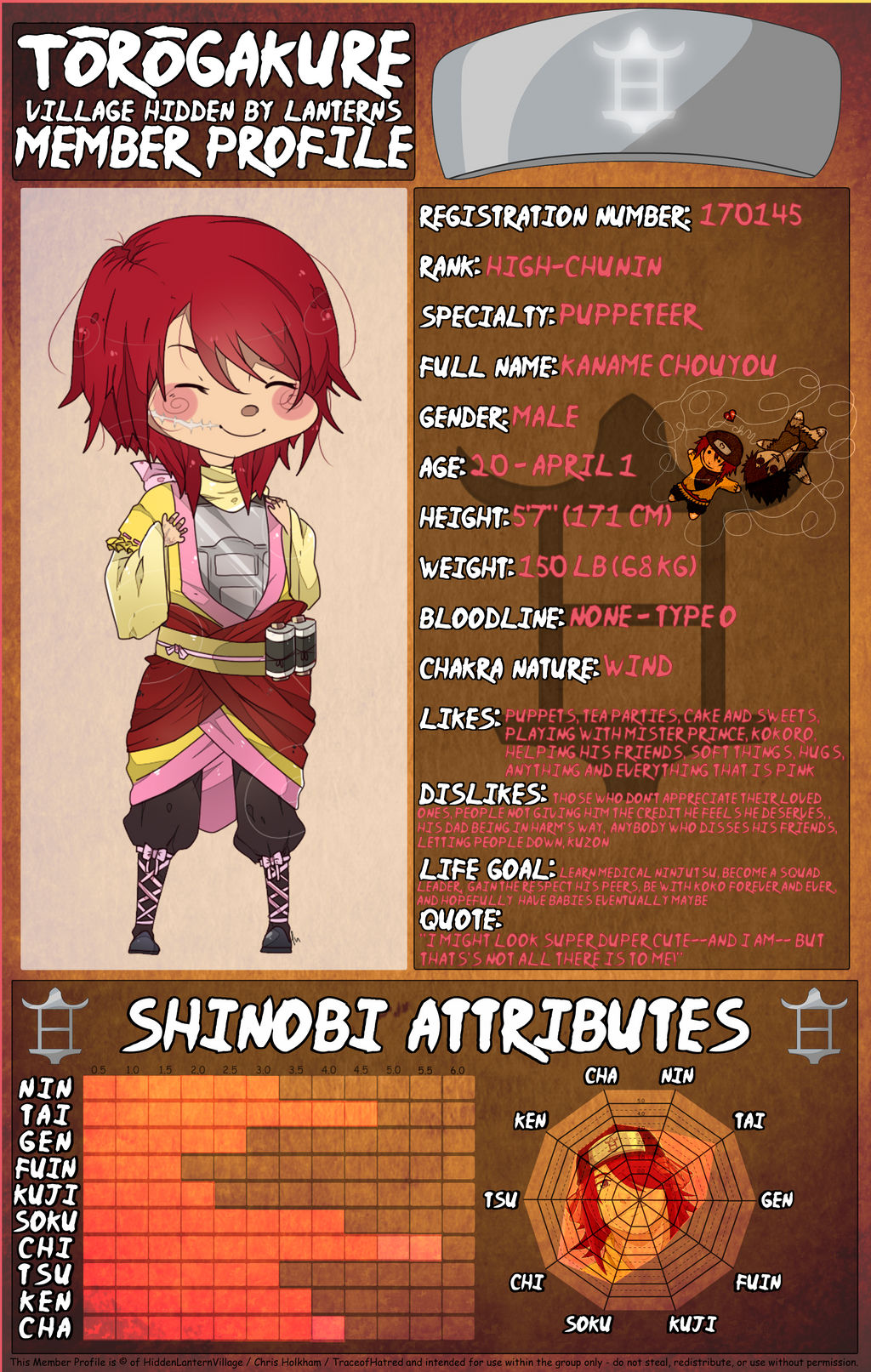 Watch

Finally changed to the new profile orz. BEHOLD. Kana's design starting at the end of Arc 16, designed by the lovely

PASSIVES:

- +0.5 Chi from
Poetry of Puppetry
specialty ability.
06, The Underdog:
A Ninja who has failed, but redeemed their honour!
▢
Conditions:
Fail the Chūnin Exam, then Pass
conventionally
- Redeeming your Honour!
▣
The Bonus:
+1% Damage of your highest combat stat in all exams.
:
iconhiddenlanternvillage:


Timeskip info:

Kana Timeskip InfoMedical Information (Before - After):
The basic, to the point medical information we have on file of your shinobi.
Registration #: 170145
Official Rank: Genin - Chunin :'D
Full Name: Kaname Chouyou
Gender: Male
Age/DOB: 17 - 20 / April 1st
Height: 170 cm (5'7") - 171 cm (5'7")
Weight: 67 kg (147 lb) - 63 kg (139 lb)
Bloodline/Type: No Clan/ Type O
Chakra Nature: Wind
Likes, Dislikes, Drives, and Motivations:
The personal tastes of your OC - as well as their drives and motivations, inspirations, etc.
This will not be shared with anyone else unless YOU share it - but please, no questionable secrets.
Before the Time-Skip:
Likes:
- Maiha-chan
- Mermaids (Uranamis)
- Winning
- Puppets
- Not wearing clothes (or at least wearing as little clothing as he can get away with)
- Fashion, Make-up
- Making friends
- Fireworks
- Brawling (as long as he wins)
- His mommy
Dislikes:
- MIKI
- Being criticized, Being told he's wrong
- Reading
- Cold
Arcs 7-13 Development:
-Coming Soon-
Current:
Likes:

- Kokoro

- KOKORO

- DID I MENTION KOKORO?

- Puppets

- Tea Parties
- Food/eating (especially sweets)
- Cute things
- His opinions being taken seriously
- Drinking with his father

- Visiting his deceased family and friends at the cemetery





Dislikes:

- Miki/The fact that deep down he doesn't know how to FEEL about Miki

- Broad generalizations about whole groups of people

- Kuzon
- Putting his father at risk

- People not believing him about things or not taking him seriously, being called a liar/naive

- people raising their voices at him

- Being disregarded and seen as a "child"




Inspirations:
- PUPPIHIKO

- Akihiko Yuudai
- Tsuyoi Asukai

- Aosa Migiwa

- Yoshiaki Kitsune

- Karasu Sensei




Life Goals:
- Tell Kokoro how he feels about her, hopefully have feelings reciprocated ACCOMPLISHED


- Become strong enough to protect his loved ones

- Be taken seriously by his peers
- Help people learn from his mistakes and avoid the hardship he had to endure because of them
- Bring peace to the village
~Arcs 7 & 8~


- Death of Maiha & Subsequent Reevaluating of Life
-
Upon finding about Maiha's sudden passing due to illness while he was away, Kana was completely devastated. His oldest and once-closest friend was gone forever. And he had never gotten over himself enough to reconcile with her, and now that chance was lost to him. This caused him to be stricken with immense guilt over his immaturity and selfishness. His last words to her had been that he never wanted to see her again, but now he really never would. He had taken her for granted in the worst way possible and lost any chance of making it up to her properly. He vowed that he would never make such a mistake ever again.
- While this event did force him to grapple with his depression again, it also gave him the opportunity to finally grow up, at least a little. Not only did he finally realize how important it was to cherish his friends and family while he still had them, but in Maiha's passing he also found a real meaningful direction in his life: He wanted to become a medic. First as a way to make up for his prior selfishness by taking on her "unfinished business" by pursuing her old dream of becoming a medic (as well as personally taking on the role of Maeno's "keeper"), but soon for his own reasons as well, such as wanting to be able to save other friends from dying with his abilities. He was soon filled with the unshakable desire to help people, not only for Maiha's sake, but for his own and others' as well.
-
Though this tragedy had left him emotionally ragged, he also came out of it with a clearer sense of purpose and a new-found maturity the likes of which he had never experienced before. It was no longer just "me me me" (though he still did have his moments, luckily minor in scope), but "my friends, my family, my village", and he was eager to share his new revelations with all of them, so they wouldn't have to suffer as he had to learn these things.
~Arc 9~
-
Choosing the Third Option

- Refusing to side with any particular clans due to close personal bonds with people on both sides, Kana reluctantly joined the Dragon faction in spite of his immense distrust towards faction-leader, Masanori Hojo.
- With little trust in his now "leader" and no particular loyalty to the factions platform, he had every intention of participating in the most minimal amount he could get away with. However, this minimalist involvement could not protect him from the guilt that was to come.
-
This Isn't What I Signed Up For
-
Upon hearing of the deeds committed by the Dragon Faction during the raid on the Mansei compound, Kana, enraged at Hojo for what had transpired, promptly left the faction and opted to remain neutral for the rest of the conflict. Not before brazenly barging into the faction headquarters, angrily giving Hojo a piece of his mind (laced with profanities, of course), and then furiously storming out with no regards to the negative consequences of his actions, though.
- When it finally occurred to him how bad of a position his actions put his family, now having angered the faction that occupied the territory surrounding his house, and still being recognized as a Dragon by the other two factions, Kana chose to play it safe and avoid the area entirely so his father would not get hurt because of him. This led him to take up residence on the grassy lawns near the Akarikage's mansion in the heart of the "safe zone".
~Arc 10~
-
One Life Over Another
-
When he heard explosions go off in the village, he reluctantly abandoned Akihiko on the front lines out of worry for his civilian father's safety. This choice left Akihiko to fight the Masked Wraiths alone, and he nearly died as a result. Luckily, Kei Haru got to him in time to save him from the brink of death. Regardless, though, Kana was filled with immense guilt upon finding out what had happened to Akihiko. He vowed from then on that he would never leave behind his friend ever again, even if he had to break rules to do it.
~Arc 12~

- Bad Brotherhood

- Motivated by his regret, Kana chose to break rank and follow his friend on the mission to rescue Satoshi so that he could protect his friend and prevent a repeat of what happened before. This caused Katsuo, whom Kana had considered like a younger brother, to lash out at him in anger, calling him a traitor. Needless to say, this broke Kana's heart, but in spite of its shattered state, its resolve was unwavering. He had to do this. For his friends, and for his principles.
~Arc 13~

-
Princess Scarface


~Arc 14~

-
You Obtained "Girlfriend"! Achievement unlocked!


-
Hang 'em High... Chunin

- Battle of the Generations aka Kana's a faction-hugging fool

~Arc 15~~Arc 16~
- YAR HAR FIDDLEDEE DEE YOU HAVE A JOB NOW
Mentioned Characters:
Enkou Akiyama (c)

Ame Uranami (c)

Miki Yamita (c)

Akihiko Kitsune, Tarou Kitsune, Crow Sensei (c)

Maiha Uranami (c)

Maeno Kitsune (c)

Kokoro Kitsune (c)

Aosa Migiwa (c)

Tsuyoi Asukai (c)

Kokoro Kitsune (c)

Box artsuu by

,

and

ref by