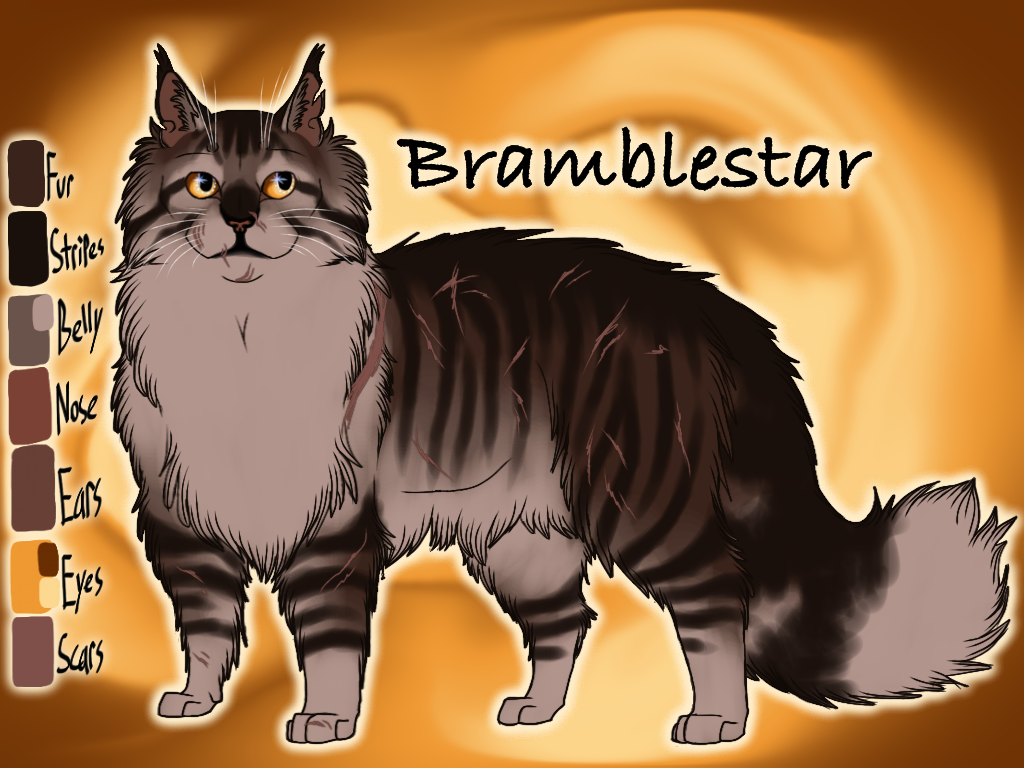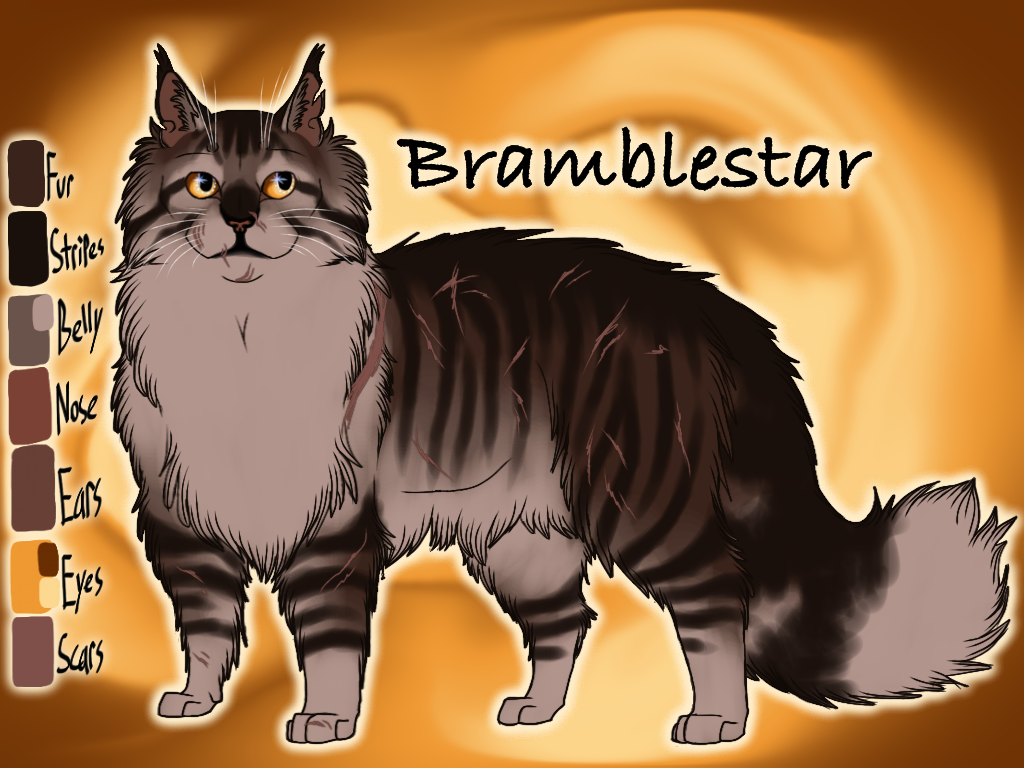 Watch
This is Bramblestar of ThunderClan.
Name:
Bramblestar
Gender:
Male
Clan:
ThunderClan
Rank:
Leader
Warrior Name:
Brambleclaw
Mother:
Goldenflower (deceased)
Father:
Tigerstar (deceased)
Sister:
Tawnypelt (deceased)
Half-Brother:
Hawfrost (deceased)
Half-Sister:
Mothwing (deceased)
Mate:
Squirrelflight
Daughter: Redleaf
Adopted Sons: Lionblaze, Jayfeather (deceased), Shadowstripe
Adopted Daughter: Hollyleaf (deceased), Sunnyflower

EDIT: I made the eyes smaller and higher up.

I mentioned on The Revenger's Tragedy that I'm making new designs for the Tigerstar family. Since it made sense to make the lineart for a standing cat first, then tweak it to other positions, I decided to start with a ThunderClan cat in that family - specifically, Bramblestar. So here is Bramblestar's brand new design.



As you can see, he's much, much fluffier than my previous design. It took me a while to come around to the idea of such a fluffy Bramble and Tiger, but honestly, it really suits them. It helps them look as massive as they've always been described. I also caved and gave them tufted ears despite never being described with them, it just fit with that thick pelt and that size, and I think it looks pretty good. He has new scars now as well, as well as more of them. I think that fits better with what a fierce fighter he is.

His colors are all new as well, and so is his pattern.

The stripes on his chest just weren't looking right anymore, so those were removed, and honestly I think the all-pale chest and neck (it goes all the way around his neck and the back of his neck) really fits him, as well as having more pale fur on the face, and darker ears/forehead and nose. He's less saturated in his fur colors now, and he gets a dark, thick stripe down his back and tail.

I'm really, really happy with how this turned out.

I think this is a much more fitting design for Bramblestar now. Tigerstar will probably be next (unless I decided to do Shadowstripe next), and then probably Hawkfrost. I can't wait to play with their designs.

ECHOES OF THE WAR: SILENT SACRIFICE:


PROLOGUE:
link
COVER:
link
ALLEGIANCES:
link