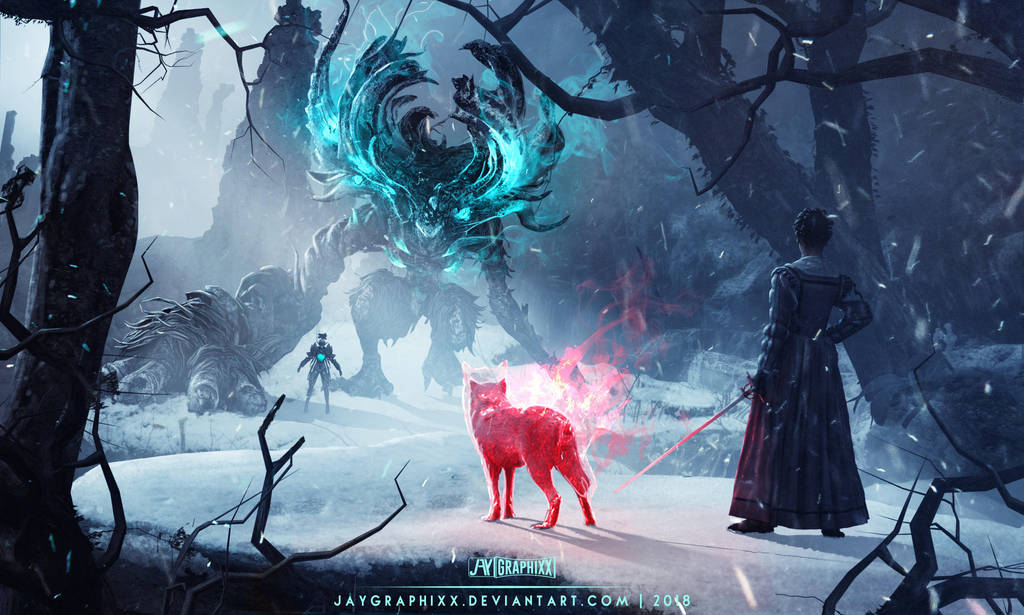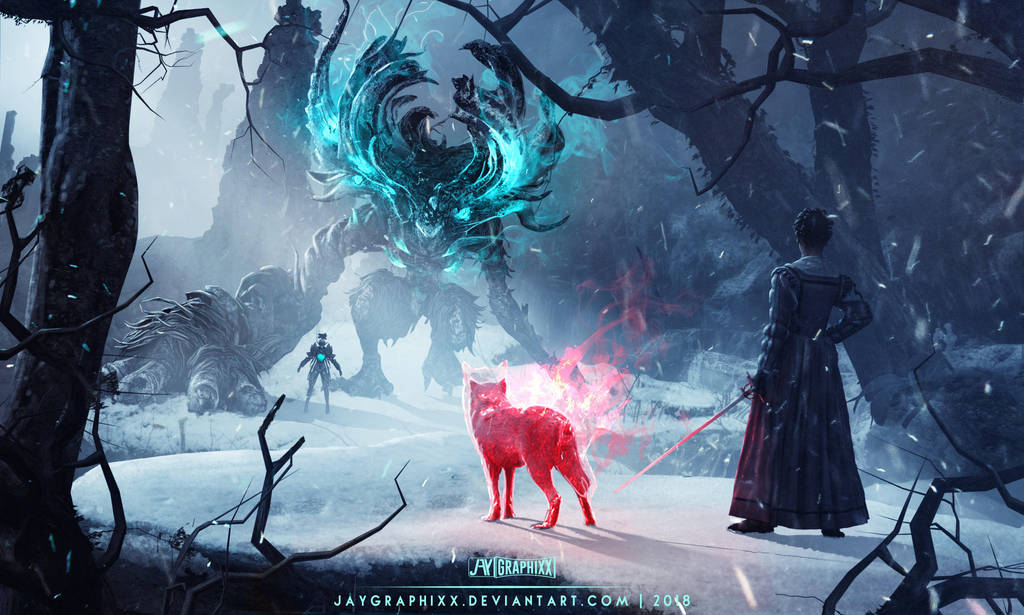 Watch
My entry for LET IT SNOW ! * WINTER CONTEST* by



~ two of the stock models are from games which I'm not familiar with, I kinda just liked the way they looked. When I saw the monster I knew it was perfect for some wintry scene, and I think it fits nicely especially with that cyan color. I hope you like it

---
Here's my story for the art:
A thousand years ago an evil plagued the wintry lands. It tipped the scale of light and darkness massively. The Ancestors believed that in order to defeat this evil you will have to create a
much bigger evil
. The price was costly, and many were sacrificed in a ritual of conjuring up something inhumane—something which was not pure of heart and was lost in the path of righteousness. The ancestors knew that this evil would need a vessel in order to have power over it; they knew that someone will have to die and will be reborn knowing neither darkness nor light; someone who will be
untarnished
. So the ancestors forcefully turned a young lady into this vessel and with this vessel, the ancestors won the battle of evil and darkness.

The ancestors then sealed and hid away the beast and vessel in a magical box far away from the wintry lands. There was uncertainty in the ritual though, they ignored the fact that if you resurrect anything of darkness so shall it be for light. But they didn't and over a thousand years darkness grew and the magic box's seal was broken. The Vessel has become fully corrupted by evil and knows nothing but darkness. The young lady which was forcefully turned into the vessels has nothing but pure vengeance –vengeance towards the Ancestors. And now her path is set towards the wintry lands.
Halfway through the wintry lands, The vessel's journey was halted by something of light and was a symbol of good – a warrior of peace. This warrior of light knew what was ahead of her; she knew the tales of the Vessel and the beast. It was now her responsibility to clean up the sins of her Ancestors. From a distance they stared at each other, plotting every move. Another battle between good and evil is about to begin.

---
Credits to the stock owners:
RenFairSTock_WomanSword
by
PilgrimSoul
|
Snow Stones Stock
by
milesmoody
|
Manus - Dark Souls
&
Dark elves pack - Lineage 2 (original bones)
by
papkapapka
(use with permission) |
Stock: Tufa Sunset 1
by
PapayaPirate
|
Snow Lake 9
by
bleu-claire-stock
|
Effect Stock 03
by
CryoGfx
|
His back - Wolf Stock
by
LosRebeckos
|
Tree 12
by
Free-Stock-By-Wayne
| brushes
www.brusheezy.com


This artwork took hours to be made, it can take you a matter of seconds to steal it; it should not be reproduced, copied and re-uploaded without my permission.


This has got to be one of the first photo manipulation pieces I've every seen, but defiantly a worthy first time!

The way you capture the emotion in the picture with an epic showdown between revenge and pure evil, both wronged by their ancestors but only one managed to put their anger in a constructive manner.

Both their weapons have avatars, one's a wolf the other a giant; possible reminiscent of their spirits inside them, cultivated by the hardships they faced in the past.

Plus the short passage you wrote in the description was just the strawberry on the cake!
The Artist thought this was FAIR
44 out of 45 deviants thought this was fair.
i'm not being mean but when i look at this picture its just not bright enough, i wish you could make this piece just a little more vibrant around the colors, for example the red could just be a little more brighter and maybe some snow melting around the wolfs feet, and the person with the sword the sun rays are not reflecting or lighting up his/her robe, only the fire is doing this. other than this, this is an amazing piece of art work, and i would like to see more of this kind of art from you, thank you for hearing this out.
The Artist thought this was FAIR
5 out of 5 deviants thought this was fair.