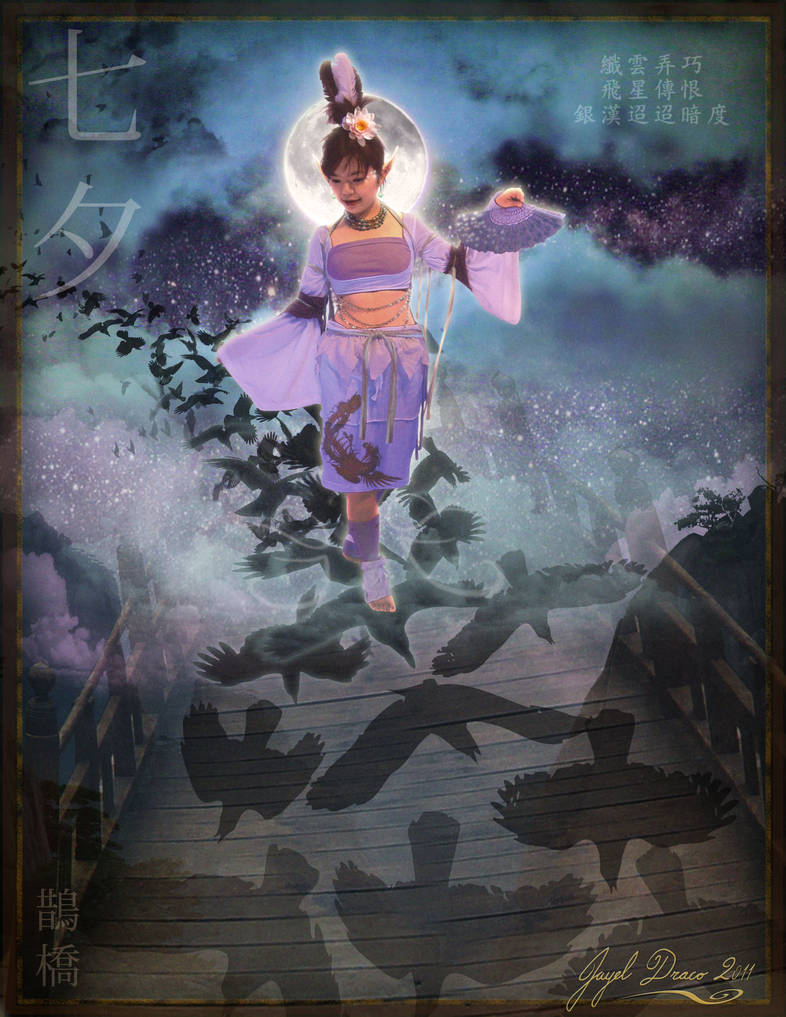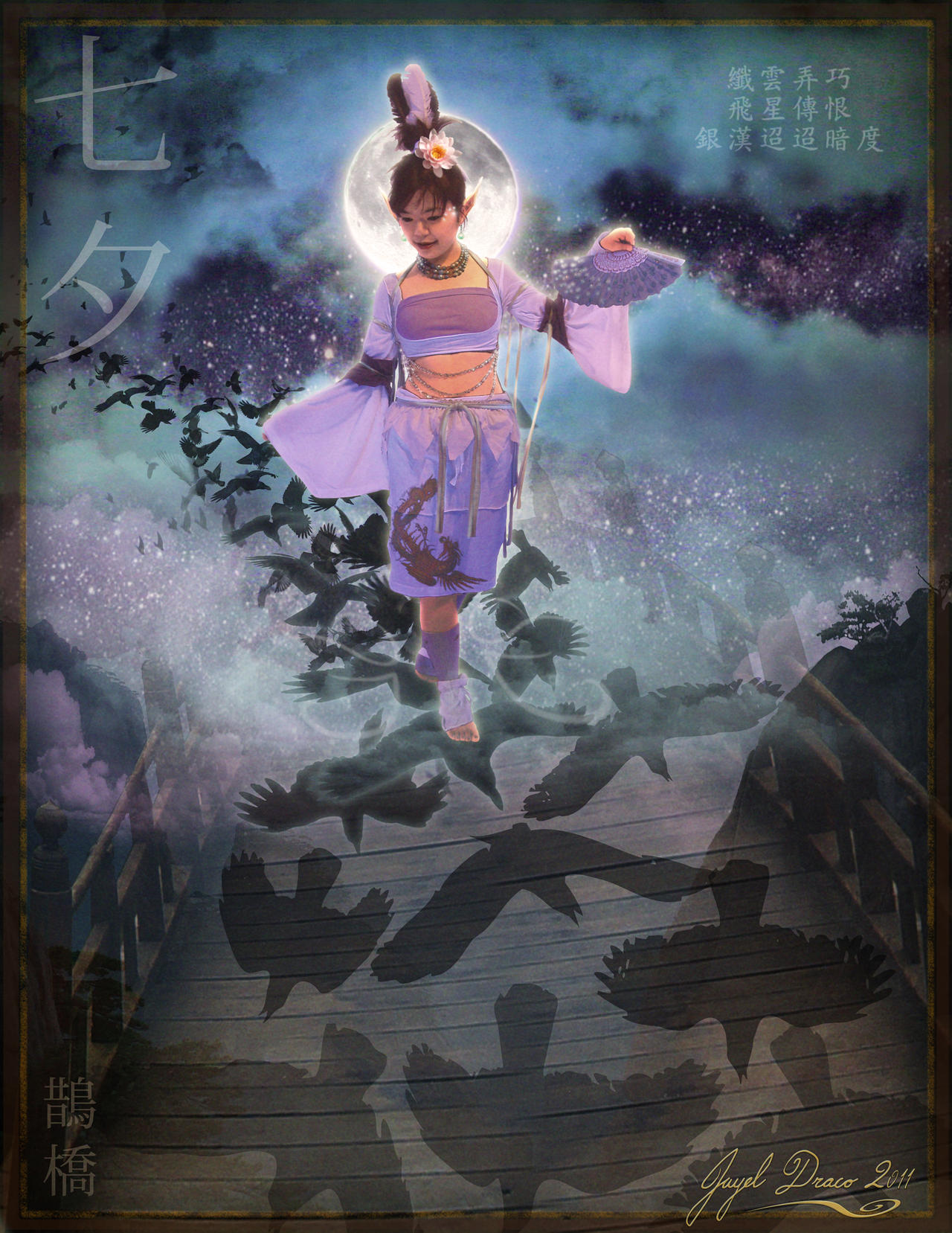 Watch
She is Zhinü - The weaver-girl fairy of Magpie Bridge
__________________________________________________________________________________________________________
FAIRY OF THE MAGPIE BRIDGE
Poem by Qin Guan
Translation by Kylie Hsu

Among the beautiful clouds,
Over the heavenly river,
Crosses the weaving maiden.
A night of rendezvous,
Across the autumn sky,
Surpasses joy on earth.
Moments of tender love and dream,
So sad to leave the magpie bridge.
Eternal love between us two,
Shall withstand the time apart.
___
ABOUT
______________________________________________________________________________________________
Long, long ago, there was an honest and kind-hearted fellow named Niulang (Cowherd). His parents died when he was a child. Later, he was driven out of his home by his sister-in-law. So he lived by himself herding cattle and farming. One day, a fairy from heaven named Zhinü (Weaver Girl) fell in love with him. She secretly came down to earth and married him. Niulang farmed in the field and Zhinü wove at home. They lived a happy life and gave birth to a boy and a girl. Unfortunately, the God of Heaven soon found this out and ordered the Queen Mother of the Western Heavens to bring Zhinü back.

With the help of celestial cattle, Niulang flew to heaven with his son and daughter. When he was about to catch up with his wife, the Queen Mother took off one of her gold hairpins and scratched a river in the sky to separate the lovers. Niulang and Zhinü have been separated on the two banks ever since. Once a year all of the magpies in the world come to build a bridge for Niulang and Zhinü to meet each other. This meeting happens on the 7th day of the 7th lunar month. Because of this, their meeting is called "Qi Xi" (Double Seventh).
Read about the QiXi Festival and it's history here:
QiXi-Wiki
___
CREDITS
________________________________________________________________________________________________
___STOCK_____________________________________________

___
TIP
________________________________________________________________________________________________
Keep your layers separate:
Of course when you get into hundreds of layers, this might sound crazy.
However, if you organize your layers with groups(folders) you'll be able to manage.
Categorize Your layers hierarchically.
In this piece, my groups are as follows:
Top most - this includes; texts, framing & global adjustment layer.


Forground - this includes; anything in front of an not physically connected to the character.


Character - this includes; Anything connected to the character even effects and adjustment layers that single the character out.


Midground - this includes; Anything just behing the character that exists within the same relative plain of depth.


Background - this includes; Anything Behind the midground.
Of course within those major grouping you can have as many sub-groupings as you need. within those you can add sub-sub-groups etc.
Ie: In my "midground" group I have a "MagieBridge" group. Within that are; "MagpieCutouts", "MagpieVectors" and "MagpieBrushes".
This will really help you if toward the end of your progress you decide you want to change one Magpie that you placed early on in the pieces development.
I hope this TIP helps you on your journey.
___
RESPECT
____________________________________________________________________________________________
As always, your questions, comments and critiques are all greatly appreciated,
but please,
RESPECT THE MODEL
or everyone will know your uncool

Having recieved your note, here's the feedback you've requested.

You say this piece is "out of your realm", which is a good way to go if you want to push yourself and strive to improve and sometimes it means doing things that are outlandish to us.

That aside however I like the Oriental theme and dreamlike approach to photomanipulation, is not something I've seen to much of the colour scheme is well balanced but minimal. But there is a down side here as well as a viewer I'm finding it very hard to read the model's facial expression and this could be something to work on if you wish revisit this piece in the mere future.

Another thing that you can work on is the background light behind your subject, as odd as it sounds but when someone is facing away from light it'll still show on their cloths, hair, etc... but very faintly I see you've got some of it right which is good.

Also when it comes to shadows of animals it be shown on their body (if that makes sense) the subject wouldn't be standing on it because shadows will still cover the subject no matter what the angle and it's always good to observe this as well.

Having looked through the rest of your gallery I suggest that you continue to try and push yourself with photomanipulation you've got potential and never hesitate to try something new.

I hope this critique has proved to be helpful to you.
The Artist thought this was FAIR
3 out of 3 deviants thought this was fair.

Reply

This is really pretty, I could stare at it forever... which if I hadn't stopped myself I might have. It was fun to read the story then look back at the piece, it's really really lovely. The model is very pretty in a down to earth kind of way and I like her ears and attire. :3
Reply

Thank you so much!
Yeah, please don't stare at it forever,
you are needed to continue adding to the art on this planet.
Yeah, it's a really sweet classic Chinese fairy tale.
I couldn't resist taking a crack at it.

I've been told that the fairy having pointy ears isn't very classical Chinese aesthetic, but then again I'm not Chinese so hopefully no one will blame me for taking poetic license with that.

Thanks again!
Reply

Reply

love it, great theme and direction, you'll pardon me if I am reading the writing after commenting, but the art piece itself is full of fantastic classic symbolism
Reply

Oh my goodness, I love it! Qixi is one of my favorite legends EVER!

Great work!
Btw, the thumbs stopped working in the description because you're limited to six. Change the rest to the links

Reply

This is absolutely lovely! Thankyou so much for choosing my stock!

Reply