1.)
Your Oldest OC
I guess that would be Claudia. Since I can trace the character back to a now defunct Impromanga site I was doing stuff on at the time.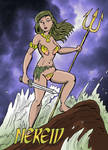 2.)
Your Newest OC
Rockslab!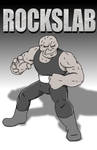 3.)
Favorite OC
No doubt that is Gwenna
4.)
Any Villain OCs?
I've had a few bad guys in the comics, but the only recurring one so far is Mitchell I do like his ugly mug and the chance to knock him around a bit.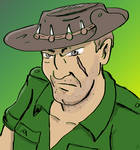 5.)
Main Reason for making OCs?
For my comics.
6.)
Describe your Character Creation Process.
Oh, tough one. Some are easier than others. I tend to come up with some idea for a story and kind of develop a character around that most of the time.
7.)
Favorite OC Ship?
I guess by default that would be Kaza and Gwenna, but I had to admit I don't really play up the relationship that much in my stories.
8.)
Do you ship your OC's with someone else's?
The only one off hand was Centennia and young Nula.Beyond that, I could easily see
TheCosmicBeholder
's Jung-La joining Kaza and Gwenna in a three way relationship. I haven't really explored it in the comics, but I have assumed Kaza and Gwenna were in an open relationship. I always planned the joke was that they had to be with so many Princesses of Lost Cities demanding he father their children.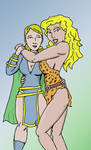 9.)
Weirdest OC?
My Demon hunting Saint Valentine riding a giant bee is probably the weirdest.

10.)
Favorite OC Design?
I do like Rodney the giant robot.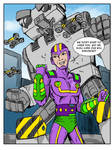 11.)
Would you consider yourself nice to your OCs?

Yeah, I don't go much into torturing my chracters the way some writers do.
12.)
An OC you Killed (if you haven't killed an OC, who would you kill?)
About the only one that I have killed was Nerlana the Serpent Sorceress, but she was the bad guy in that story so I'm not sure if that really counts.
13.)
Are any of your OCs parents?

No
,
but I have been asked whether Kaza and Gwenna are going to have kids a few times. Over on Comic Fury they did a "Your Characters Ten years later" drawing prompt. And that got me drawing them as parents and their potential daughter.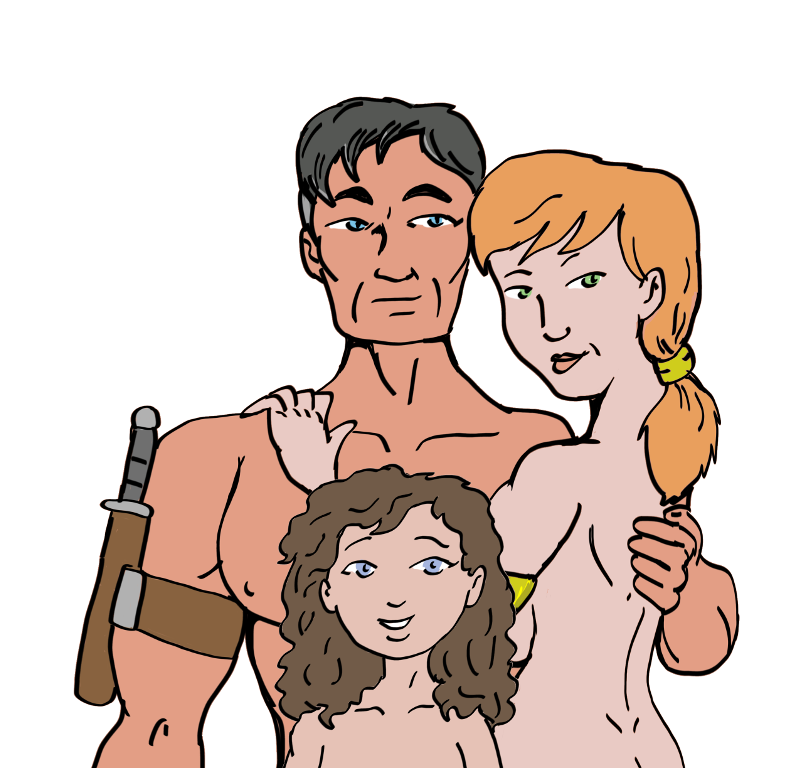 In fact, I might entertain name ideas for her (of the non-Boaty McBoatface variety)
14.)
Is there an OC you find yourself neglecting?

I have a lot of stories I have put asied in the past and have never bothered to return to.
15.)
An OC that's Difficult to Write?

I find less a specific issue with writing characters as much as I just suffer from writer's block on occasion and have a bad habit of dropping projects if I can't find anything that works for me.
16.)
Tallest? Shortest?

Outside of the big robots, my chracters tend to be of average size and I really haven't bothered to establish measurements.
17.)
Oldest? Youngest?

I'm assuming character age in story. Nula and the Commissoner would probably be my oldest characters. I guess Mary from the nudist comic is youngest.
18.)
Do you dislike any of your OCs?

Not really.
19.)
Self Insert?

Guilty as charged on a few occasions.
20.)
An OC regret?
I think throwing in that super hero twist into the Nudist comic was a bad idea.