Help
I uploaded these two icon on dribbble the past days. One is based on this,
monome.org/
and the other on this,
www.designmadeingermany.de/201…
. I thought they both look really nice and decided to try to make them in Photoshop. Why I made them in that iPhone icon style? No idea.

I'm thinking about creating an icon set based on different hardwares. Do you know any good looking hardware that would be nice to do as icon? Something with buttons, knobs etc. I'm thinking about doing some of Dieter Rams designs as icons but I need more.
Click the images to go to their dribbble page.
Through The Looking Wall Wallpaper
BTW Thanks a lot to everyone for the favs and comments on Through The Looking Wall wallpaper. I'm glad you all like it.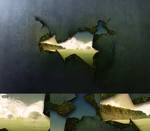 Around the web
Twitter:
twitter.com/javierocasio
Facebook:
www.facebook.com/StudioTwentyE…
Tumblr:
javierocasio.tumblr.com/
dribbble:
dribbble.com/players/javieroca…
Forrst:
forrst.com/people/javierocasio
LinkedIn:
pr.linkedin.com/pub/javier-oca…
flickr:
www.flickr.com/photos/javier02…