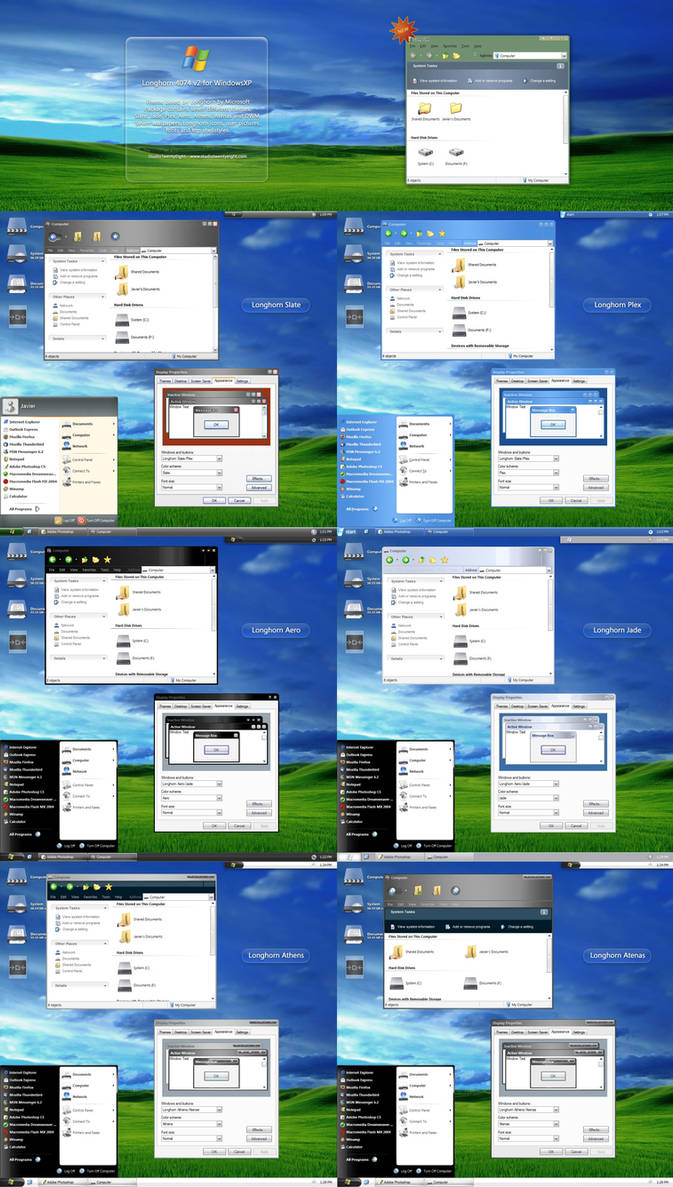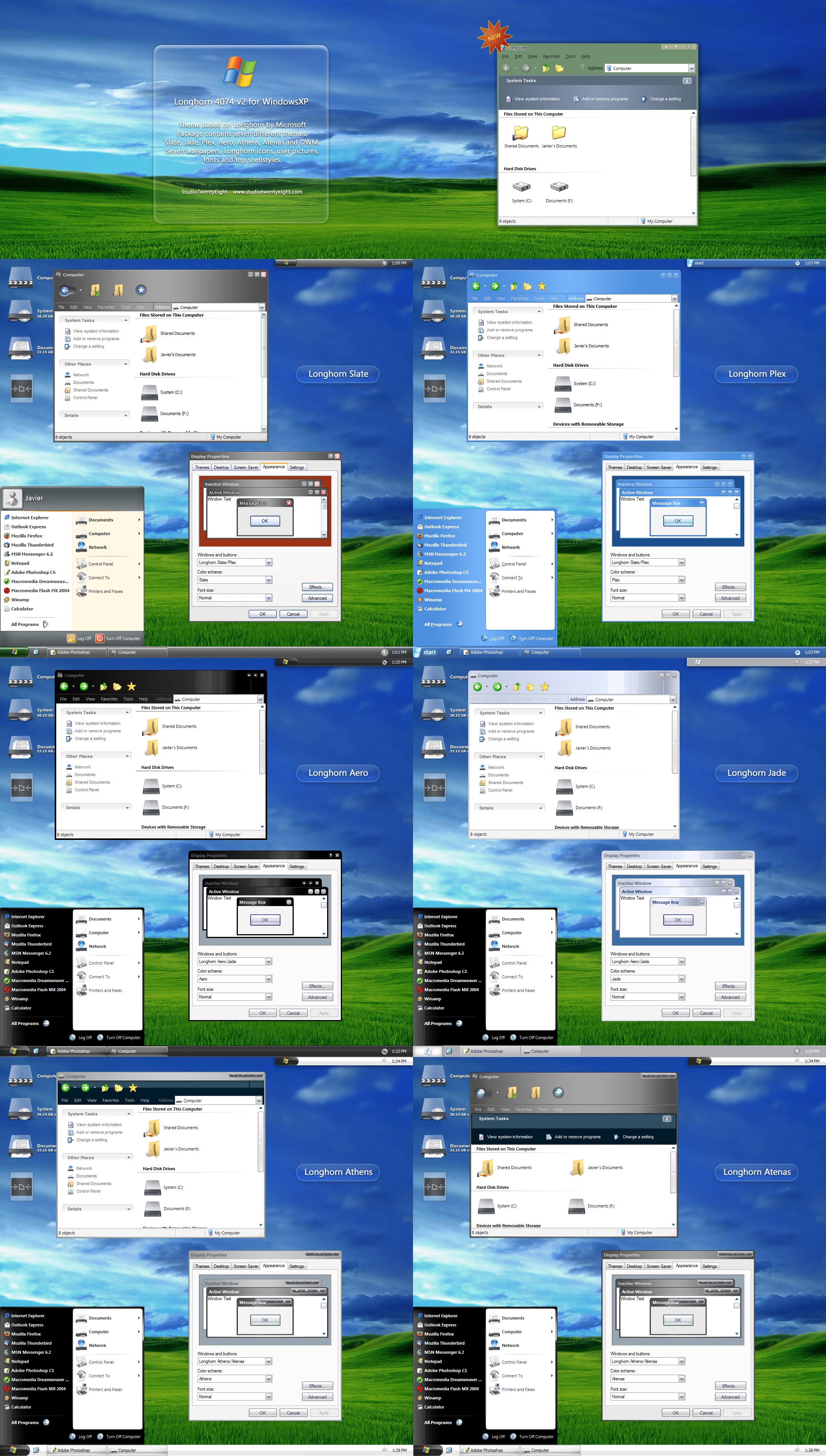 Watch
Well I started looking for Longhorn themes for XP to use it but I didnt like all the themes that I found so I started my own. Ive been working for the past 3 days in this longhorn set for Windows XP. this took me more time than Tiger or any other port.
Wallpaper on preview by judge -
[link]
<----* About *------------------------>
Longhorn 4074 version 2.0 visual style for WindowsXP by KoL
Theme based on Longhorn build 4074 by Microsoft.
Package contains seven different themes, Slate, Jade, Plex, Aero, Athens, Atenas and DWM with normal and thin taskbar. Seven wallpapers, Longhorn icons, User Pictures, Fonts and top shellstyles.
Longhorn Slate: Almost identical to Longhorn theme except inactive windows and start button. The start button used is the one when the sidebar is active.
Longhorn Jade: Almost identical to Longhorn theme the only things that I changed was the startbutton, the blue fonts are a little darker than the original theme and inactive windows.
Longhorn Aero: My version of Aero.
Longhorn Athens and Atenas: An Aero mod based on screenshot of Athens PC Concept found on winsupersite.com
Longhorn Plex: My Plex version.
<----* Credits *---------------------->
Thanks a lot to Stefanka (stefanka.deviantart.com) for letting me use his shellstyle as a base for the top shellstyles.
<----* Installation *----------------->
To use the Visual Style you need StyleXP (www.tgtsoft.com)
Extract the zip to C:\WINDOWS\Resources\Themes
To use the top shellstyles copy the shellstyle on the folder C:\WINDOWS\Resources\Themes\Longhorn Extras\Shellstyles\*COLOR* and replace it on C:\WINDOWS\Resources\Themes\Longhorn *THEME NAME-THEME NAME*\Shell\*THEME NAME*
To change the icons you need a program like IconPackager, E-Icons or IconWorkshop.
<----* Updates *---------------------->
UPDATE 1 (v1.1)
---------------
- Fixed jaggies on start menu button.
- Fixed jaggies on Aero start button and tray buttons.
- Fixed maximize bug on Aero.
- Fixed start menu username.
- Little changes to Aero taskbar buttons and flash button.
- Changed Athens caption button. Now it looks similar to the one on the screenshots.
- Added tre different fonts, Normal (Segui on Aero, Jade and Athens), Tahoma and Arial.
- Changed fonts on shellstyle to Arial.
UPDATE 2 (v1.2)
---------------
- Small changed on Athens.
- Added Notepad, Paint and Calculator icons.
UPDATE 3 (v1.3)
---------------
- Added Plex theme.
UPDATE 4 (v1.4)
---------------
- Added four wallpapers.
- Fixed Start Menu buttons in non english Windows XP version.
- Fixed Search windows colors in Plex.
- Added alternative Slate start button image.
UPDATE 5 (v1.5)
---------------
- Fixed Startbuttons on Athens and Areo.
- Added transparent separator on toolbar.
- Fixed some little bugs.
- Added 6 new shellstyles (top shellstyles in Default, Blue, Purple, Green, Orange and Red.
- Added more icons.
UPDATE 6 (v2.0)
---------------
- Added a new theme, Atenas.
- Separate themes in three different msstyles. Longhorn Slate/Plex, Longhorn Aero/Jade and Longhorn Athens/Atenas.
- Added Thin Taskbar to all themes.
UPDATE 7 (v2.1)
---------------
-Added DWM theme.
<------------------------------------->
NO MODIFICATIONS OR REDISTRIBUTION WITHOUT PERMISSION.
[link]
Copyright © 2002 - 2004, StudioTwentyEight