I love you guys, you're amazing! ;3;
I want to remember you this is NOT my main account, which is
DocWendigo
.
Also I'm not taking commissions on this account and I may take me a bit more to reply to messages and notes on here,
so please refer to my main account for business stuff. Thanks!
Also my commission prices are here:

COMMISSIONS CLOSEDSTATUS: CLOSED!
► TO-DO LIST ◄

I CAN DRAW:
OCS or FANARTs
ANIMALSBOYS LOVE/GIRLS LOVESENSUAL POSESNSFW (prices are different! > WARNING +18!! www.furaffinity.net/commissions/sirwendigo/ )KEMONOMIMI - FURRIES (but I'm not a Furry artist, so consider it)




I WON'T DRAW:
CHARACTERS WITH REFERENCES FROM HERE AND THERETHINGS IN DIFFERENT STYLESMECHA (unless you have some detailed references of it and you pay an extra)3 CHARACTERS OR MORE IN THE SAME PICTURENSFW INVOLVING MINORS
☆ DIGITAL DRAWING☆
Digital drawing with fast shading, no colors

BUST 30€ - (Additional characters +25€)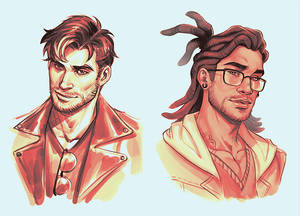 Thanks for your attention! And take care!