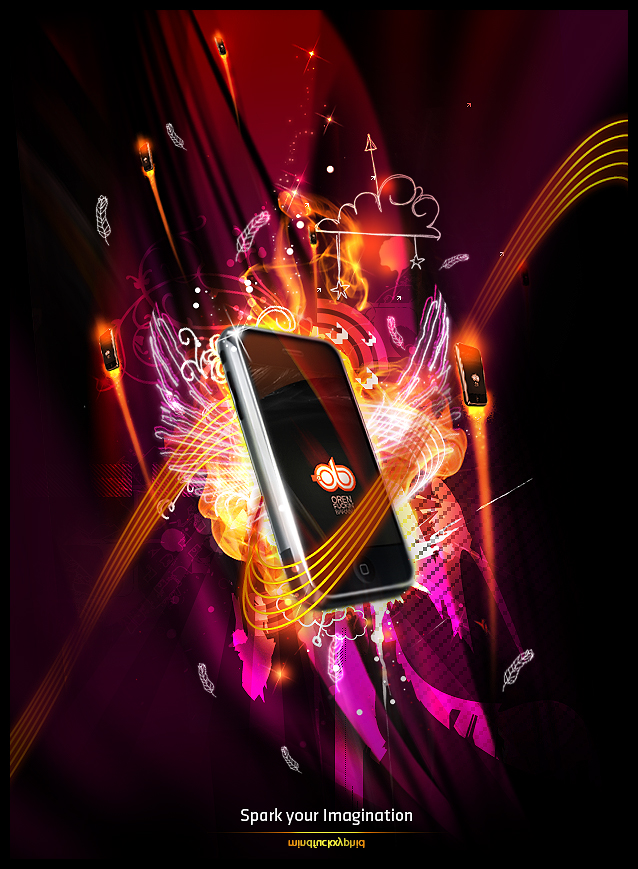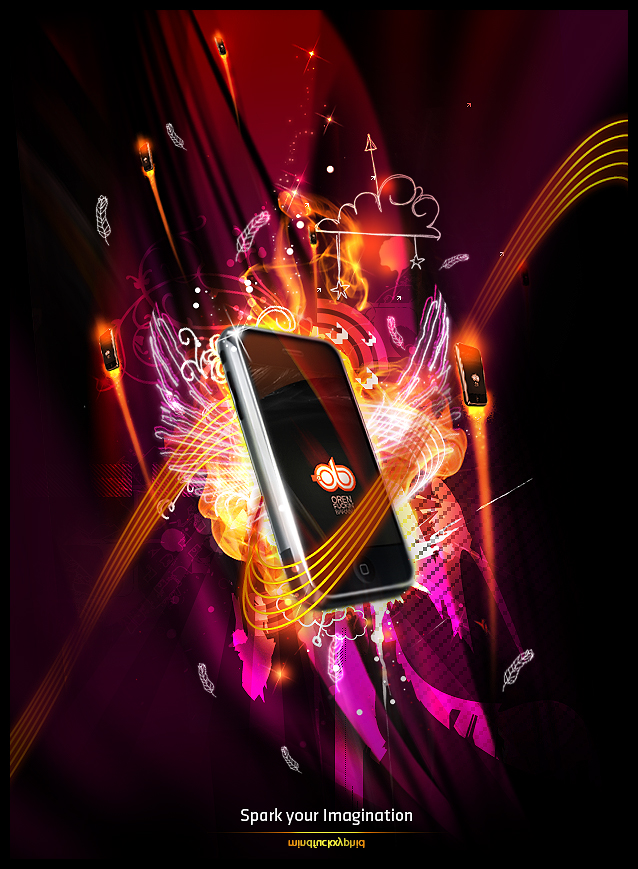 Spark Your Imagination: collab
_____________________________
First collaboration with =
xyphid
, consider this just a warm-up piece. Since there's a lot more to come.
We started from this:
[link]
And you can see the progress here:
[link]
I had a lot of fun making this.
I hope you enjoy the outcome

---

Stock used from sxc.hu and various brushed from deviantART.
I really like this. The basic concept by =
xyphid
has been enhanced with really gorgeous graphics. The colors work really well together and the various, sketchy elements add a feel of youth and friskiness; a fresh lifestyle which represents the product quite nicely. The entire piece is really pleasant to look at, there's virtually nothing that affects the appeal of it. I however find the blurriness of the bottom right corner of the product itself a little distracting, I found myself staring at it multiple times. It doesn't affect the overall impact all too much though which is definitely really impressive.
The Artist thought this was FAIR
9 out of 11 deviants thought this was fair.
I don't even think I need to touch much upon the colors and design elements used here, since overall the entire piece is really quite lovely and visually interesting. My primary gripe with the piece is more about the symbolism used. Allow me to explain:

There is an abundance of air-related imagery. There are feathers, wings, arrows pointing up, cloud illustrations, and then your typical generic 45-degree angles and squiggly lines. Ignoring the generic ingredients, those "flight" symbols don't make sense to me. I can see that you and your collaborator are trying to imply flight or maybe freedom through the symbols, but in my mind I question where those symbols are coming from. This is an iPhone, not a jetpack.

Please don't take me to be harsh, of course. Just understand that in design, clever symbolism only works if it's easily understood. Design is about communicating ideas in an easy-to-grasp fashion, and in my opinion the feather motif is a bit hard to understand. If you wanted to communicate the idea of "freedom," you could use a combination of symbolism: birds and flight are good for a start, but what about open fields, people walking, travel symbols, opened cages, etc. Using a combination of seemingly unrelated symbols, united by a common theme, helps to get a point across easier. If you just use a bunch of bird references, people think you're talking about birds.
The Artist thought this was FAIR
10 out of 12 deviants thought this was fair.