Traditional Art Basics Week
This week's chapter of my new journal series "Becoming Watercolorist" was written as a special edition - it is part of the Traditional Art Basics Week at projecteducate In the previous three chapters, you had a chance to read something about WASHES, BASIC WATERCOLOR TEXTURES and PALETTES. The fourth chapter is all about a rather feared and often avoided watercolor technique, WET-ON-WET.
---
Watercolor painting is mostly done in two ways - applying wet paint onto a dry surface or a pre-wetted surface. Each way has a different impact and result. The main difference is in the shape and character of a painted mark - painting on a dry surface results in marks with sharp edges, whilst painting "wet-on-wet" gives always
feathered edges
, suggesting blur.
The wet-on-wet technique is most useful during the inicial phase of your painting process. Pre-wet your watercolor paper with clean water, using a large brush or a spray bottle. Grab a small amount of light color and start painting. When your brush touches the wet paper,
the
paint will spread immediately
in all directions. Apply it with care and let it dry. Depending on what your artistic intention is, zou can lay your paper flat on the table while working, or you can let the wet paint drip by tilting your paper in any direction.
Results produced by the wet-on-wet technique are somewhat
unpredictable
. You can get used to it with practice, and also learn how to have better control over time. If you are able to give up on the idea of having everything in your painting 100% under control, the outcome might even pleasantly surprise you. There is something magical about the way the paint and water flow into one another. This is the reason to give it a chance and be patient with it.


SOMETHING TO MAKE YOUR LIFE EASIER
Chose the right kind of paper. This affects how the water flows: Using rough or cold-pressed paper gives you better control over the flow. On hot-pressed, the smoothest kind of paper, water runs into all directions uncontrollably.
Chose the right timing. You can regulate just how far the paint runs after you lay it on the watery surface. On a completely wet surface with lots of water, it runs far and everywhere. Let the paper dry just for a bit (the surface still needs to be wet though) and your paint will create soft edge but won't run that far. This needs a bit of practice, but you will get there.
Have a tissue or a paper towel at hand. It will help you correct any mistakes or unsuitable marks. Correct them while the picture is still wet, because once dried, it is very difficult to get pigment off your paper.
PAINTING A KITTEN (WET-ON-WET EXAMPLE)
As an example on how to use the wet-on-wet technique, I did a quick painting of a kitten. I started by pre-wetting the basic shape of a kitten, adding just a bit of brown pigment into the first water layer to be able to see where I placed it. Then I painted stripes into the watery layer, adding more and more pigment and trying to control the shape of every stripe at least a bit. Using a large brush helps a lot; I use
hake brushes
for this type of painting. Choose the size depending on the size of a painting you are working on - they usually come in small, medium and large.
The details of the kitten's face, such as eyes, nose, mouth, and whiskers, needed to be painted "wet on dry" because of their strictly defined shapes. The only exception is the iris of an eye: Whilst its shape is strictly defined, the inside needs to be done wet-on-wet by placing different tones and colors into the wet area. I used mountain blue with a bit of Payne's gray and added raw sienna into the top area to create more depth.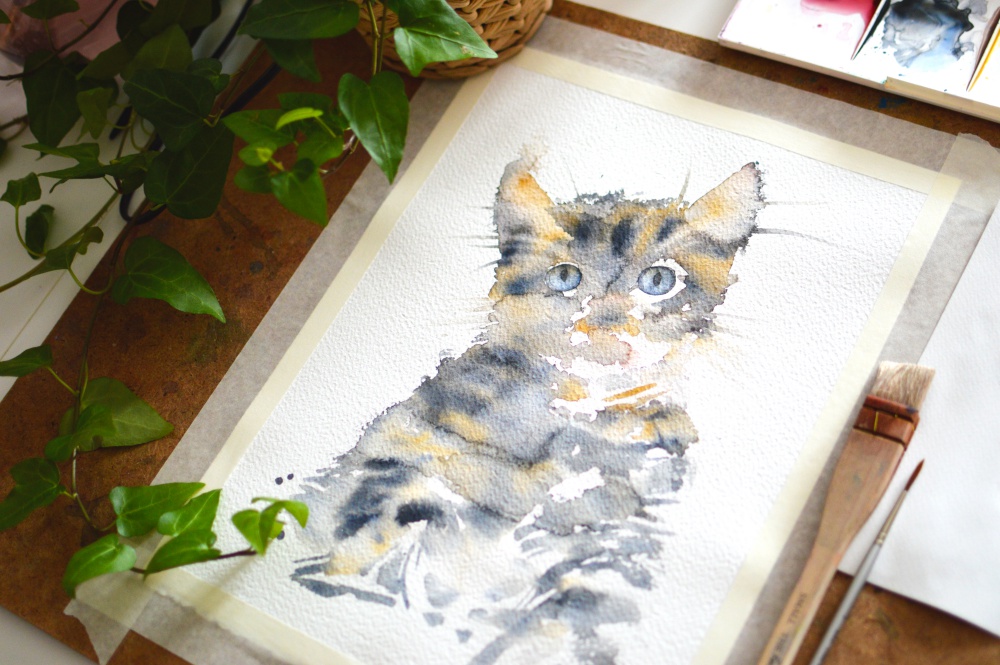 DEVIANTART FEATURES (featuring WET-ON-WET technique)