Procrastination and Creativity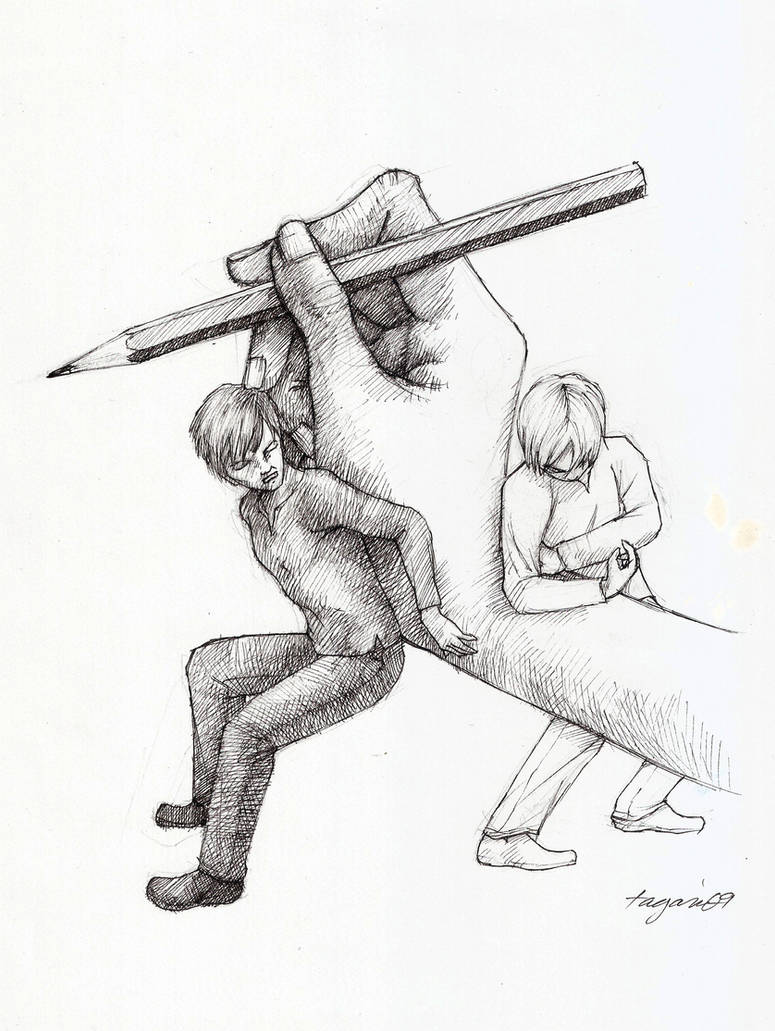 ---
"You can't just turn on creativity like a faucet. You have to be in the right mood.
What mood is that?
Last-minute panic."

Bill Watterson
---
You are well-aware of the importance of this project, in fact you can't wait to get to it! Too bad you promised your friends to go for a drink, and then there's that movie. Also, your productivity is at its strongest at Midnight, first Tuesday after the Full Moon, starting earlier would be a waste of time. Make sure you are well-rested! After all, is there a better way to prepare yourself for a productive tomorrow than an enjoyable today?

Your diagnosis: Procrastination positive.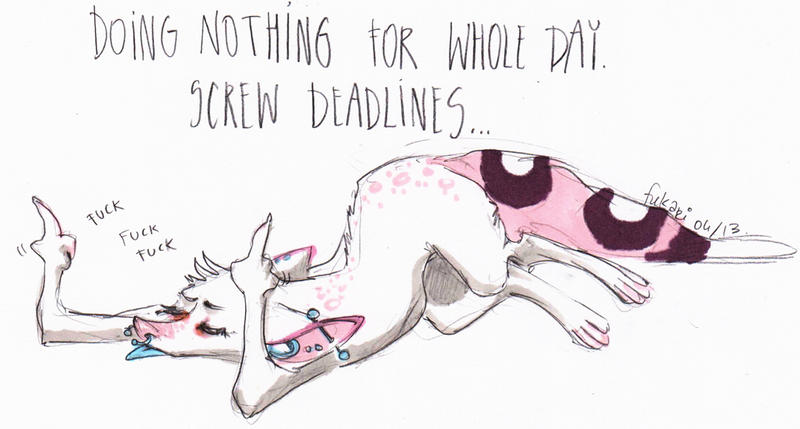 ---
"Someday is not a day of the week."

Janet Dailey

---
What is procrastination
- In psychology,
procrastination
refers to the act of replacing more urgent actions with tasks less urgent. More importantly, doing so willingly, fully realizing the consequences.
- Counterproductive, needless, delaying behavior can be classified as procrastination.
- Often results in stress, sense of guilt and crisis, severe loss of personal productivity as well as social disapproval for not meeting responsibilities or commitments.
- Impulsive personalities as well as perfectionists have more tendencies to procrastinate, but for very different reasons.
Procrastination is extremely prevalent. While many people procrastinate to some degree, it becomes a problem when it impedes normal functioning and disrupts one's career or personal life. Psychologists consider procrastination a troubling phenomenon that does not appear to be disappearing anytime soon.

---
Student syndrome

Estimates indicate that 80% - 95% of college students engage in procrastination, approximately 75% of them consider themselves procrastinators and almost 50% procrastinate consistently and problematically. "Student syndrome" refers to the phenomenon where a student will only begin to fully apply themselves to a task immediately before a deadline. It usually includes more of a plan and sincerely good intentions. For example, if a student asks his professor for an extension to a deadline, he defends his request by how much better his project will be given more time to work on. He fully intends to commit to improving his paper or project, but he ends up close to the same situation he started with, wishing he had more time.
---



---



I want to get rid of it!

Firstly,
learn to recognize
when you start procrastinating and why it happens. There are plenty of reasons, from low self-esteem and fear of success to pure laziness. Remember, your performance "still being better than the other dude's" is not a reason to keep the denial going.

Resist
the temptation of numerous distractions. The key is to believe in yourself, your ability to complete the task and even enjoy the process, as opposed to the certitude of incapability and boredom often causing procrastination.

Set time challenges
. I'm sure you are familiar with the "race myself to see how fast can I get it done" method. Another one I find effective is an everyday painting/creative challenge.

Create "artist" hours
. Just like office hours, during those do NOT do chores, answer phones or unimportant e-mails. Let your family know your schedule and insist on not being disturbed, use this time to create art.

Be realistic
at what you can accomplish, over-committing yourself causes needless stress. Also, give yourself enough time to
get things right
, what's the point of finishing something fast just to find out you have to re-make the whole thing.

Stay on task.
Under any circumstances. God forbid you get into new projects before finishing the one you are currently working on, one day you will find yourself surrounded by unfinished paintings.
---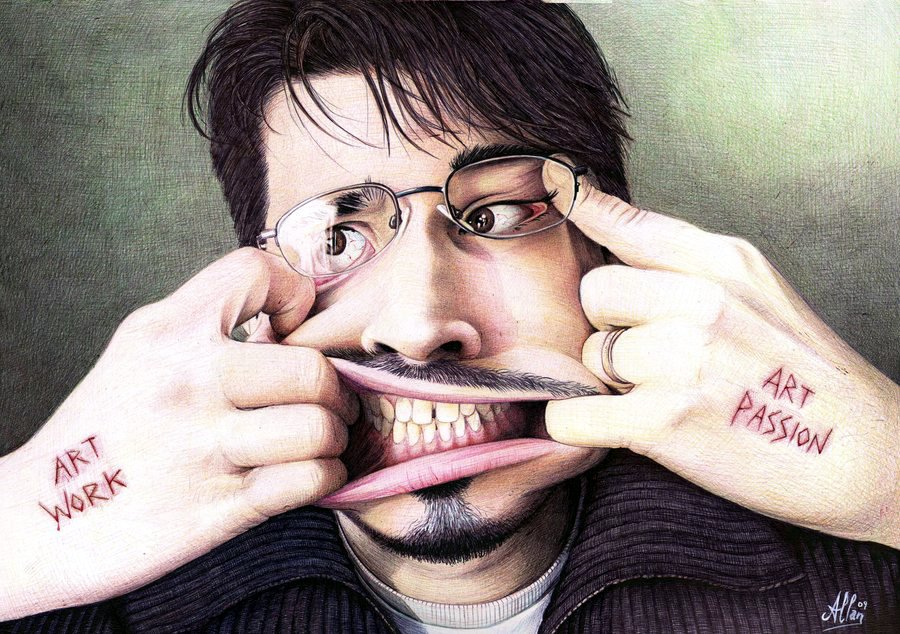 ---
Structured Procrastination

Structured Procrastination is an interesting method to make this bad trait work for you. Main idea is that procrastinating doesn't mean doing absolutely nothing but rather marginally useful things, like gardening, making a diagram of how you will reorganize your files when you get around to it or, well, painting something you are not supposed to be painting at that moment. This method is based on a fact that procrastinators can be motivated to do difficult, timely and important tasks as long as these tasks are a way of not doing something more important.

---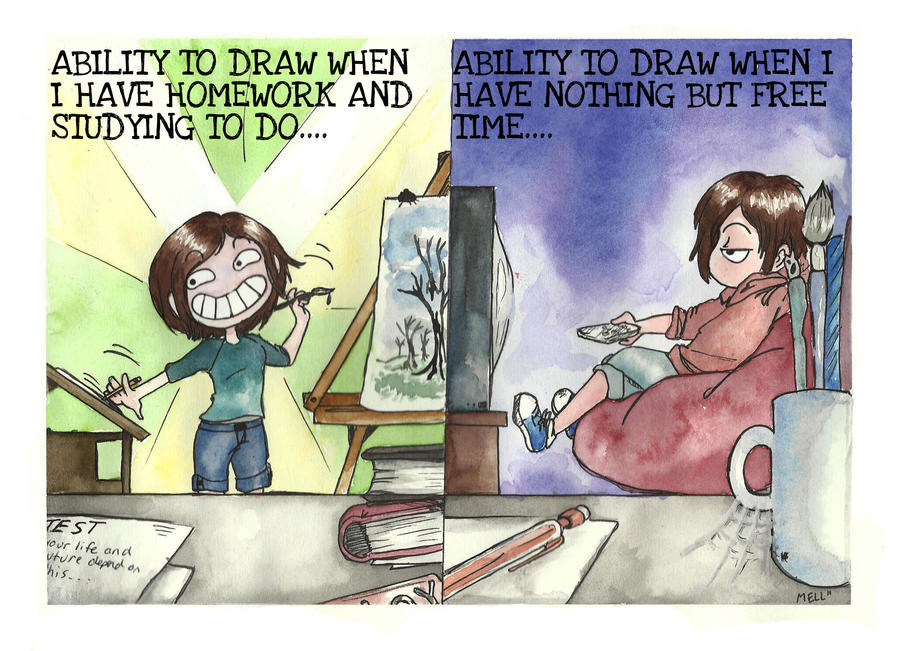 ---
But really, can you set a time-frame on being creative?
Creativity is a very delicate flower. It occurs unconsciously and sometimes gets strongly chained down when interrupted or pushed too hard. Am I trying to give you a reason to procrastinate? Not at all, what I've suggested above still applies, however learning to
utilize your strongest moments
will allow you to keep much more effective work schedule. In another words, there are moments beyond your control when you should, for the next big creation's sake, break a couple of rules listed above and 'play your cards'.
---
EXCEPTIONS...for the sake of creativity!

If you get an idea, you get an idea. Keep a notebook at hand to
make notes.
Write down every thought. Once you have nothing more on your mind, get back on the project you were working on. Structured procrastination theory suggests that the ideas WILL start flowing like a river once you start dealing with an important but rather boring project.

From time to time,
take a break
from commissions and very important duties and paint something just for yourself. No limits, no other people's opinions, you were working hard so now bring it all out, on to the canvas! Tomorrow you will have to do things other people want you to do, but today you have a free hand!

When you're "on the roll",
keep rolling
! This happens sometimes, you work on something for a longer time and you are getting the hang of it, make an extra painting or a story despite the fact that you should be moving on.

Seriously, not getting things done due to 3 hours of sleep every night is not procrastination, it's madness.
Get some sleep, okay?
---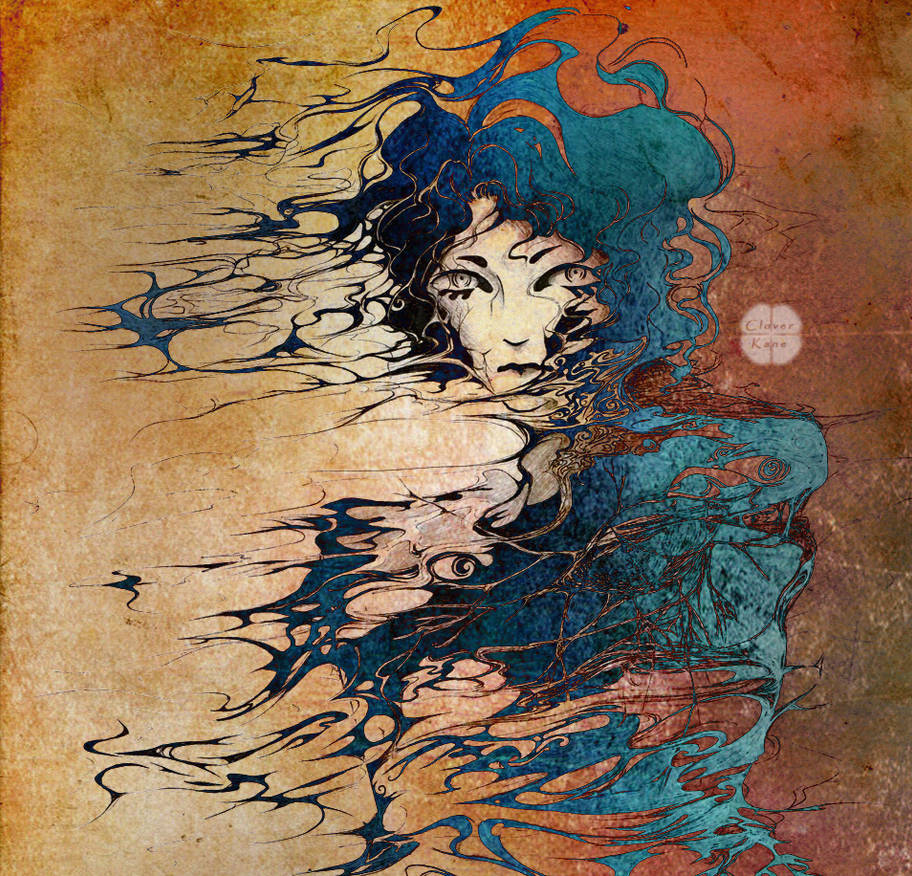 ---
"Life was always a matter of waiting for the right moment to act."

Paulo Coelho
---
Do you consider yourself a procrastinator? What do you think is the most common reason for procrastinating, in your case?

How did you try to get rid of the habit?
Feel free to share your thought in the comments below
Important notice:
Writing of this article have been heavily procrastinated to the last minute before the deadline. Things you gotta do for the research

Also, my balcony looks fabulous since the day I was supposed to start writing...
---

References & for further reading
Wikipedia
|
Piers Steel, The Nature of Procrastination (2007)
|
Why we procrastinate and how to stop
|
Overcoming Procrastination
|
Structured Procrastination
Steve Pavlina, Overcoming Procrastination
|
The Cost of Procrastination
|
Theories of Procrastination
|
Scientists research why procrastination is getting worse
---
Previous articles
Developing your personal style
The Impact of Color
The power of context
I don't know what to paint
Dealing with a negative feedback
Learning to paint with DeviantArt
5 excuses why you just can't do better
5 reasons to believe in yourself
9 tips to be more creative
9 ways to overcome (artistic) Frustration
9 Reasons to adore OIL PAINTS
9 Reasons to appreciate ACRYLICS
9 Reasons to paint with WATERCOLOR
9 Reasons to love your INK