In the first week of Artist's Toolbox, we discussed basic
Watercolor Equipment
such as paper, brushes and paints. Second week's article presents additional tools, equipment that some artists use to enhance their watercolor creations or just for the fun of it, however none of them is crucial to create a watercolor painting.
I divided these tools into two categories - those used to
Create Highlights
and those used to
Create Textures
. Bottom part of this article belongs to our watercolorists and their
Personal Experience
regarding additional tools.
---
1. Creating Highlights

✐ Masking Fluid or Frisket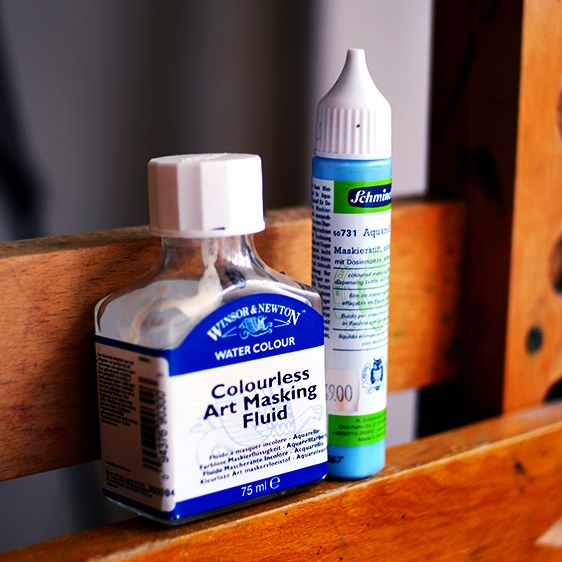 Masking fluid or liquid frisket is commonly applied to dry watercolor paper to keep an area white while applying paint nearby. It's a pigmented (mostly), water-based suspension of latex, however each brand uses a different formula. Many have a strong smell of ammonia which is added as a preservative. Most of them can be thinned with water. Some artists find it challenging or even useless to work with, some prefer it. It's an excellent tool to use for creating patterns. However, wrong use can destroy your painting so be careful and plan ahead!
TIPS:
✿ Masking fluid should be applied before any paint comes in contact with the paper, most of the time. It smells - open the window (:
✿ Always apply to a completely dry paper, in a thin coat and let dry for an essential amount of time before applying the paint.
✿ Never leave it on the paper for too long. When the paint dries, remove it with a finger or rubber.
✿ Don't apply with your good brushes. Use an old brush or a stick - variety of special
masking fluid brushes
and
ruling pens
is available.
---
✿ Brands & Resources
Winsor & Newton ✿ Daler-Rowney ✿ Daniel Smith ✿ Schmincke ✿ Dr. Ph. Martin's Frisket Mask Liquid ✿ Blick Liquid Frisket ✿ more brands
---
✐ Alternatives
Besides masking fluid or frisket, there are many ways to create highlights in a watercolor painting. Some include adding a medium on top of the painting, others scratching it.
✿ Masking tape - can be used to protect larger or specifically shaped areas of watercolor painting
✿ Craft knife - can be used to scratch the paint off the paper
✿ White gel pen - can be used to add thin lines or small dots of white
✿ Acrylic, gouache, white ink - can be used to add highlights on top of the painting
✿ Resources
WHITE GEL PEN tips & tricks (da) ✿ Accessories for watercolor painting ✿ White gel pens
---
2. Creating Textures
Even with watercolor paint, you can use a number of relatively easy rigs to create some unexpected textures in your paintings. Getting the hang of it, these will allow you to make a simple wash look interesting and involved in a short time with just a little effort. The look of a specific texture will vary depending on the surface of the paper used (smooth, cold-pressed, rough).

✐ Tools
✿ Salt - a little table salt sprinkled on damp watercolor paint creates a delicate flower-like spot. Use this to enhance your landscape paintings as well as create an interesting background for portraits.
✿ Plastic grocery bag - crumple the plastic and push it into the wet paint, this will create a texture. You can use sponge, fabric or paper towels in a similar spirit as well.
✿ Toothbrush - an excellent helper with creating splatters or paint, better than a regular brush.
✿ Alcohol - adding drips of it into the paint will create unusual effects. Timing is crucial here, use it somewhere between "too wet" and "already dried".
✿ Resources
TEXTURES IN INK AND WATERCOLOR (da) ✿ Watercolor textures stock (da) by RoryonaRainbow ✿ Textural Effects for Watercolor Painting
---
3. Personal experience of our watercolorists

STelari
Sylwia Cader, POLAND
"
Masking fluid
is a brilliant time-saver. When you have millions of details that you'd like to remain white (or just brighter), you can of course grab a white gel pen or white ink (or lose 1000 hours painting around them), but masking fluid gives the cleanest results. One big disadvantage of every masking fluid I've encountered: they reek like old cave trolls, so be sure to have the air flowing well through your room.
White ink
: it's hard to get white ink that isn't more transparent than a foggy glass and it tends to leave surfaces almost waterproof. This pretty much determines where you can use it, and so the masking fluid is a smarter solution when you want a clean white space - or if you want to paint that white space in the end after all. This doesn't mean that the white ink is useless, of course.
White gel pens
: need smooth, thin, regular, clean lines? This is where gel pens are superior from masking fluid - also at saving time. They're good at the tiniest details, when the poor skewer is still too thick and brilliant at bringing things like laces to life. Main disadvantages - they're relatively expensive and usually stutter regarless the price, and sometimes they suck in the pigment from the paint, losing the clean white."

Srdce
Anezka Bartosikova, CZECH REPUBLIC
"During those years I paint with watercolor, I've tried variety of gimmicks and unconventional methods for creating. Masking fluid being one of those, it might seem hard and off-putting at first but once you get the hang of it, it becomes a great helper. Make sure you are using heavier, quality paper. I can also recommend salt for textural effects and painting with tea & coffee. Lastly, I'd like to mention the method of squeezing materials into the semi-wet paint - grass, leaves, flowers, fabric or even needlework can be used for this."

nicolasjolly
Nicolas, Jolly, FRANCE
"I never used masking fluid in my painting, but I do like to enhance my works with a bit of white acrylic."

ShastinaHell-N
Elena Shastina, UKRAINE
"Make sure to use an old brush with your masking fluid - I ruined some good ones - and keep a soapy water nearby to wash it immediately after use. I also use cotton sticks and toothpicks instead of brushes. To apply masking fluid correctly is not as simple as it might look, it requires accuracy, otherwise the result seem rough and dead. "

takmaj
Maja Wronska, POLAND
"I don't use masking fluid, don't like the smell of it. Rarely, I use salt to create textures in my works and when I was younger I liked to use sprinkler with clear water, but not anymore. To be honest. for 2 years or something like that I use only watercolors, I just don't like those tricks

"

TanyaShatseva
Tanya Shatseva, RUSSIA
"Yes, I have masking fluid experience, but I can't say definitely if it is positive or negative. For me it is more convenient to use white acrylic paint instead because I can control process, shape, volumes and so on. Fluid is more unpredictable (which is not a positive side unlike water unpredictability) and it is especially difficult to use when you need thin details. What I really liked to use (and it was the only additional thing) was salt! It really create magic with paints.

"
---
More Toolbox articles:
Watercolor equipment - Basic Tools | Pencil, Graphite, Charcoal

---
This article and many others was brought to you by Still not a watcher? Join us!