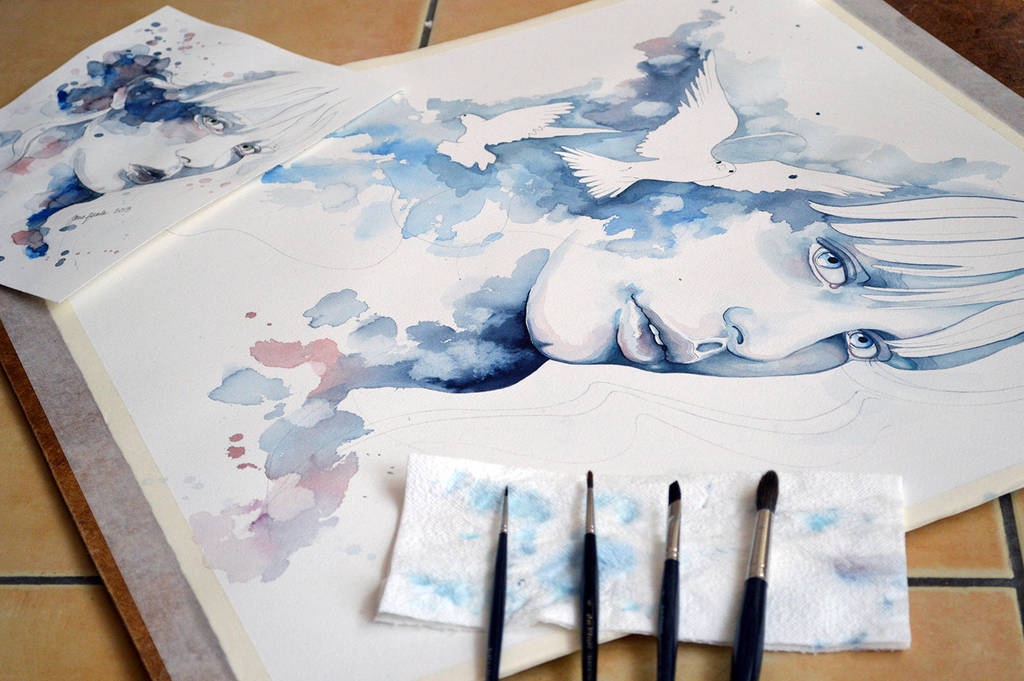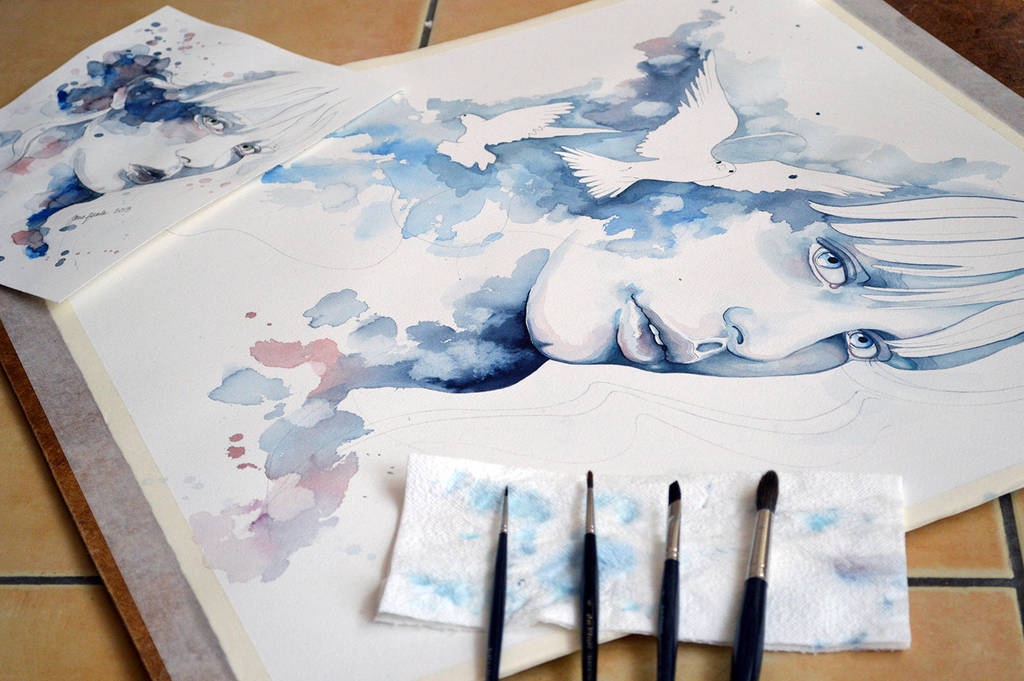 Watch
Watercolor & ink sketch (left, small) & painting in progress ( 50 x 50 cm / 20 x 20 "), working with Schmincke Horadam and Ecoline on 300g 100% cotton Arches paper. Exhibition in 2 weeks here in Slovakia, you will be able to see these brand new paintings amongst a couple of already published ones. And - of course - me!

Comments & feedback MUCH appreciated!
---

---
>>>
Society6
|

|

|
tumblr
<<<
I should congratulate the artist for such a great work.

I love the way only one color (mostly) is used to creaate such a detailed piece.
Also i like the driping (?) effect because it give out a dreamy floating effect.
I find that is very artisitc that the painter has included in the picture the brushes that are used. Although it looks like the painting is not done i personally really love it and it very inpirtional for people who are into painting and arts in general.

Ps. I'm sorry for my english not my native language, i hope you understand the point i try to make

~ Well done!!
The Artist thought this was FAIR
2 out of 2 deviants thought this was fair.
Amazing piece of work. I really like the colors you use, you don't use many but the way that you use them is interesting. They are vibrant and add to the piece but don't distract you from Persephone. It is very light but still detailed, and I think that is a large part of what really draws me to the work that you do. Gosh, it's just gorgeous. I would love to know what paints you use and how you mix colors.

One area that I couldn't figure out for the life of me was her neck. I don't know but that sort of Adams apple thing looks weird to me.

The sketch is good by itself, but I was impressed with how you took the sketch and not only made it larger but expanded on the idea you were using. It's a very pretty piece and I like it. Please, don't ever let anyone tell you that it's any less than beautiful. They are wrong.
The Artist thought this was FAIR
1 out of 1 deviants thought this was fair.