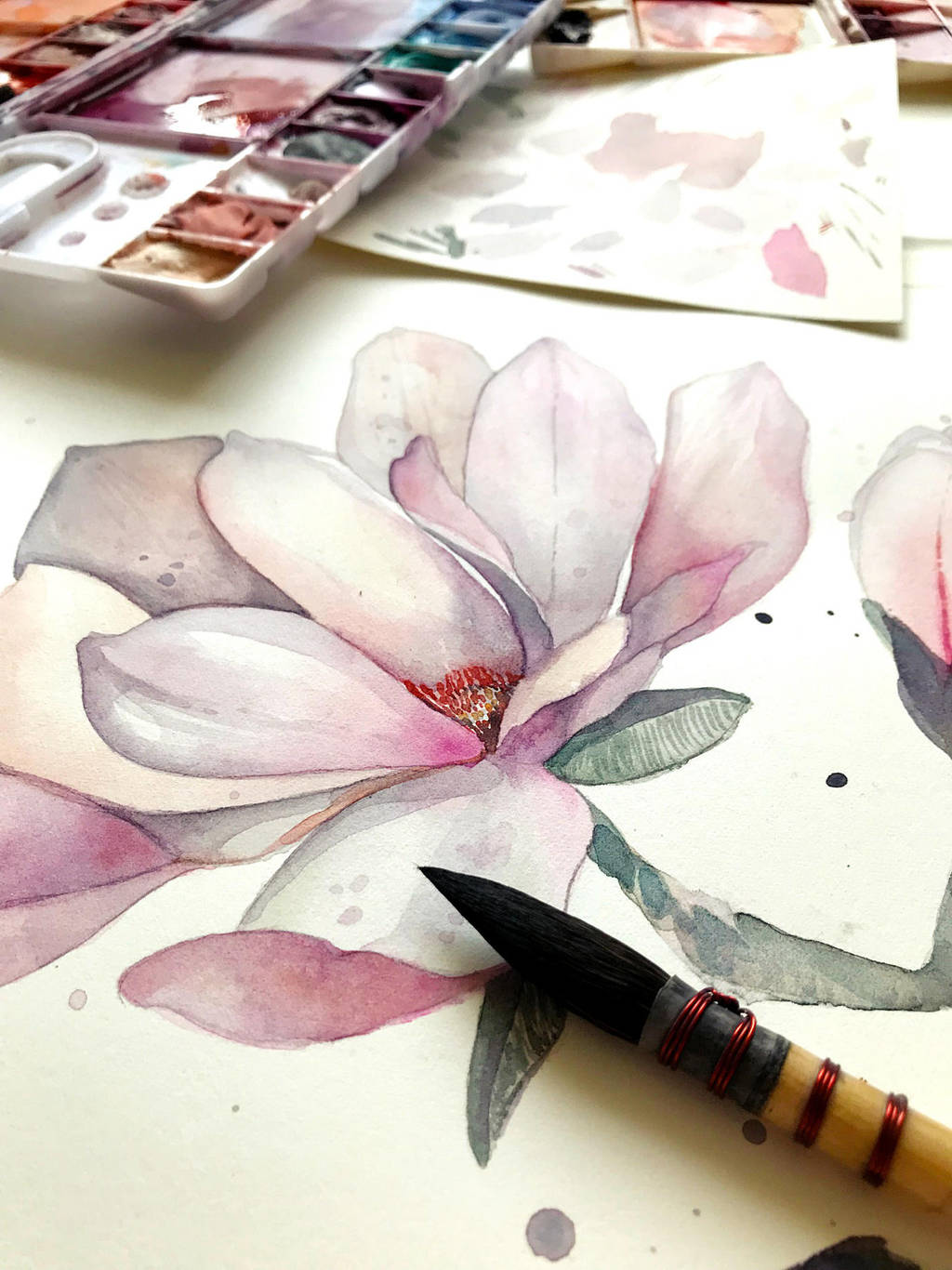 process video

More magnolia studies

This time I tried on a very fine cotton paper with no texture, smooth and scary. It was hard, I am not going to lie, texture helps a lot with water control. Another thing, I don't enjoy when paper immediately after brush stroke sucks in the pigment and wont allow me to smooth it with another stroke with a wet brush. This sometimes happens with smooth paper, not with textures one though, which makes the work much easier.

As of next week, you will find a real-time process video of this study on my Patreon page



___________________

If you like my work, let me know and I will have a better day

>>> WATERCOLOR TUTORIALS on PATREON <<<

This original is still AVAILABLE at my STORE, as well as beautiful fine art prints

---

The color palette used for the magnolia blend in quite nicely with each other. The shading creates the illusion that there are layers to the petals on the magnolia, as well as a soft texture. The shading of colors are used in just the right areas to make the picture appear a lot more realistic in comparison to an actual magnolia. The textures are also smooth and create a kind of minimalistic look. The ink spots add an extra detail. The colors are not harsh and don't seem to bleed. The petals are shaped in a way that appear as if there in motion, and again those ink spots on the outside help with that. The inner part of the flower contains the nice warm colors seen on magnolias, and are drawn perfectly. You appear to know what you're doing in containing the colors in the areas you want to put them, as well as expertise in the medium used. Watercolor can be difficult to use for some.

If realistic was what you were going for, then I'd say you did a fairly good job at it. However, with realistic petals, the bottom sides of the petals that are shown should have a vain like texture to them. I do think that you made a nice choice in the end though, by simply shading the backsides darker.

Overall I think you executed the flower beautifully, and created a pleasant drawing to look at.
The Artist thought this was FAIR
3 out of 3 deviants thought this was fair.

The result is beautiful. Thanks for sharing your research and art
Reply

Beautiful artwork, keep it up

Reply

Reply

Reply