Etsy | Prints | Facebook
Finally the time has come for me to announce the winners! Thank you everyone who gave

and

this journal. Also, look forward to the art feature and feel free to donate points at anytime so that I can do this again. I'll contact the winners and give the points ASAP.
Random number list
1.

Izumiko-san
sta.sh/01a1nwtnxvf4
Donation proof
2.

homikka
sta.sh/01fekumlt5zs
Donation proof
(features received)
3.

Little-Miss-Kay
sta.sh/01rm1pze4m5w
Donation proof
(features received)
4.
The-Great-Bunbutchi
sta.sh/0291w4f2rtiy
(features received)
5.
Sakujochan
sta.sh/01z4wzsd9s9s
6.
miyaotohime
sta.sh/02976qjhs21d
7.
UzaiyaProject
sta.sh/0lpqvzyz941
(features received)
8.
keirui
sta.sh/0i12rbvqa01
9.
delcattylover53
sta.sh/01lu3ddbed1p
(features received)
10.
rouge2t7
sta.sh/0zx37cmwoib
---
Hey! I'm so super busy right now that I can't choose the winners tonight, which I was planning on doing. That means I'll extend this until the morning and try to post the winners by noon MST 7/26!
Sorry for making you wait, I have some last minute school enrollment today which means I'll be a student again starting Tuesday. AHHH!
---
I've decided to have a bit of a contest and give away some points toward premium or whatever you want to do with them.
1. Favorite this journal

. The winners will be chosen using random.org from the list of people who favorite.
2. You don't have to watch me or anything, this is just my way of contributing to the community. Also, if you like the idea of this you can donate points to me and I'll use them to have another giveaway in the future. I have premium for the next year so I honestly won't be spending them on anything.
3. Please don't spam or beg me for anything! I will see that as you forfeiting your right to win.


Prizes


1st: 500

and be included in an art feature!
2nd: 300

and be included in an art feature!
3rd: 50

and be included in an art feature!
4th - 10th included in the art feature!
Also, anyone who wins and is allowed in the art feature is also allowed to advertise their commissions!

(In the feature I might choose more than the three winners)
I will decide the winners July 25th and post the winner's feature after I've contacted them! Look for a message from me to know if you won.
Good luck and tell everyone, this contest is completely by chance and I ask for nothing in return. ヽ(*≧ω≦)ノ
Have a nice day!
Hey hey! Check out

1,000

giveaway!

Giving Away 1,000 Points! (ENDED)

THIS GIVEAWAY IS OVER. IM VERY SORRY IF YOU MISSED IT. THANKS TO ALL WHO PARTICIPATED.

That's right. I, :iconxia22:, with the help of :iconhoneyandthedevon: are giving away 1,000 deviantART points for free. So check out this journal for what you have to do to have a chance!





Here's what you have to do.


You must watch both :iconxia22: and :iconhoneyandthedevon:.


You must fave this journal so other people will see it.


Make a journal advertising this giveaway and make sure you LINK BACK TO THIS JOURNAL.
[Bullet; Pink] Fave this: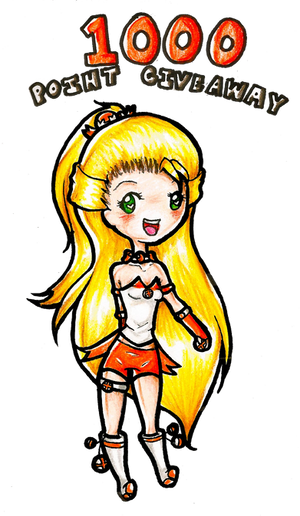 so people will see the giveaway.
[Bullet; Pink] Comment on this journal with a link to your advertising journal.
[Bullet; Pink] And favorite either one of these journals to help advertise our contests!
[Star!] That's pretty much it. Make sure to spread