I know that this club don't do well with contests lately. . .but the reason I'm starting one now is because of a special event that's soon coming. . .
When Disney Channel's American Dragon Jake Long first came on during the year 2005 to 2007 (only two seasons), Jake Long first got a crush on Rose since he first met her at school on the very first episode of the series. They first started out as great friends (even though Jake wishes that they could be more than friends someday).
But what they didn't realize that they also met in a different life. . .as enemies.
Jake is known as American Dragon that protects magical creatures that secretly live in New York City. Rose is known as Huntgirl who's part of a dark group called Huntclan that captured magical creatures for experients and other used, steals rare items, and slay dragons.
Jake was the first to discovered this during a school's field trip and was heart-broken that the girl that he falling for is also one of his arch-foes. When Rose later discovered this by almost slaying him (couple of episodes later at the last one of the first season), she's torn between her alliance with the Huntclan and the love for Jake, confused of what is really right. And that's when the first season ends.
During the second season, after discovering a lot of dark secrets that the Huntclan is keeping from her, Rose begin to help Jake and his friends with secrets of what the Huntclan might do now and then, making her a Huntclan traitor.
What will really happen between them. . .you just need to watch the show to find out yourselves! I don't want to spoil the fun to those who just heard about this!>_<
January 21, 2005- September 1, 2007
What am I saying?
Well. . .if I read this right, on January 21, 2015, will mark 10 YEARS since our series, "American Dragon Jake Long" first aired on Disney Channel!
THEME?
So since this theme is mainly based on the 10 YEARS anniversary, this club contest involved doing a epic group collab-like entries
Like these lovely examples below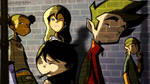 Only 10 Years anniversary version if you know what I mean. . .
CLUB CONTEST RULES
*One entry per member/watcher
*You could put as many official characters from this series on there as long as you don't forget the two main characters, Jake and Rose! It can't be no less then four from both sides of good and evil (Like have some huntsman villains and good guys on there)
*NO made-up OC characters, NO crossover characters
*It must be the same rating as the series! So NO mature-like art! There's kids here as well!
*You could have either a plain background or a designed background if you want to
*It must be either traditional and/or digital media. And must looked like a finished work of art! NO screenshots! And NO stealing ideas from others!
*If you want, you could put words like "American Dragon Jake Long" and/or "Celebrating 10 Years". If not, just let it be
*Still follow the club rules like always!
*Submit finished entry to the "Contest Folder" here in the club! (if it not meant for the contest, please submit elsewhere)
PRIZES
Sorry that its not much!
If you want to donate prizes like features, art requests, llama badges, points, PM, ETC please let me know in this blog so I could add it to this prize chart!
1st Place
*Winning entry to be featured in the FEATURED gallery part of this club for a WHOLE YEAR
*A free G-rated Jake/Rose fanart request from Me, the founder
*A free commission from

2nd Place
*Winning entry to be featured in the FEATURED favorite part of this club for a WHOLE YEAR
*A free request from

*A llama badge from ME, the founder
3rd Place
*A llama badge from ME, the founder
DEADLINE?
This will be a summer thing!
So this contest will last all summer and through the fall too until December 15. . .so there will be time for voting and the winners will be reveal on the day this epic series will hit 10 YEARS!
Are you cool with that?
Any questions about this latest club contest, ask away here in this blog!
This latest contest for

club have OFFICIALLY BEGIN!!