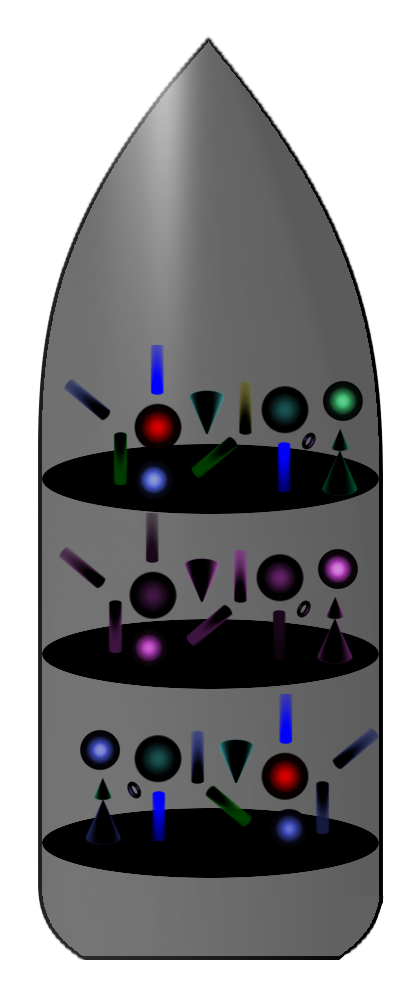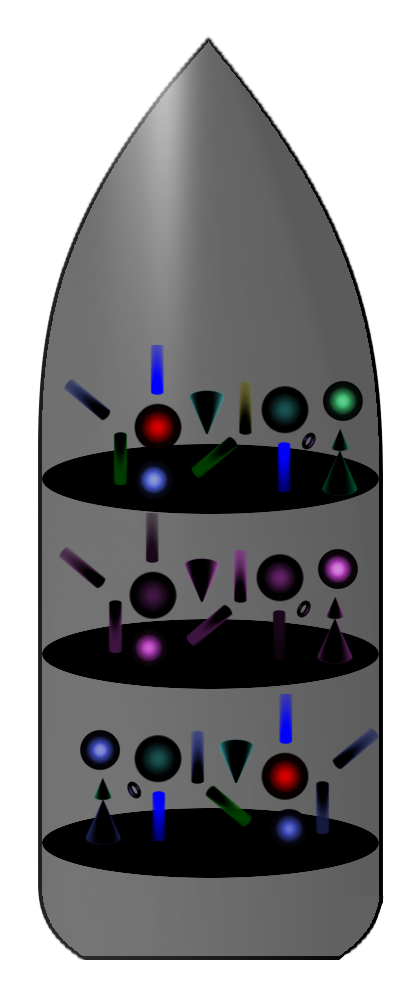 Deviation Nº562 << PREVIOUS || NEXT >>
---
Trabajos relacionados/related works
El Planeta Qhot-naun-phaqiasiari (texto)
,
los Demonios Pllana
,
Los Sarqoisi
,
The Qhot-naun-phaqiasiari (text)
,
El Planeta Qhot-naun-phaqiasiari (imagen)
---
Descripción/description
Los "
periódicos de los Yáwohhiur
" son extraños recipientes de cerámica transparente repletos de formas geométricas de diferentes colores y en movimiento. Cada "noticia" usa los tres niveles de la vasija. Los Yáwohhiur son capaces de captar una gran cantidad de significados teniendo en cuenta las diferentes formas, tamaños, colores y distancia entre los objetos.
La noticia que se puede ver en la imagen fue emitida como un comunicado urgente por Odranæ (un aprendiz yáwohhiúrico), que buscaba divulgar a todos los Yáwohhiur la posibilidad de crear submundos asociados a cada individuo, lo que burlaba la estrecha vigilancia de los funcionarios yáwohhiúricos que se había implantado debido al mal uso que se había realizado de los submundos.
Pero esa vigilancia también había impedido que los Yáwohhiur que tuviesen intenciones legítimas (la gran mayoría) no pudiesen acceder a ningún submundo.
El mensaje dice lo siguiente:
"Soy Odranæ, investigador de submundos. Quiero dar a conocer esta felicísima noticia: cada Yáwohhiur es capaz de crear un submundo de manera sencilla asociado a uno mismo. Esos submundos no están bajo el control de funcionarios represores. Disfruten de sus mundos: yo ya estoy en el mío. Adiós".
---
The "
Yáwohhiur newspapers
" are strange receptacles of transparent ceramic full of animated geometric shapes of different colours. Each "news" uses all the three levels of the vessel. The Yáwohhiur are capable of understand great number of meaning depending of the different shapes, sizes, colours and distance between the objects. The news that can be seen in the image was issued as an urgent statement by Odranæ (a yáwohhiur apprentice) that sought to disclose to all the Yáwohhiur the posibility of create subworld associated with each individual, which tricks the close monitoring of the yáwohhiur officials that had started due to the misuse of the subworlds. But that monitoring had also prevented to the Yáwohhiur that had legitimate intentions (the vast majority) could not access any subworld.
The message say this:
"I am Odranæ, a subworld investigator. I want to spread this most happy news: Each Yáwohhiur is able to create a simple subworld associated oneself. These subworlds are not under the control of repressive officials. Enjoy your worlds: I'm already in mine. Goodbye. "
---
Hecho con/done with
GIMP (& GMIC) & K3D bajo/under GNU/Linux Ubuntu 11.10
---