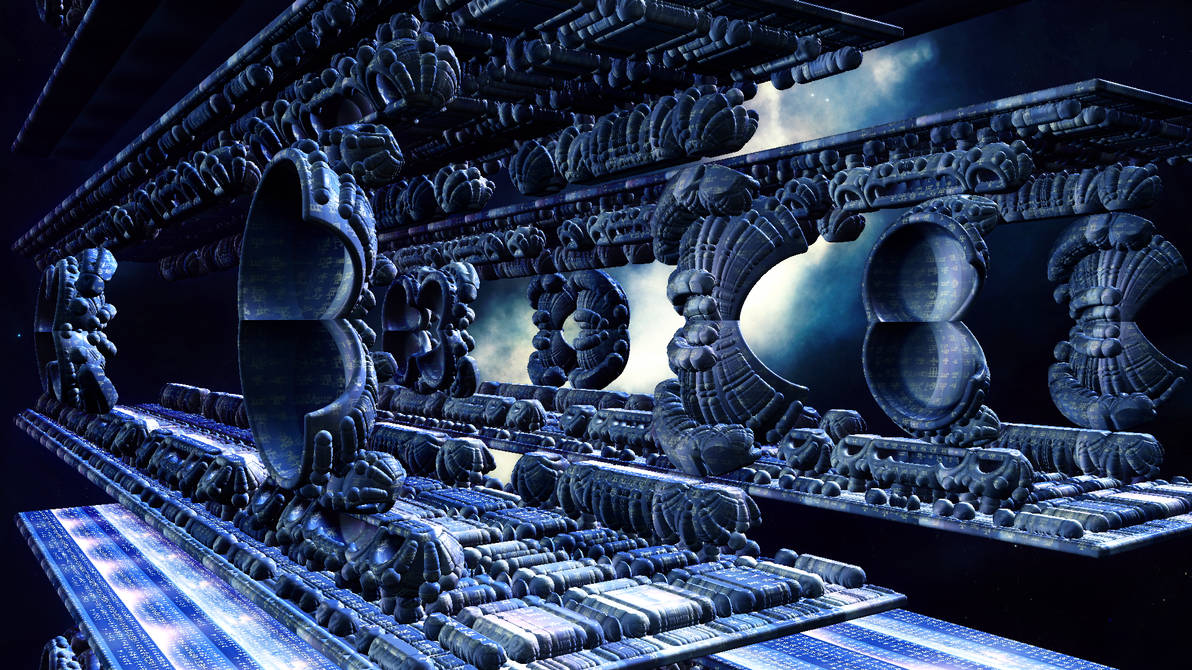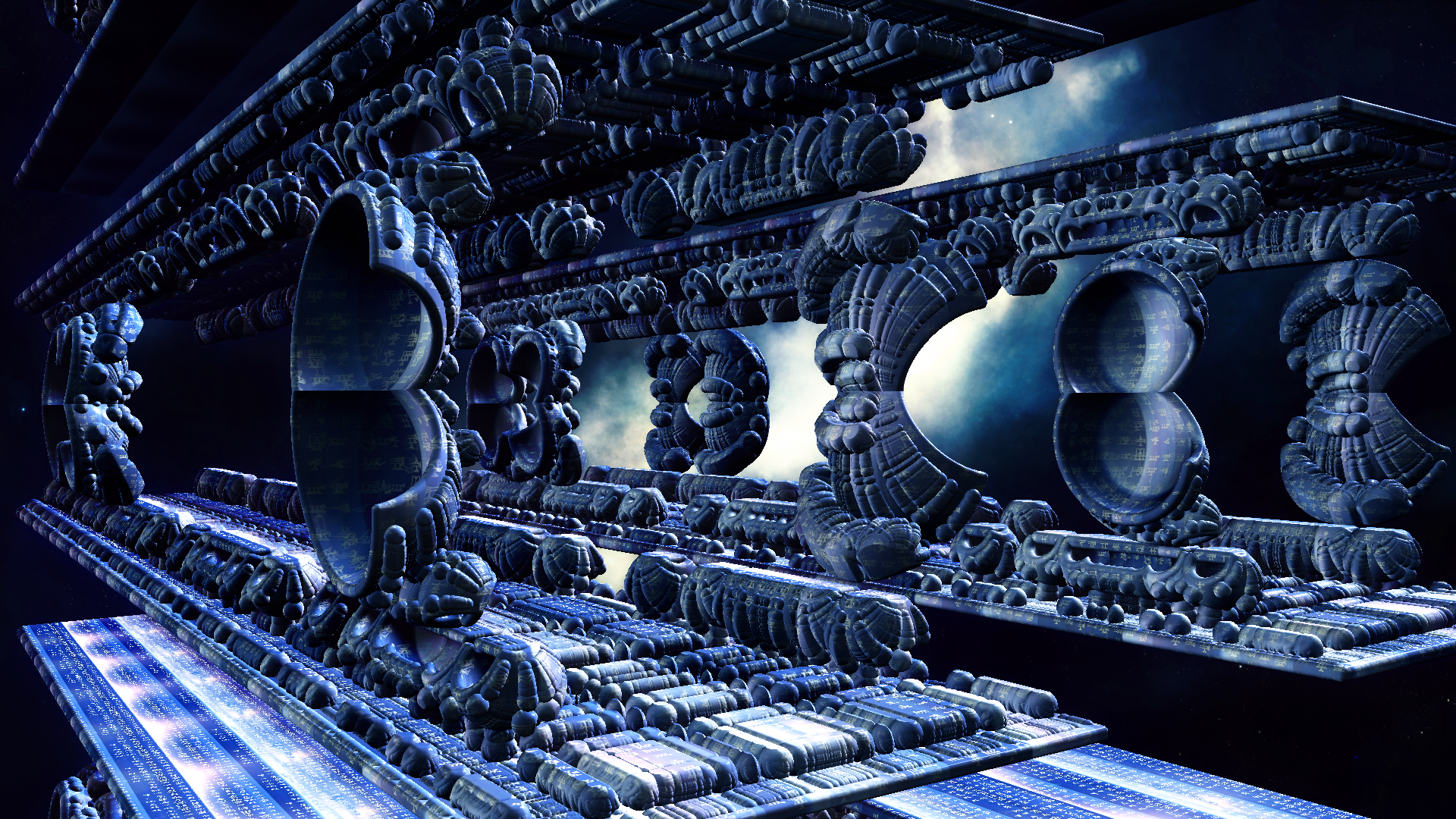 Deviation Nº1429 << PREVIOUS || NEXT >>
---
Trabajos relacionados/related works
Galería de Mandelbulb3D
,
Gallery of my replies of the pong with Transistor1
,
Gallery of the Pong Jakeukalane-Transistor1
,
Xenomia
,
Xenomia II pong #6
,
Xenomia IV (phung M #10)
,
La Figura mas perfecta de Todo (imagen)
,
The Interplanar Treasures
,
La Tierra Neshl
,
La Tierra Neshlspik
,
Las Xonas Interplanares
.
---
Descripción/description
La
Estructura Planar
conocida como
Xenomía
es uno de los múltiples reflejos de la
Figura mas perfecta de Todo
. En Xenomía se acumulan otras Estructuras Planares, puesto que las atrae como si fuera un
Tesoro Interplanar
.
Es muy curioso que la Xenomía se defina de igual manera que las primitivas definiciones de la Figura más perfecta de Todo: una figura geométrica fundamental (Estructura Final) que contiene todas las manifestaciones posibles e imposibles, pasadas, presentes y futuras de un idioma. También incluye el conjunto de ideas detrás de dichas manifestaciones lingüísticas, tanto en fonemas como en grafías de todo tipo. Allí se expresan no sólo el idioma acádico de la
Tierra Neshl
(en concreto de la
Tierra Neshlspik
), en sus diversos dialectos y grafías sino también el extraño idioma
qauššakkad
.
Xenomía sufrió los efectos de la Primera Gran Distorsión (otro nombre para la Maldición de Venninmaa o Efecto de Tllašinmu), dejando de ser una Estructura Final para ir a parar al Tejido Interplanar normal. A su llegada a dicho Tejido Interplanar alteró sus alrededores de tal forma que Xenomía y el espacio que la rodeaba pasó a convertirse en una
Xona Interplanar
plenamente diferenciada (denominada Xalnía).
Existen diferentes versiones de Xenomía y se tiene la hipótesis de que cada una procede de un Milegu diferente. Se conoce como
Xenomía III
a una extraña estructura recubierta de signos cuneiformes que flota en el espacio sin que nada la afecte. A simple vista podría parecer una nave espacial en la que sólo se conserva el casco.
---
The
Planar Structure
Xenomía
is known as one of the multiple reflections of the
Figure most perfect of All
. In Xenomía gather other planar structures, attracted like if Xenomía was an
Interplanar Treasure
.
It is very interesting that the Xenomía defined the same way as the earlier definitions of the Figure most perfect of All: a basic geometric shape (a Final Structure) that contains all the possible and impossible, past, present and future manifestations of a language. It also includes the set of ideas behind these linguistic manifestations, both phonemes and spellings of all kinds. There are expressed not only the Akkadian language of
Neshl Earth
(specifically of
Neshlspik Earth
), in its various dialects and spellings, but also the strange
qauššakkad
language.
Xenomía suffered the effects of the First Great Distortion (another name for the Curse of Venninmaa or Effect of Tllašinmu), ceasing to be a Final Structure for going to the normal
Interplanar Fabric
. Upon arrival at that Interplanar Fabric, Xenomía altered the surroundings so much that the space around it transformed into a fully differentiated
Interplanar Xone
(referred to as Xalnía).
There are different versions of Xenomía and there is the hypothesis that each one of them proceed from different Milegum.
Xenomía III
is a strange structure covered by cuneiform signs that float in the space with nothing affecting it. To the bare eye it appears as a spaceship with only the hull preserved.
---
Comentario/comment
Esto es un pong con/this is a pong with

Transistor1
---
Parámetros originales/original parameters
Glassy Skyscrapper #9
por/by

Transistor1
(Pong con/pong with

Jakeukalane
).
---
Fórmula/formula
ABoxPlatinumB + _Transform + Amazing Surf 2 + AmazingBox2
---
Parámetros/parameters
Xenomía III v1 Mandelbulb3D 189 x2 parameters
&
Xenomía III v2 Mandelbulb3D 189 x2 parameters
Mandelbulb3Dv18{
g.....s/...C2...w....I6...EbF6I2L4b2.r9/9I2DYm6E1o8dfWKAvyvPE3sOllt..dcsT3/dQr.E
................................HeLANsL9Qz1........Y.VN2...............k0/2...wD
...Uz6.....ac.../6U0/.....Uv/...O/...2ED.....2OmmHvNjGqD/.kYM6HELYN41dkpXm1.gEhR
//UaNadD12E.02UaNaNaNaNuz4..E9HsVU.kBnAnAnAnB.2...zS74Htz.U0.....y1...sD...../..
.z1...kDl2Zv8wMU/wPIAER9VtsNzc7P.7o./2rDUQWEnZofox9RaZEew9svy4TXX7fQhyjj6B9jCcoJ
IvvhQuH.U2EQzWj7jx.RCSqDU.....26H.........EnAnoD/2....sD..G.....................
.............oAnAt1...sD....zw1...................................UY9vIEJ....k1.
.....Ksulz1.....0.kz.wzzz1.U..6......Y1...EB....41...w/...UE....4/....km....S55I
UE3U.W1KEyzlciszsU3YzTAe906.5Qoz.1Ak..kuvBTuCfyj6odIWOor/.2...........k/8..k.1A.
.Ak5eP./cz9.K4y.iv1/.B...........QUAz1Ak.1..qK2hqVq..vVAZRBEi7yD.UxsTaaGC.I.2c..
zzzz............z1...................2./8.kzzzD............8....................
/EU0.wzzz1....................................8cU0.E./2Ezz/cU08../2E.tzDU08c..2E
./IzT/8cU0.E./2EQs5cU08../2E./bTU08c..2E./2ly/8cU0.E./2EMw5cU08../2E.lqTU08c..2E
./2kz/8cU0.E./2E...cU08czz/cU08cyz1cU08cxz3cU08c.6KSnBLBpsWOkR4.................
E../.Ek.l2E.....I....w....EE0x4SElKMoZaPppaE..........................k/.MU/4...
.ok.1Ak.0.EoAnAnAn8zzMaNaNaNa/.kaNaNaNaN3.2............................sU/gPaNaN
aNalz..........EAnAnAnAnwz9........../..........................................
........I.2..........2.....3....6....w3Jm3aPnNqPmp4.............................
.....IE/36...........cNaNaNaN4zDaNaNaNaNqzXNaNaNaN43./........yj.......UK/2.....
.............O2E........kz1.....................................................
................................/....E/...k/..../pKMuZaPb/mIp7bNU61.............
............5.U/4MU.............aNaNaNaND.YNaNaNaNapzMaNaNaNatxD................
........................I.2.....................................................
..........................................E.....I....k....EEh3aSdtqN0x4Sm.......
......................k/.MU/4....ok.1.....kNaNaNaNK0./.........E........kz1.....
...................................sz..............................wz...........
........................................................}
{Titel: xenomia-III-v1-by-jakeukalane}

---
Fondo/background
Nebula Texture Stock
por/by

ex-astris1701
---
Hecho con/done with
Mandelbulb3D 1.8.9. x2 (bajo/under WINE) & GIMP bajo/under GNU/Linux Ubuntu 11.10
---