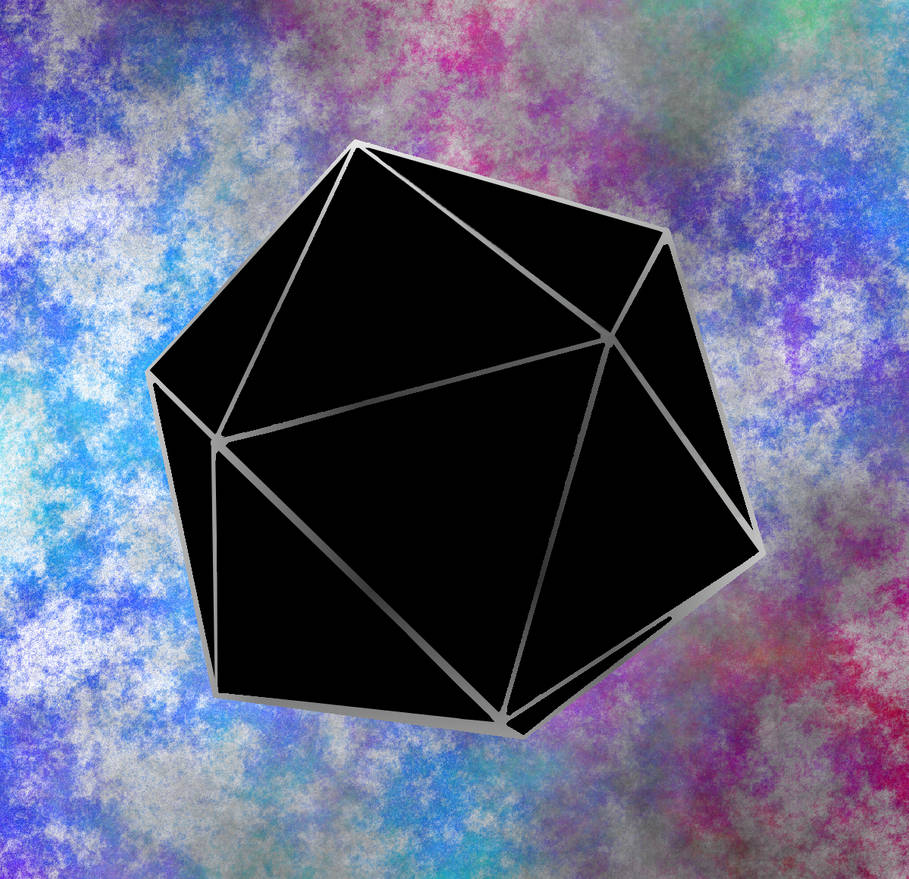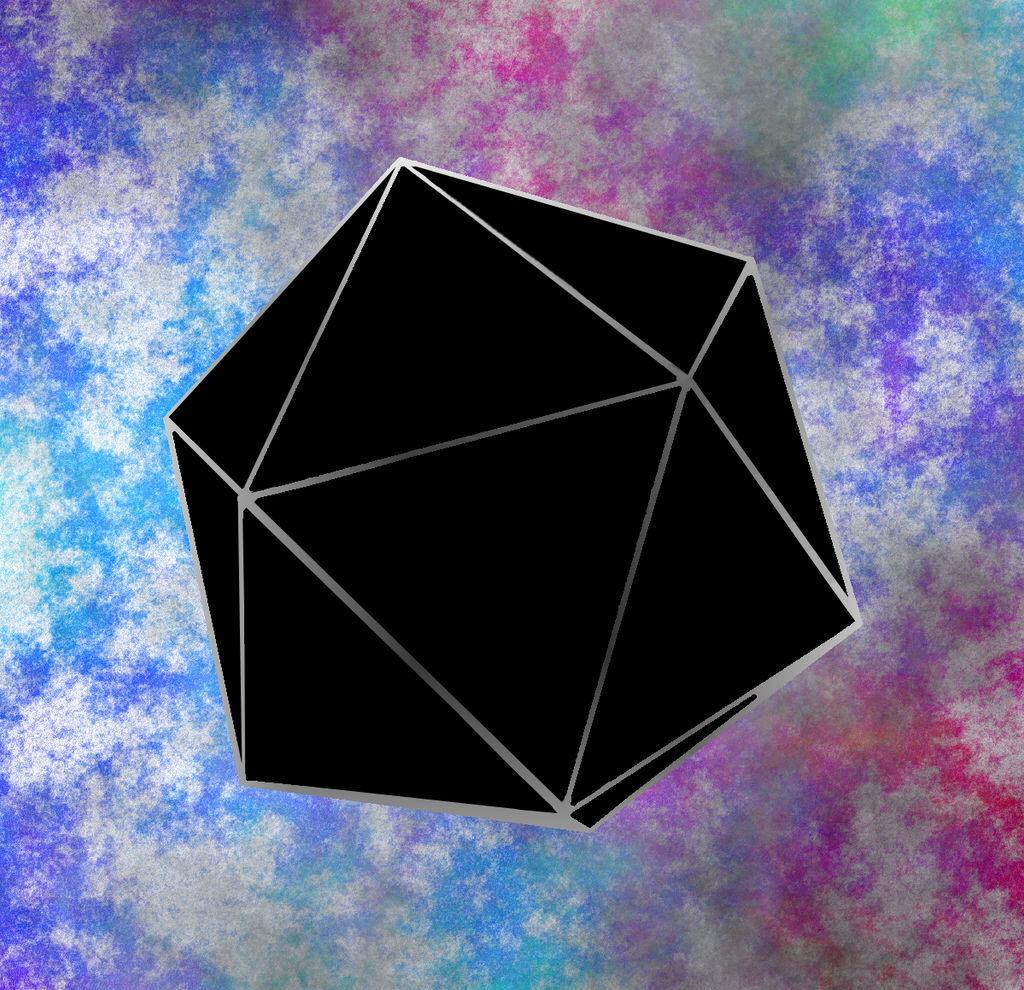 Deviation Nº941 << PREVIOUS || NEXT >>
---
Trabajos relacionados/related works
Destructor de Planos Vitales
,
Athyoh (transparent)
,
Athyoh
.
---
Descripción/description
Los
Aḫḫiwyššas
(o Ahhiwyshshas o Ajiwyssas) son enormes icoesaedros repletos de veneno y sustancias explosivas que los Yakawyujhsi (Hombres-Escarabajo) emplearon en la tristemente famosa "
Batalla del 23 Regimiento de Yakawyujhsi
" disputada en las llanuras de la Tierra Neshlspik. Cubrieron una llanura entera de dichos artefactos y vertieron
ilšimšûm
1
(un líquido extremadamente inflamable) alrededor. El infierno desatado por los Hombres Escarabajo fue tal que la llanura quedó totalmente destruida; ni un solo animal o planta sobrevivió en toda la ancha llanura que medía más de 80 Km
2
. Al estallar los Aḫḫiwyššas se dispersaron en la atmósfera litros y litros de fragancia compuesta de caléndula negra (entre otros venenos), sustancia que los Taikainu (o Hidras Aladas) aborrecen en extremo. El grupo de Taikainu Rojos que vivían en dicha llanura tuvieron que huir de sus grutas subterráneas de manera muy apresurada, para caer directamente en las redes de los Yakawyujhsi.
Una vez abatidos los ejemplares más fuertes, los Yakawyujhsi cargaron de pesadísimas cadenas a las Hidras Aladas y las llevaron a sus ciudades en las montañas. Allí sometieron a indecibles tormentos a algunos individuos. A otros los drogaron y experimentaron con diversos venenos. El mayor afán de los Yakawyuhjshi no era el militar, sin embargo, sino el económico: las pieles de los Taikainu Rojos eran de una firmeza y suavidad exquisita; muchos de los Taikainu Rojos se convirtieron en prendas de vestir. Con las pieles de los Taikainu, los Yakawyuhjshi hicieron complejos experimentos y al final fueron capaces de replicar en el laboratorio los tejidos de los Taikainu, para fabricarlos en masa. Sin embargo, este éxito económico y científico no sería aprovechado puesto que apenas 3 años después, el Consejo de Taikainu, formado por las diversas subespecies de diferentes colores de los Taikainu (Taikainu Rojos, Taikainu Verdes, Taikainu Negros y Taikainu Naranjas), unidas a la fuerza por el gran ataque de los Yakawyujshi, lanzaron un ataque masivo contra las ciudades
yakawyujshi
que habían participado en el ataque y las borraron totalmente de la faz de la Tierra Neshlspik.
1
: La palabra original sería *ilšimšium (forma reconstruida pero no atestiguada en la escritura). El diptongo
iu
se contrae para formar la vocal û (u larga con marca de contracción).
---
The
Aḫḫiwyššas
(or Akhiwyshshas or Akhiwyssas) are enormous icosahedrons full of poisons and explosive sustances that the Yakawyujhsi (Bettle-men) used in the sadly famous "
Battle of the 23rd regiment of Yakawyujhsi
" disputed in the plains of the Neshlspik Earth. They covered the whole plain with those artifacts and they poured all arround
ilšimšûm
1
(an extremely flammable liquid). The hell unleashed by the Beetle Men was such that the plain was totally destroyed; not a single animal or plant survived across the wide plain that was more than 80 km
2
. When the Aḫḫiwyššas exploded it dispersed in the atmosphere gallons of fragrance composed of black calendula substance (among other poisons) that Taikainu (or Winged Hidras) hate on end. The Red Taikainu group living in such plain had to flee their underground caves very hastily to fall directly into the nets of Yakawyujhsi.
Once killed the strongest specimens, the Yakawyujhsi charged the Winged Hidras of very heavy chains and took them to their cities in the mountains. There, some individuals were subjected to unspeakable torments. Others were drugged and the Yakawyujhsi experimented on them with various poisons. The greatest aim of Yakawyuhjshi wasn't military though, but economic: the skins of the Red Taikainu were exquisite firmness and softness; many of the Reds Taikainu became garments. With the skins of the Taikainu, the Yakawyuhjshi made complex experiments and eventually were able to replicate in the laboratory tissues of Taikainu, to manufacture mass. However, this economic and scientific success would not be taken advantage since just three years later, the Council Taikainu, formed by the various subspecies of different colors Taikainu (Red Taikainu, Green Taikainu, Black Taikainu and Orange Taikainu), together by force because of the great attack of the Yakawyujshi, launched a massive attack against the cities
yakawyujshi
cities who had participated in the attack and completely erased from the face of the Earth Neshlspik.
1
: The original word is *ilšimšium (reconstructed form but not attested in writting). The
iu
diphthong it contracts to vocal û (long u with contraction mark).
---
Icosaedro/icosahedron
Icosahedron
por/by
Kjell André
basado en/based on
poly.pov
por/by
Cyp
. All covered by CC-BY-SA
---
Hecho con/done with
GIMP bajo/under GNU/Linux Ubuntu 11.10
---




I like it that you often have an interesting story behind a picture that at first seems to be very simple. Is there more information or drawings of
Yakawyujhsi and
Taikainu?
Reply

Thank you very much, I am glad you like my stories. In fact, I am a writer rather than an artis/drawer, so the images are a way to illustrate my stories, and not just stories for the images

The map of the area of Nelshpik Earth where this actions take place.
---
I have to finish the story of the Taikainu. I am close to finish it in spanish. Here are the image from I took the inspiration for the Winged Hydras (Taikainu):
I also commissioned an artist to do the Yakawyujhsi, so when he finish I could send you the image.
---
This piece is also related with this story.
Reply

Thank you for detailed answer

Yes, it would be interesting to see
Yakawyujhsi (have to copy/paste their name from your text not to make a mistake

)
I'm sorry, but from the map I couldn't understand which cities belong to
Yakawyujhsi and which to Taikainu.
As I understood about
Taikainu, they are sapient creatures, right? Is their image a final version, or as part of your universe they have a little different appearance?
Reply

You are right! There is no information in the map about what is what :/
This is the version with the Hidras:
Lashqumik... (with hidras)
. Each hidra means a herd of hidras (what I call in spanish "hidrada" but as is a made-up word, I don't know the equivalent in english XD )
They are sentient/sapient creatures but they don't organize in cities like the other creatures. Those cities aren't enterily Yakawyujhsi or human, but mixed populations of bypods. The division of the cities, is just regional, doesn't have anything to do with composition of the cities.
Yes, is their final appearance, although maybe I will commision another artist to do another version. I adopted the original, so in theory I can use at wish. Well, you have right in one thing, that there are variations (not only green colors), but also Red, Black, Blue and Light Red.
Reply

The second map clarified it better, thank you. And I think "a herd of hydras" is a normal phrase, you don't need to invent a new English word for it

I'm not native speaker though...
So the
Yakawyujhsi killed
sentient creatures for their
skins. That doesn't make good impression about them.

If there are humans in this world, is it somehow connected to Earth, or they are indigenous?
Reply

Yes, is connected to a version of the Earth. In my universe there is a concept of linked planets (Qadenas in spanish, Shains in english, is a mystipe of chains) that can be of two kinds: a Shain of planets similar disposed in different points of universe or even in different Planes or a Shain of planets that is in reality the same planet. The Nelsh Earth is one of those. So, Nelsh Earth have a lot of realities very near each other. These reality is called "Nelshspik Earth" and it is a Spin Planet. I don't have any deviation yet about Spin Planets, so I will explain.
A Spin Planet is a planet that have more surface than expected. When you get a sphere and you rotate it one time 360º you have your sphere in the same position that it was before. In Particle Physics, the spin is a propertie of the particles. The electrons have a "strange" spin because when you rotate a electron 360º doesn't get to the same point it was. You have to rotate 2 times. So, I get that concept for planets.
The Nelshspik Earth is a special kind of Spin Planet because his spin is infinite so the surface of Nelshspik is infinite although it is contained in a finite sphere.
Getting to your question, yes, Nelsh Earth is populated by humans also and there is permeability between the different realities.
About the herd of hydras

I just made up a spanish word for it, so I though it would be fun to invent another for english. I was confusing in that part, sorry.
However humans can be indigenous to a planet that is connect with other planets with humans. In my universe, due to paradoxes, there is the possibility of a specie to just spontaneously appear

Yep, Yakawyujhsi are supposed to be a crittic to real life people who buy skins. :/
Thank you for your comment

Reply

You're welcome, I really enjoy this conversation

But a planet with a spin more than
360º... More than that, a planet with infinite spin... I think I nearly broke my brain trying to imagine it

However, I can somehow understand it.
As far as I know, in our Universe these features of p
article physics
do not appear on macroscopic scale. If on
Nelshspik Earth
this more-than-360º-spin isn't the only particle effect (don't know if I use correct words here) breaking this rule, it would be really strange world with physical laws different from ours.
By the way, maybe the same effect of "planet with infinite surface" could be achieved by using fourth spatial dimension? It would be like placing three-dimensional spiral into two-dimensional universe: while in the plane of the universe it would be seen almost as closed curve, the curve itself would be infinite.
Reply

Indeed

The laws of Milegu are totally different

In the beginning the Nelshspik Earth I don't know in wich Plane it is, but it is sure that the laws of physics are not fixed in stone, but variable.
Yes, those effects are exclusively to microscopic objects at level of elemental particles

A planet never could do anything like this in our Universe.
Yes, the effect is the same, in fact there is some worlds that I have that already have an infinite surface without the need to explain a Spin Planet, because the borders of the worlds are open to another worlds, so you can travel normal in the planet (a sphere) but sudenly you are in another plane, and this things repeteadly.

I have other structure that is infinite but is only a Plane, a infinite soil in all directions, so it is not a planet.
Your idea of fourth spatial direction is really really interesting

Reply
(1 Reply)

me gusta mucho, la historia y la imagen. Enhorabuena



Reply