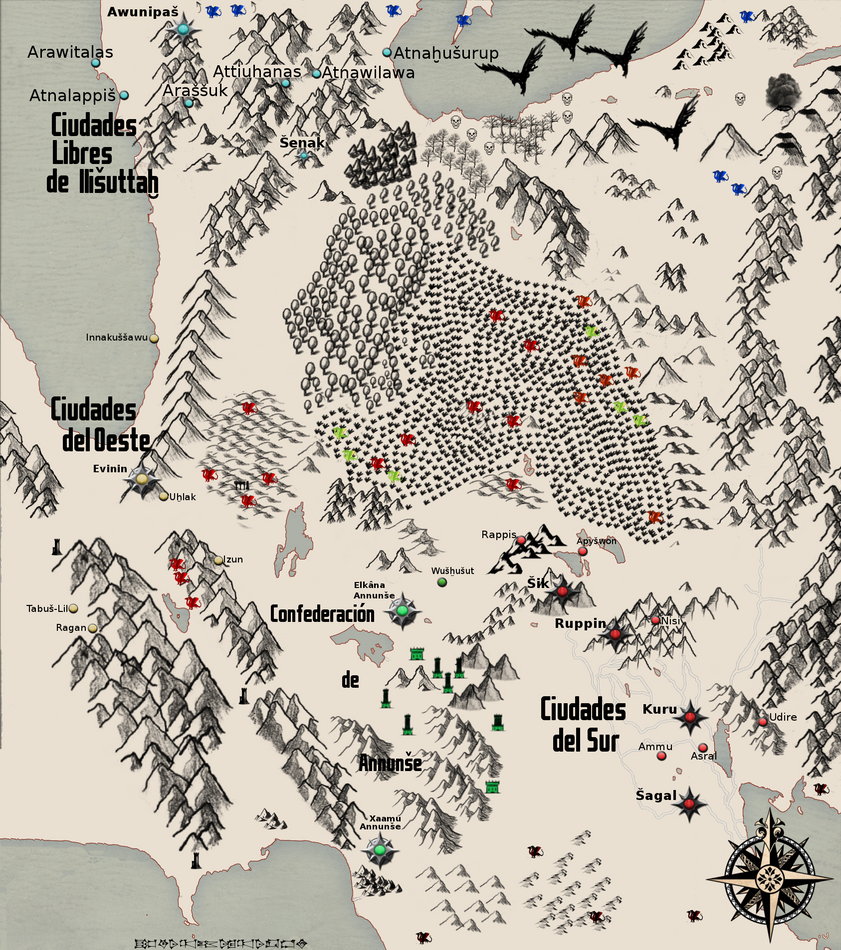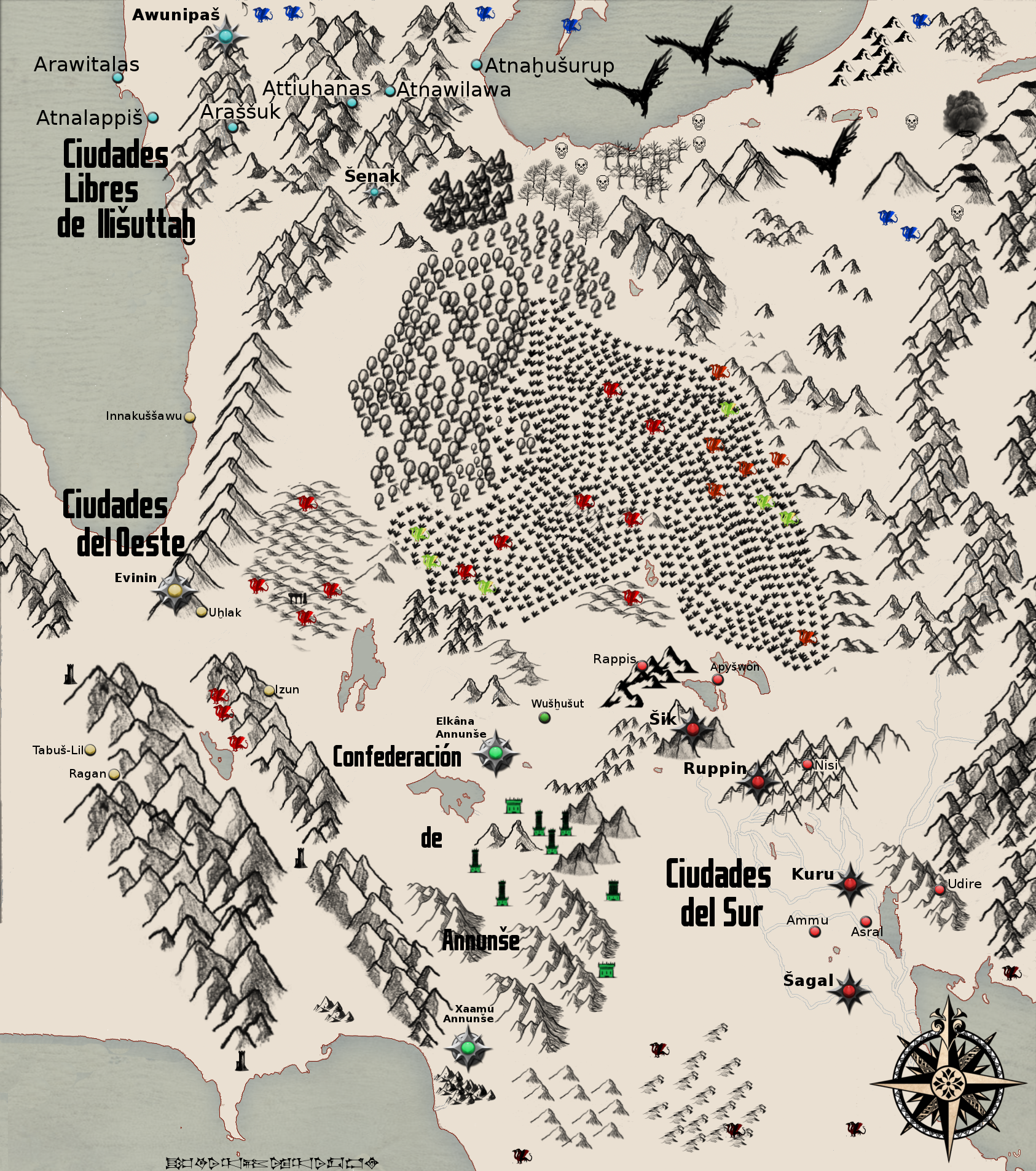 Deviation Nº947 << PREVIOUS || NEXT >>
---
Trabajos relacionados/related works
Galería de mapas
,
Galería de la Tierra Neshlspik
,
La Tierra Neshlspik
.
---
Descripción/description
Mapa de Lašqumik-nākwumi-ša-Šakn-ensu-Nusukumi
("
el Lugar donde las Ciudades se levantan entre las Llanuras y los Valles
"), donde viven los Taikainu (Hidras Aladas) y los Yakawyujhsi (Hombres-Escarabajo) (entre otras muchas especies).
---
Map of
Lašqumik-nākwumi-ša-Šakn-ensu-Nusukumi
("
the Place where the Cities rises between the Plains and the Valleys
"), where lives the Taikainu (Winged Hidras) and the Yakawyujhsi (Beetle-Man) (between much other species).
---
Ciudades del Oeste/West Cities

Innakuššawu
Evinin
Tabuš-Lil
Ragan
Izun
Uḫlak
Confederación de Annunše/Annunše Confederation

Elkâna Annunše
Xaamu Annunše
Wušḫušut
Asentamientos menores/minor settlements
Ciudades del Sur/South Cities

Rappis
Apyšwon
Šik
Ruppin
Nisi
Kuru
Ammu
Asral
Udire
Šagal
Ciudades Libres de Ilišuttaḫ/Free Cities of Ilišuttaḫ

Awunipaš
Aratiwalas
Atnalappiš
Araššuk
Attiuhanas
Šenak
Atnawilawa
Atnaḫušurup
---
Comentario/comment
Si se fijan en la forma del mapa atentamente notarán que se trata de Mesopotamia (Irak, Siria, Turquía, Cáucaso, Chipre), rotado 90º y reflejado en espejo. Esto también tiene su reflejo en el nombre de las ciudades [y en su disposición en algunas]. (¿podrías decirme cómo?)

.
---
If you watch closely the map, maybe you notice that is Mesopotamia (Iraq, Syria, Turkey, Caucasus, Chipre), rotated 90 degrees and reflected like a mirror. This has also consequences in the names of the cities. (can you tell me how?)

---
Hidras
Tib Eni Di
por/by

C0RT0
---
Mapa base/base mpa
Base Map - Mesopotamia
por/by

PannoniusII
---
Símbolos de las ciudades/symbols of the cities
City/location Map Icons
por/by

Eragon2589
---
Brújula/compass
Kompass
por/by

LifeGamersDE
---
Pinceles/brushes






---
Hecho con/done with
GIMP bajo/under GNU/Linux Ubuntu 11.10
---




Genial el mapa, me encanta lo rustico que parece.

Ademas, las hidras son un gran añadido

Reply

It could be a coincidence, but I see two Mesopotamian cities spelled backwards in there: Ninive(h) and Uruk. But those are the only ones that look familiar to me.
Reply


You got it!!! A majority of them are cities of Mesopotamia and Anatolia spelled backwards

Uruk, Isin, Eridu, Umma, Larsa, Lagaš, Ninive, Nippur, Sippar, Nagar, Nuzi, (u)Waššukanni, Kalḫu, Ešnunna, Kaneš etc

Reply