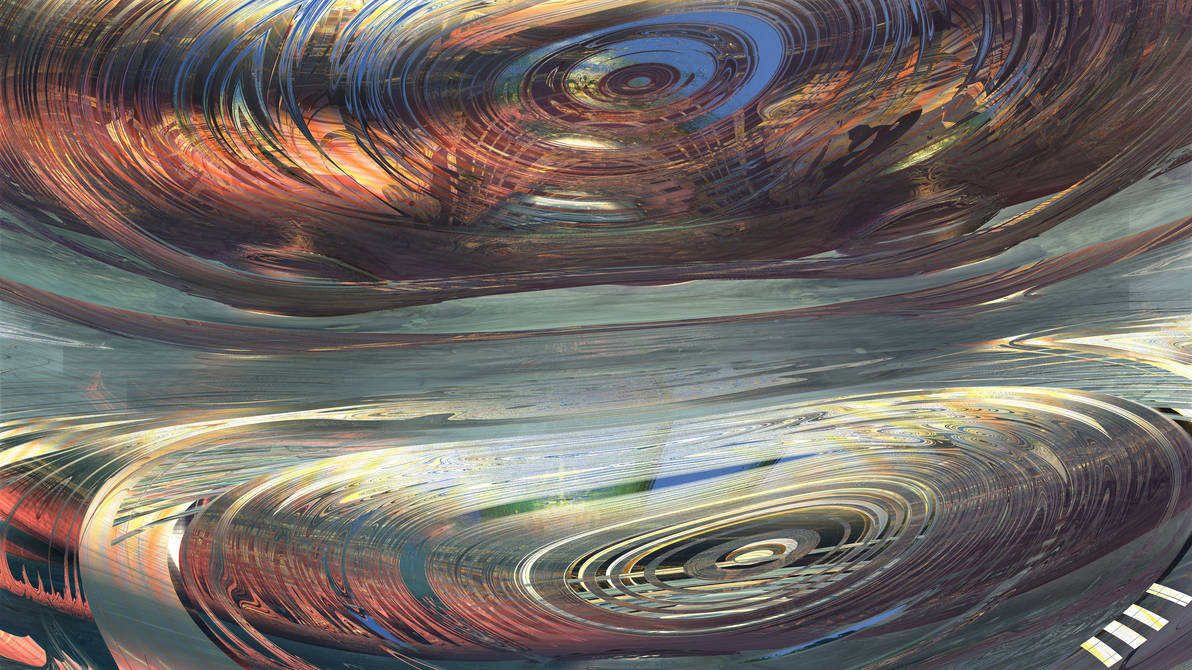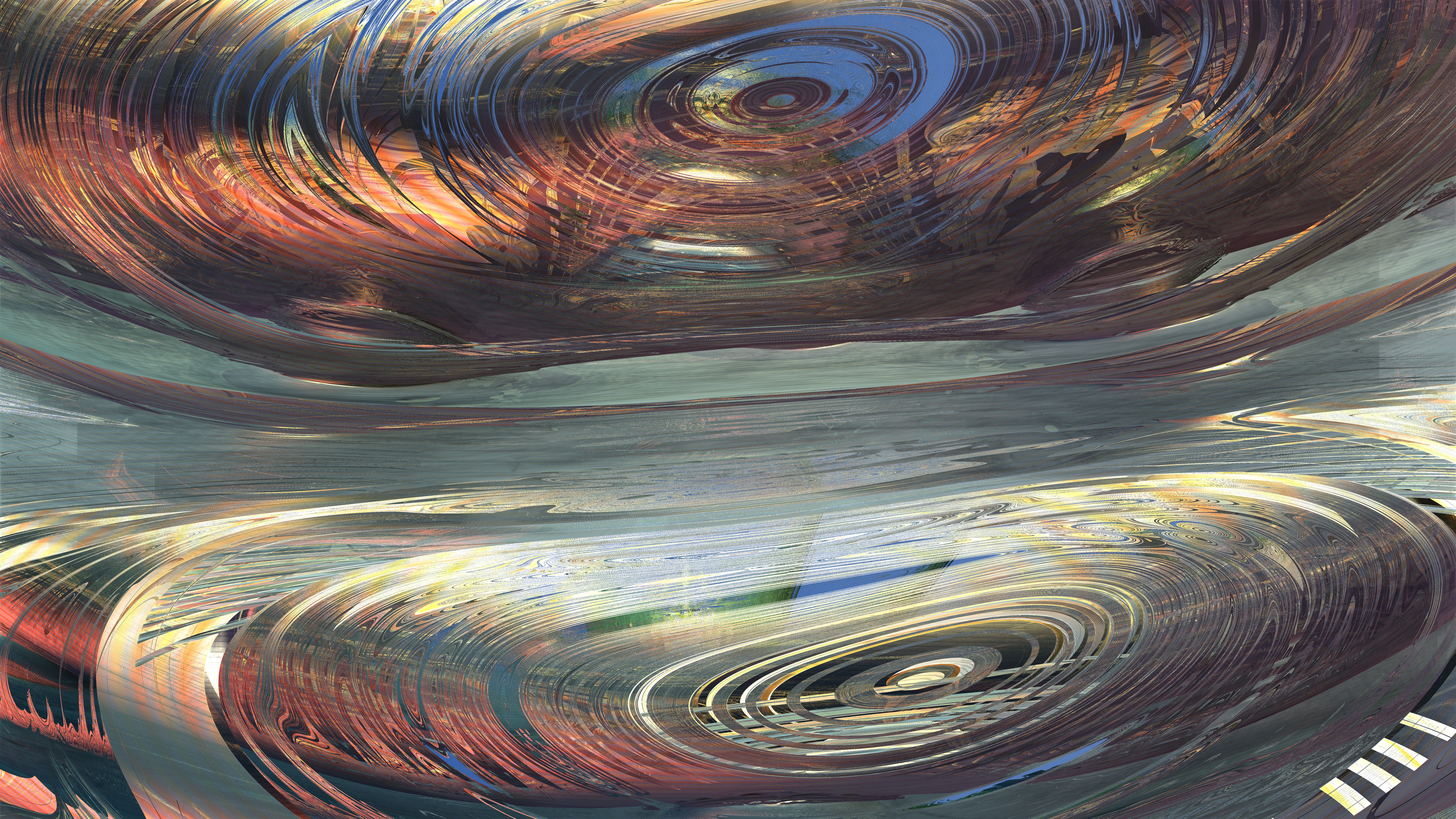 Deviation Nº2127 << PREVIOUS || NEXT >>
---
Trabajos relacionados/related works
Galería de Mandelbulb3D
,
Delicate Fractal City
, ,
---
Descripción/description
El Vórtice Eterno es un a Estructura Fractal creada por los
Magos Fractales
(o bien a través de ellos en un caso de Xiwalianqué, es decir, de creación sin origen) para evitar el escape de la
energía fractal mágica
fuera del Planos Fractal Material de Nyene, donde se ubica la Ciudad Fractal. Este vórtice de energías inconmensurables jamás se detiene. Los Magos Fractales lo hubicaron a un pársec de distancia de la Ciudad Fractal (Nyene es una Llanura Planar por lo que tiene un espacio infinito en todas direcciones). Sin embargo, los Magos Fractales saben que con el paso de las eras el Vórtice Eterno se moverá del lugar donde está fijo y terminará por devorar la propia Ciudad Fractal.
La magia fractal emana de la permanente
renderización fractal
pero busca por todos los medios escapar, atravesar todos las direcciones posibles del Plano Fractal. Esto provoca muchas cosas como que la magia fractal sea algo inherente al Plano Fractal. Sin embargo también provoca un efecto de potenciacion (de eco) y de atenuamiento de la magia fractal.
El efecto de potenciación es producido debido a los destellos mágicos explosivos que realizan los Magos Fractales, produce que determinadas fórmulas más estables se vayan extendiendo a lo largo del Plano. En general esto no sería negativo, pero reduce la variabilidad fractal y, por lo tanto, las opciones de las que disponen los Magos Fractales para construir sus fractales.
El efecto de atenuamiento es más moderado pero aún así actúa degradando todas las estructuras fractales haciendo que las fórmulas menos estables vayan transformándose en otras.
Estos efectos se contrarrestan entre sí en gran medida, puesto que los destellos de energía mágica más poderosos se atenuan más rápidamente, al ser menos estables.
La construcción del Vórtice Eterno fue necesaria debido al descubrimiento de la llamada Nueva Tecnología, una técnica que permitió a los Magos Fractales hacer que el Plano Fractal Material de Nyene estuviese conectado topológicamente con su "espacio exterior".
La magia fractal, acostumbrada a explorar todas las direcciones posibles, encontró un punto de salida y manó a raudales, extendiéndose por el espacio. Para evitar esta fuga de energía mágica se construyó el Vórtice Eterno que con su interminable movimiento hace que se potencien las fórmulas más débiles en todo el plano y atrae hacia sí con gran intensidad a las energías fractales más potentes. Pero no sólo actúa contra las energías más fuertes sino que toda la energía fractal del Plano "cae" hacia el vórtice. Es un pozo de energía fractal.
Pero la energía no sólo cae hacia allí sino que también es emanada de allí debido a que ambos remolinos son precisamente los dos puntos más alejados topológicamente de todo el Plano Fracal, unidos en un "lugar abstracto" mediante la magia de los Magos Fractales.
---
The Eternal Vortex is a Fractal Structure created by the
Fractal Mages
(or can be thought as it was created throught them in a case of Xiwalianqué, that is, creation without origin) to avoid the scape of
fractal magic energy
to avoid the escape of the magical fractal energy out of the Fractal Material Planes of Nyene, where the Fractal City is located. This vortex of incommensurable energies never stops. The Fractal Mages made it to a parsec away from the Fractal City (Nyene is a Planar Plain so it has an infinite space in all directions). However, the Fractal Mages know that with the passage of the ages the Eternal Vortex will move from the place where it is fixed and end up devouring the Fractal City itself.
---
Comentario/comment
comentario
---
Parámetros originales/original parameters
A fractal whale
por/by

Jakeukalane
---
Fórmula/formula
Folding Int Pow + (_SphereFolding1) + (Ikenagabulb) + Menger3 + ABoxVSShapes + CrossBiFold
---
Parámetros/parameters
parameters
Mandelbulb3Dv18{
g.....M7...4J...ET....U...k9.iJrQB2rzwhGYdJa9.4EKWfXRl8zIzP5NGcfJ8GgzYAgbA59MpxD
................................viSpM3Q9f/2........Y.ZtD.......EaNaNaNalF/2...wD
...Uz6/....sA....Mk5/.....UA....R.....k......Ap5r460c2fD/..........m2dkpXm1....i
0/....sD12..12U2okT0xc7rzQd0bA1JA0zjO4MddIvVoy1...........U0.....y1...sD...../..
.w1...sDhIm12hqV6unjUkUvr9GoywymzLeP9Bbj01l6Jaki/vPv7Czu8wOMy65Fzdc4UpgjKhOcF/XJ
Bvftzvmo9kTWyQ718cexs4gDU.....YPn.............kD/2....sD..G.....................
.............oAnAt1...sD....zw1.........................................6....k1.
.....G8Qxz1.....c3..4wzzz1UT..6......61...kA....U0pN1s/.kDUC....0/...k0....UPJr9
Y.1...aZczDM6/nzMg2czX6dE16.0c..zrhe..UoK/nl2xvj6sM93P58iz1...........U.8.UQgk0.
.wUmc2beYz1.dA8E5ExwzC........../2X0.wzzz1...........U/........./.........E.lc..
zzzz.............0...................2U.8.kzzzD............8....................
/6U0.wzzz1...................................UTVR..y3q/yzz/k.1A..1Ak.vzDsnwF.UDn
5VTzThdht0kaqaPiQs5y3q/.sLM5s1bTsLM5.UTVRUDlyVTVR..y3q/yMw5y3q/.sLM5snqTsLM5.UTV
RUDkzVTVR..y3q/y...y3q/bzz/k.1Akyz1yATomxzpaqaff................................
E....ME/F3E2....4....A....UFjl4NdtqNUYYPo/0IjR5......................c..6.......
...................7.JaNaNaNa70E..........2.....................................
................................................................................
...........................3..../....wpIkVKNmJaFjl4NdtqNl.......................
6....................gAnAnAnA50E.......2102......kJY./..........................
................................................................................
.....................................E/...U/....7hKNi3qNV7KRg74.aBLNoF1N........
........................................2.2.............................kz1.....
................................................................................
..........................................E.....I....c....EHZtqNZ7rA............
..........................U/4MU/4M.................3./........zD........kz1.....
...wz...........................................................................
.....................................................2.....3....5....2YEjVbJHB3O
V/LNn/...........................Q...6.........................E........Uz1.....
...wz...................kz1........yzoVKYhnrDJyD................................
................................................................/....E/....1....
17rPnBbEdNoPgF4.................................4MU/4MU/..................2.....
........................kz9.....................................................
...................wz........U.E............................................}
{Titel: jakeukalane-a-fractal-whale-eternal-vortex}

---
Fondo/background
fondo
---
Hecho con/done with
Mandelbulb3D 1.9.8 bajo/under Windows 10
---