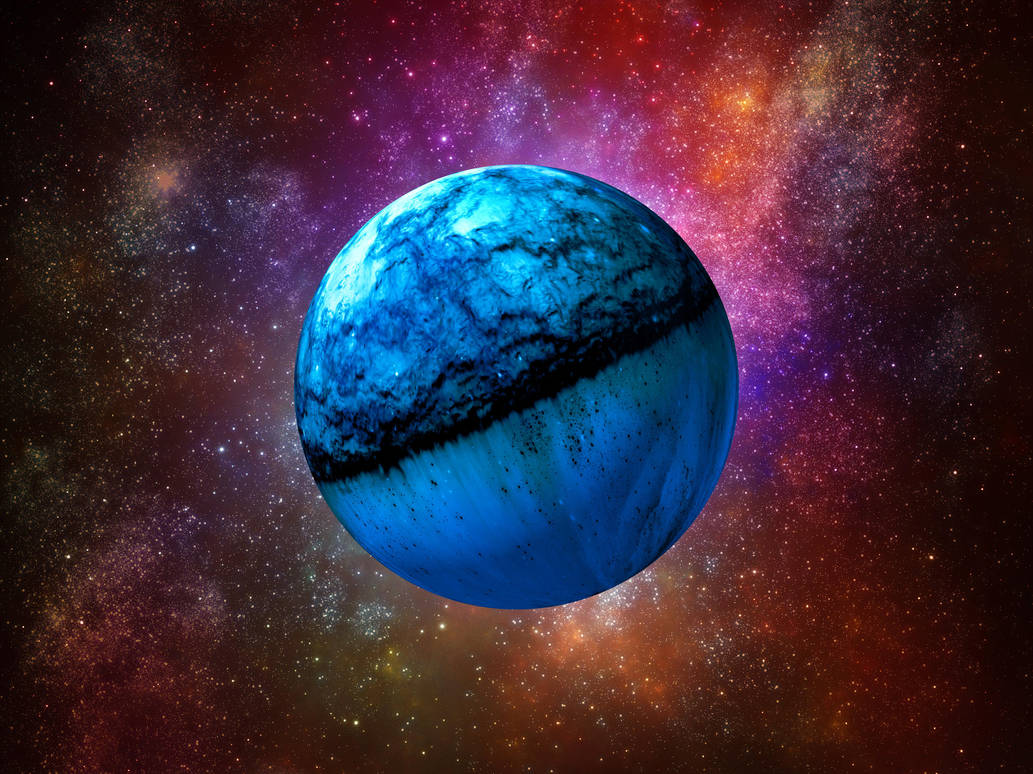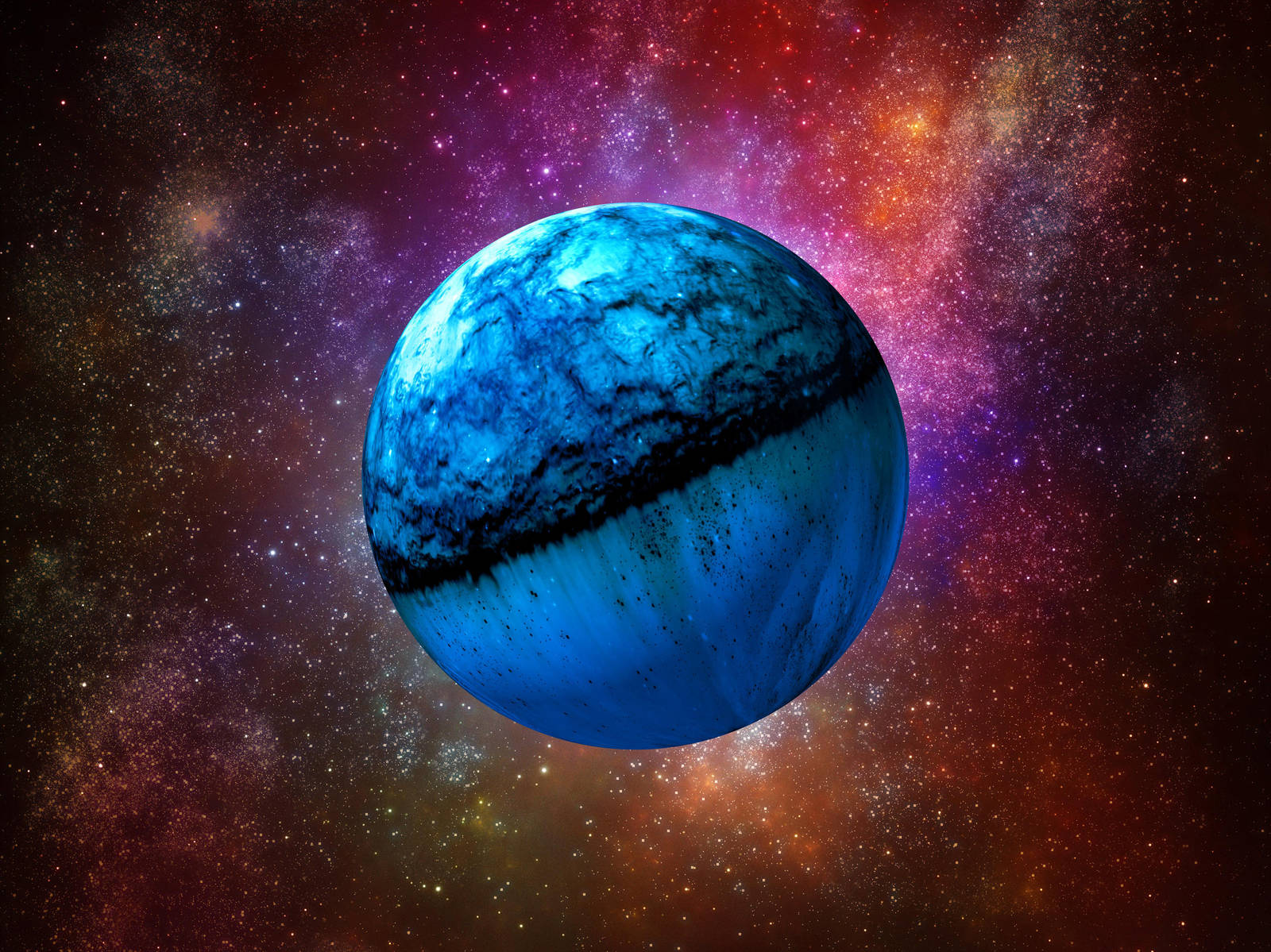 Deviation Nº1326 << PREVIOUS || NEXT >>
---
Trabajos relacionados/related works
Tierra Neshl
,
Los Xaltos - The Yumps
,
The Spiral of No-extinction
,
The Abstract Planets
,
Los Planetas Abstractos
,
Qadena
,
Shain
.
---
Descripción/description
El
Planeta Ioiwk
forma parte de la
Tierra Neshl
(
La Tierra Neshl
) a pesar de que su apariencia no guarda ninguna relación con la Tierra Neshl. Al parecer es un Planeta que no pertenecía a la Realidad de la Tierra Neshl pero que se añadió después. El proceso por el que Ioiwk se sumó a la Tierra Neshl es desconocido, aunque se sospecha que el planeta efectuó un tipo especial de
Xalto
.
Debido al interés que despierta la Tierra Neshl y sus peculiares características en muchas especies del Milegu, este Planeta ha sido estudiado minuciosamente para tratar de averiguar el mecanismo de Xalto que condujo a que Ioiwk se añadiese a la Tierra Neshl.
Es un Planeta gaseoso-rocoso. Esto quiere decir,que a pesar de tener un núcleo rocoso enorme, esta masa rocosa no llega hasta la superficie, sólo en algunos puntos.
Además, hay zonas en las que el macizo rocoso envuelve enormes concentraciones de gas. Si se eliminara todo el gas que lo recubre, la superficie real sería ínfima y entorno a pequeñas tiras, sobre todo en el ecuador del planeta y en la parte sur.
Se sospecha que esta extrañísima estructura no es fruto de la evolución natural del Planeta, puesto que la agregación de materiales que se produce en la evolución de los planetas no conduce a ningún resultado remotamente similar. Esto deja en el aire que su formación se halla producido debido a alguna fluctuación paradójica del Milegu.
Esto nos conduce a cuatro posibilidades.
La primera posibilidad es que realmente haya evolucionado mediante agregación, pero siguiendo leyes físicas paradójicas. Es decir, la formación natural de un lugar aparentemente imposible desde el punto de vista físico y que aparentaría artificial.
Otra posibilidad (muy similar a la primera) es que se haya producido el planeta de manera espontánea, sin proceso de agregación y que exista desde el comienzo del Milegu o que haya surgido posteriormente y que estuviera involucrada la Estructura Planar conocida como la
Espiral de la No-extinción
. Un caso similar de no-creación (increación) es el de la Ciudad Eterna o el de los Dragones Eternos.
La tercera posibilidad (defendida con fervor por numerosos Kdieua y Dussianos Duusilt) aduce que Ioiwk bien podría ser un
Planeta Abstracto
que se haya transformado poco a poco en un Planeta normal, pero conservando algunas características peculiares como su topología imposible. Otra variante de esta posibilidad establece que el proceso sería inverso y la transformación sería de un Planeta normal en un Planeta Abstracto, sin embargo esta postura es muy minoritaria.
La cuarta posibilidad y una de las más plausibles, argumenta que la especial estructura de Ioiwk fue causada por su acoplamiento a la
Qadena
de la Tierra Neshl y a las distorsiones planares que este Planeta Cambiante envió hasta Ioiwk. Esta teoría es defendida por Dussianos Subterráneos de Dnässy.
En cualquier caso, la escasa superficie rocosa de Ioiwk está continuamente sacudida por terremotos, de mayor o menor grado y la población de criaturas terrestres (la mayoría fauna procedente de la Tierra Neshl después de que Ioiwk se acoplara allí) está restringida a puentes rocosos de apenas 100.000 Km² de la zona ecuatorial.
El resto del planeta está habitado por fauna gasestre flotante, similar a la de planetas completamente gaseosos.
Una especie importante del Planeta Ioiwk son los Leones Dorados de la Tierra Neshl/Ioiwik que, a pesar de que en un principio compartieran algunas características (dormir sobre montañas de oro), pronto descubrieron la carencia de metales dorados en Ioiwk, que tenían que ser importados desde otras subdivisiones de la Tierra Neshl y abandonaron dicha costumbre.
La adaptación de los Leones Dorados a Ioiwik trajo la aparición de nuevas especies como la de los Leones Rojos de Ioiwik, que a su vez darían lugar en un futuro remoto a la importante especie de los Leones Interplanares Rojos (que, a pesar de su nombre, no guardan relación con los Leones Rojos de Hullandwa).
Las luchas y dominios en Ioiwk están muy documentadas, pero ninguno de esos documentos se ha encontrado en la propia Ioiwk, donde los terremotos y derrumbamientos han acabado no sólo con mucha de la documentación, sino con el propio patrimonio artístico y cultural ioiwkiano. Por ello, muchas de las razas inteligentes de allí se han instalado definitivamente en otras divisiones de la Tierra Neshl.
---
The
Ioiwk Planet
is part of
Neshl Earth
, although its appearance has no connection with it. Apparently, it is a planet that did not belong to the Reality of Neshl Earth but was added later. The process by which Ioiwk Neshl joined the Earth is unknown, although it is suspected that the planet made a special type of
Yump
.
Because of the interest aroused by the Neshl Earth and its peculiar features in many species of Milegu, this planet has been carefully studied to try to find the Yump mechanism that led to Ioiwk be added to the Neshl Earth.
It is a rock-gaseous planet. This means that despite having a huge rocky core, this rock mass does not reach the surface, only in few points.
In addition, there are areas where the rock mass surrounding huge concentrations of gas. If all the gas that covers it were removed, the actual surface environment would be minimal and small strips, especially in Ecuador and the planet's southern part.
It is suspected that this bizarre structure is not the result of natural evolution of the planet, since aggregation of materials produced in the evolution of planets does not lead to any results remotely similar. This leaves open its formation is produced due to some paradoxical Milegu fluctuation.
This leads to four possibilities.
The first possibility is that it really evolved by aggregation, but following paradoxical physical laws. That is, the natural formation of a seemingly impossible place from the physical point of view and would appear artificial.
Another possibility (very similar to the first one) is that the planet has appeared spontaneously, without aggregation process and existing from the beginning of Milegu or that arose later and was involved the Planar Structure known as the
Spiral of No-extinction
. A similar case of non-creation (increation) is the Eternal City or the Eternal Dragons.
The third possibility (defended fervently by many Kdieua and Duusilt Dussians) argues that Ioiwk could well be an
Abstract Planet
has been transformed gradually into a normal planet, while retaining some distinctive features like its impossible topology. Another variant of this possibility provides that the process would be reversed and the transformation of a normal planet on a planet Abstract, however this is a minority position.
The fourth possibility and one of the most plausible, argues that the special structure of Ioiwk was caused by its coupling to the
Shain
of Earth Neshl and also because of planar distortions sent up Ioiwk from the Changing Planet (Neshl). This theory is defended by Subterranean Dussians of Dnässy.
In any case, lower Ioiwk rocky surface is continuously shaken by earthquakes of varying degrees and the population of terrestrial creatures (most wildlife from the Neshl Earth after Ioiwk docked there) is restricted to rocky bridges only 100,000 square kilometers of equatorial zone.
The rest of the planet is inhabited by floating "gasestrial" wildlife, similar to completely gaseous planets.
An important species on the planet Ioiwk are the Golden Lions Neshl Earth/ Earth, although at first share some characteristics (sleeping on mountains of gold), they soon discovered the lack of gold medals in Ioiwk, which had to be imported from other subdivisions of the Earth and Neshl abandoned this custom.
Adapting to Ioiwik Golden Lions brought the emergence of new species such as the Red Lions Ioiwik, which in turn would result in the distant future to important species of interplanar Red Lions (which, despite its name , unrelated to the Red Lions Hullandwa).
The struggles and Ioiwk domains are well documented, but neither of these documents has been found in the Ioiwk own, where earthquakes and landslides have finished not only with much of the documentation, but with the artistic and cultural heritage ioiwkiano own. Therefore, many of the intelligent races there are definitely installed in other divisions of the Earth Neshl.
---
Fondo 1/background 1
Starfield
por/by

Jakeukalane
---
Fondo 2/background 2
Package Cosmos
por/by

resurgere

Funerium
---
Hecho con/done with
GIMP bajo/under GNU/Linux Ubuntu 11.10
---




Reply

thank you! one of my favourite planets lately
Reply

Adoro el contraste del planeta azul con el fondo del espacio... es una obra muy hermosa...!!! (❛‿❛✿̶̥̥)
Reply

Beautiful planet, really liked the description you put a lot of thought on this.
Reply

Reply

Reply