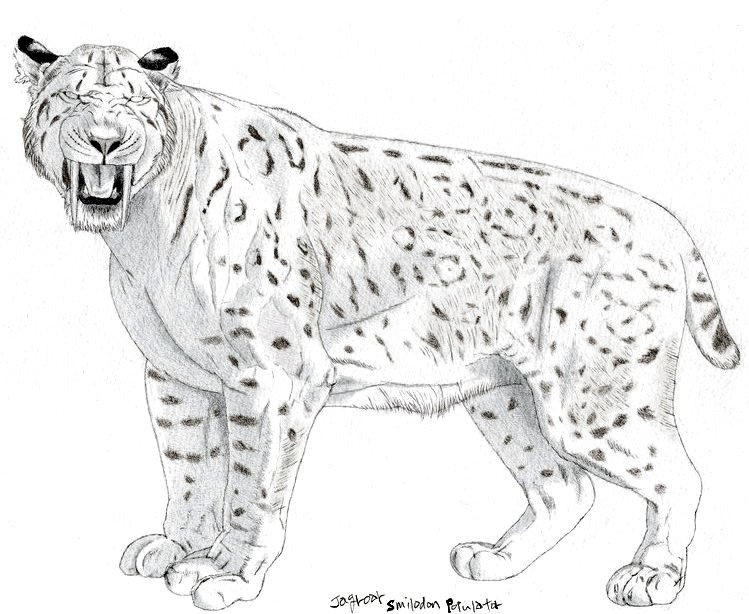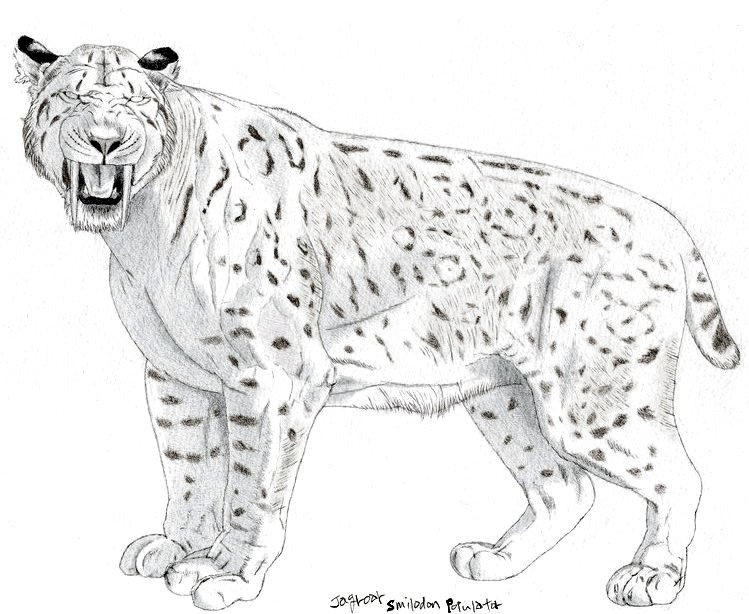 Watch
This is a draft sketcing of "The Nature's Ultimate Grappler"(completed as a drawing).

Smilodon populator (1 million-10,000 years ago); occurred in the eastern parts of South America and was the largest species of all smilodontines.

:Size:
It was more than 1.2m (48 in) high at the shoulder, 2.6 m (100 in) long on average and had a 30 cm (12 in) tail. With an estimated weight of 220 to 470 kg, and exceptionally large individuals estimated to have exceeded 500 kg(Carbone et.al, 2007), it was among the heaviest known felids. Its upper canines reached 28 cm (12 in) and protruded up to 17 cm (6.7 in) out of the upper jaw.

:Morphology:
Smilodon possessed a short tail, long muscular neck and hypertrophied upper canines. The lumbar region of the back was proportionally short, and the lower limbs were shortened relative to the upper limbs in comparison with modern pantherine cats, suggesting that Smilodon was not a very fast runner. Smilodon also had a relatively longer calcaneum or ankle bones.

Based on analysis of plant fossils from the last ice age, many paleontologists now believe that most Smilodon species had the dappled coat of a cheetah or bobcat. This coloring would have helped the cat blend in with the vegetation that was common at the time.

The South American S. populator had higher shoulders than hips and a back that sloped downwards, superficially recalling the shape of a hyaena, in contrast to the level-backed appearance of other two Smilodon species and Megantereon, which was more like that of modern cats. However, while its front limbs were relatively long, their proportions were extremely robust and the forearm was shorter relative to the upper arm bone than in modern big cats(the robust male jaguar is the closest in forelimb propotions to smilodontines), and proportionally even shorter than in S. fatalis. This indicates that these front limbs were designed for power rather than fast running, and S. populator would have had immense grappling strength in its forequarters.

:Hunting and Extinction:
Smilodon's hypertrophied upper canines were probably built more for slashing than stabbing. Despite being more powerfully built than other large cats, Smilodon actually had a weaker bite. Modern big cats have more pronounced zygomatic arches, while Smilodon had narrower head bone and zygomatic arches which restricted the thickness and therefore power of the jaw muscles, and thus reduced Smilodon's bite force.

Smilodon more probably used its incredible upper-body strength to wrestle prey to the ground, where its long canines could deliver a fatal slashing bite to the throat which would generally cut through the jugular vein and / or the trachea and thus kill the prey very quickly. This killing technique may have made Smilodon a more efficient killer of large prey than modern lions or tigers, but also made it more dependent on the supply of large animals. This highly-specialized hunting style may have contributed to its extinction, as Smilodon's cumbersome build and over-sized canines would have made it less efficient at killing smaller, faster prey if the ecosystem changed for any reason.