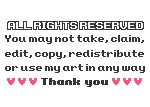 This is my favorite OC, Daemon. He is a shapeshifter and can take the form of a human. He is half horse and half dragon. I have been drawing him for a while now, he is a sort of puppet i use to try new things and enhance my drawing technique. I wanted to draw an updated version of him in beast form, in anime style. I will most likely add a better background at some point, but for now, i quite like the simplicity, makes him stand out more i think. Hope you like

Drawn on paper, scanned then colored in gimp using a drawing tablet and mouse.
This art, design and character "Daemon" is (C) me, Jade Korbel/ Jade-Viper
Not to be copied, re-posted or reused in any way.
Any infringement on this, my intellectual property, in the way of selling anything without my knowledge or consent
will result in the proper copyright legal proceedings/prosecution being sought. And any loss of earnings re-acquired