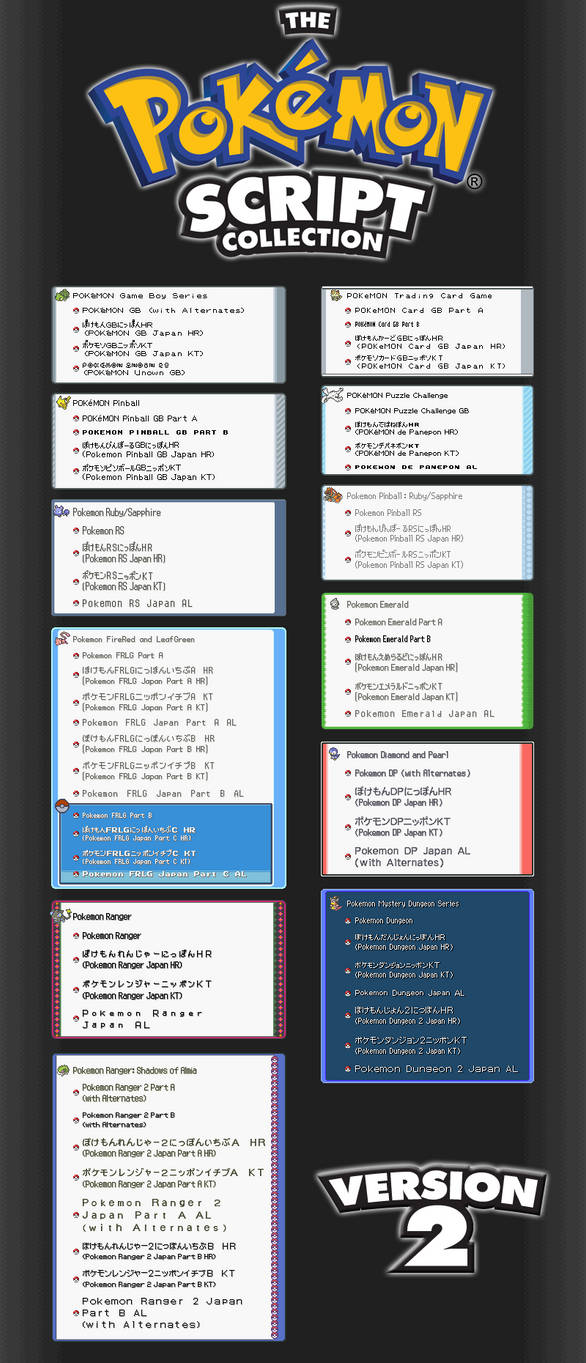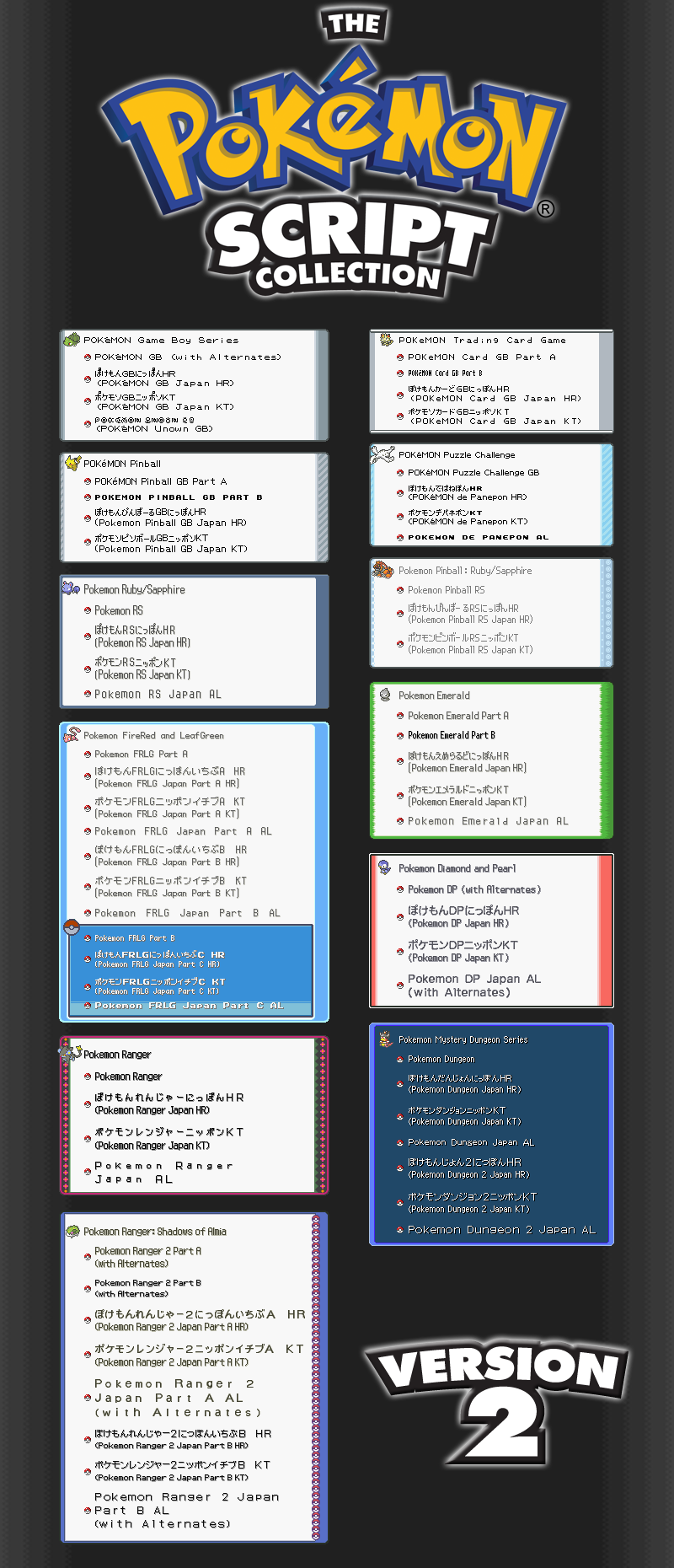 Watch
NEW UPDATE:
Version 2 is now released!
What's new:
• All the previous fonts have been reworked from scratch and are more clearly identical to that of the games
• New fonts for later games up to Pokemon Ranger 2! I will add in more games next update
• Japanese fonts from the Japanese version of these games have been added. They are available in three forms: HR for Hiragana, KT for Katakana, and AL for the Latin alphabet
• Most of the fonts here that use more than one color have been converted into PhotoFont® files!
• This font collection comes included with an all-new character map sheet designed and laid out by yours truly!
Important Notice:
The actual base size for all the fonts included in this collection is
8 px
.
Notes from the author:
I am happy to announce my latest version of the Pokemon Script Collection after my first one back around four years ago. After getting my hands on FontLab Studio 5 and BitFonter 3, I immediately started work on these fonts back around January. Since this font collection became rather popular thanks to the
Pokemon Gijinka Community
, I'd thought I'd start with this first before I do anymore fonts.
To start off, there are three filetypes in this collection. For some of the fonts, the black and white fonts, they come in both Windows FON and TrueType TTF files which you can use on any program (for sharper imagery, use the FON files instead of TTF). However, for the fonts that use color, or use more than one color (i.e. Pokemon Ruby/Sapphire and later games after that), they only come in PhotoFont® PHF files, in which you need to have Adobe Photoshop and the
free plugin PhotoFont Start
installed in order to use these. PhotoFont® is a rather new technology that been in existance for around three years. It relies on colored bitmap images (through a series of PNG files and a XML file compressed into one PHF file) instead of black-and-white vector images used in today's fonts. This was my main goal here to perfectly capture the look of that of the games. PhotoFont Start does have some flaws that I've encountered myself:
• PhotoFont Start is fully-functional only in Adobe Photoshop, while FontLab's site does state that the plugin works with other programs that support Photoshop plugins, they don't work properly as it does with Photoshop (as I tried this with Adobe Illustrator)

• The plugin does not support line or paragraph breaking, so you have to find a work-around for that

• Re-sizing the font through the plugin will only blur it out. If you want to keep its sharpness while re-sizing, go to Edit> Preferences and select Nearest Neighbor in the Image Interpolation box under General. That way, you can resize it using the Bounding Box (while you have the font selected) without the worries of it being blurred

• As stated before, this plugin only works in Photoshop, so if you're planning on using these PHF files on programs such as MSPaint and others, don't keep your hopes up. Windows itself doesn't support PhotoFont® files.
And since PHF files can't be installed in the Windows Font folder, you can't view them in the Character Map program either, which is why I spent another series of months creating the Character Map sheet in PDF format available with the font collection. This file shows in detail every character available for each font, as well as code points and keyboard input for those special characters included in them.
You can install the FON and TTF fonts normally through the Windows Font folder. But for PHF files, after installing Photofont Start, you can either install them by moving the PHF files into the Photofonts folder in your My Documents folder (or the Documents folder if you're using Windows Vista) or you can open up Photofont Start and click the "Install Photofonts" button at the bottom of the dialog box and install the fonts that way.
That's pretty much all there is to it. I hope you enjoy these fonts.
Daily Deviation
Given 2011-05-04