So for those interested in the new patreon coming real soon (Focuses on providing RP of Femboy trap prisoners taken advantage of by kinky rubber nurses). I am about 80% Done.
I hope to be able to open it this weekend or monday.
The asylum tour will open to the public (Anyone on D.A) on the same day, and will give clear explanations of the roles, how to play, how to join and what you get.
To that end, I myself made an OC

that is the first patient. And will be used as an example to show case features during the tour. Note, The warden will play more an administrative role. Don't expect me to role play her with patients much if at all. My character will be patient Zero. And he will have no special favors. His a patient. Like all the other future patients. And yes, even he will pay my own new patreon page like everyone else.
In the mean time however, the little useless boy will remain in his cell. Feel free to visit him. Though you can't enter the cell, you can take a peek through the window.
Feel free to mock him. He deserves no better.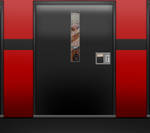 The cell gives you a good sneak peak at what to expect for future updates on that DA page (new patient will be put in cells like this one) and what to expect for actual patreon who will become patients or nurses (The actual role play elements with images you can use to support that role play.)