Wanna Join?
Just click "Join Group" and it's automatically accepted!
---
Monthly Featured Artwork!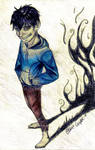 by

Congratulations!

---
Rules

Only submit what you personally think are your best works to Featured. Submissions to the Featured folder will be limited to once (1) per month, so choose wisely~
ALSO Featured submissions are automatically entered into our monthly Featured Deviation Contest. There's no real prize but the winning piece is Featured in our Monthly Newsletter and on our front page (Like the one above

).


All submissions MUST have Jack somewhere in them.


OC's can be submitted as long as Jack is in the drawing/fanfiction.


No SCREENSHOTS from the movie. They're not even allowed on DA...


No BASES. It doesn't matter what quality your art is here or whether you're an amateur or a pro. It matters that you give an effort on your work, which is something I never see in bases...


No WIPs (Works in Progress) I will take drawings/sketches that you consider finished, but don't submit, for example, a sketch and then the same work's colored version. It just feels like an unnecessary duplicate, you know?
See? It's not much to follow~


---

Helpful Links
Guardians Character Facts
Beautiful Jack Frost Fan Song