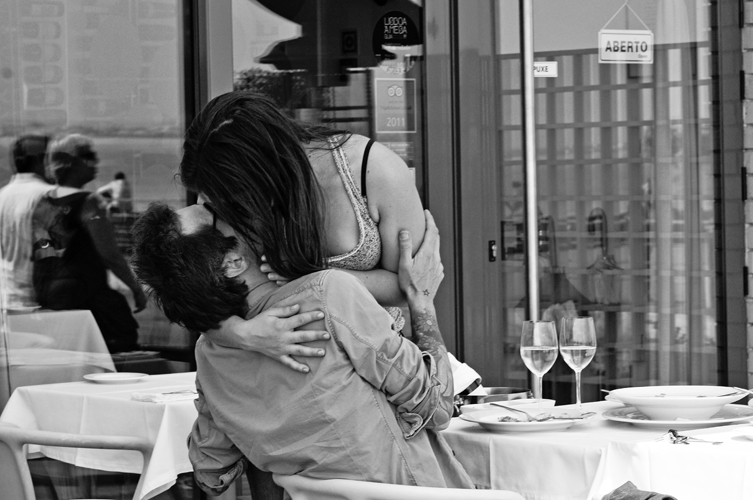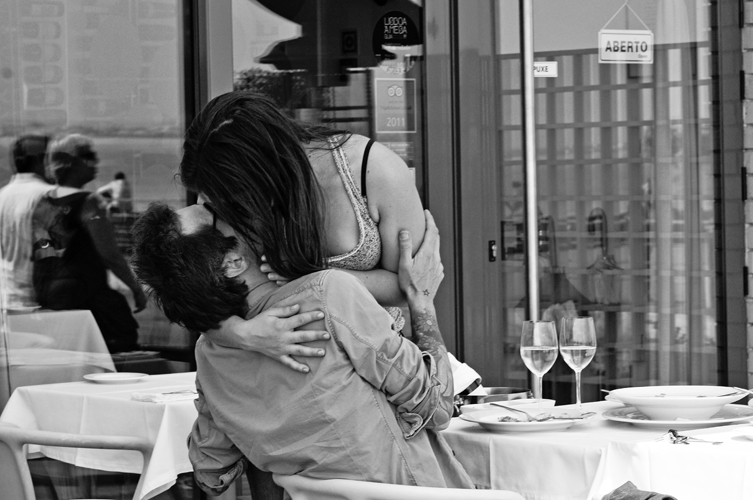 Watch
Daily Deviation
Given 2014-03-28
I hope I can make a good critique and answer you expectations...

Vision 5/5: "Being there at the right time" defines perfectly the moment. If you wanted to create the image of irrepressible lust, this is what it tells me. All the better that the faces are hidden, the bodies tell all. "I want you..." she says. "Not yet," he answers.

Originality 3.5/5: You know how hard it is to be original with street photography. Ever since portable cameras were invented, people have roamed the streets shooting anything they saw. The original thing about his shot must be the reflections, the framing and, not last, the people walking by in the background - as if to tell that the lovers, despite being physically among people, have isolated themselves and are all alone together; that is a powerful statement.

Technique 5/5: I love especially the framing, the balance between the empty table on the right and the people on the left. I won't mention exposure and focus simply because they are so good nobody notices them. All in all, it's a very well rounded work.

Impact 5/5: It is powerful. I can tell you right away that I was drawn to it the first moment I saw it. It wasn't only the urgency of the woman's desire, but also the lack of inhibition that makes her act - maybe she thought there was nobody around, maybe she didn't care, she gave in to her lust. There may be some truth about Spanish people being passionate...
The Artist thought this was FAIR
41 out of 42 deviants thought this was fair.