My Gender:
:thumb431106146:
I'm a non-binary that use they/them pronouns but still ok with he/him pronouns.
My Sexual Orientation:
I'm a pansexual.
My Myers-Briggs Type:
I'm a ESTJ.
My qualification:
*English GCSE - D.
*Mathematics GCSE - C.
*Principles of Applied Science BTEC Level 1 and 2 - Merit (B).
*Sport BTEC Level 2 - Pass (C).
*Food Technology GCSE - D.
*Art and Design (Fine Art) GCSE - F.
*Level 2 Diploma in IT User Skills - Pass (C).
*Art and Design BTEC Level 2 Diploma - Pass (C).
*Functional Skills qualification in English at Level 2 - Pass (C).
*Creative Digital Media Production BTEC Level 2 First Extended Certificate - Double Grade Pass Pass (CC).
*Art and Design BTEC Level 3 Subsidiary Diploma - Pass (C).
"All warfare is based on deception. For years, the West's hypocrisy has made the world a battlefield. The corrupt talk while our brothers and sons spill their own blood. But deceit cuts both ways. The bigger the lie, the more likely people will believe it, and when a nation cries for vengeance, the lie spreads like a wildfire. The fire builds, devouring everything in its path. Our enemies believe that they alone dictate the course of history, but all it takes is the will of a single man." The quote from Vladimir Makarov from Call of Duty.
"There's no honorable way to kill, no gentle way to destroy. There is nothing good in war. Except its ending." The quote from Abraham Lincoln.
"War does not determine who is right - only who is left." The quote from Unknown Famous Person.
"I realise that the pursuit of peace is not as dramatic as the pursuit of war -- and frequently the words of the purser fall on deaf ears. But we have no more urgent task." The quote from John F. Kennedy.
"The guns and the bombs, the rockets and the war-ships, are all symbols of human failure." The quoted from Lyndon B. Johnson.
"Nothing is more useless in developing a nation's economy than a gun, and nothing blocks the road to social development more than the finical burden of war. War is the arch enemy of nation progress and the modern scourge of civilised men." The quote from King Hussein I.
"War is simply an obscenity, a depraved act by weak and miserable men, including all of us who have allowed it to go on and on with endless fury and destruction - all of us who would have remained silent had stability and order been secured." The quote from Noam Chomsky.
"War is just a racket. A racket is best described, I believe, as something that is not what it seem to the majority of people. Only a small inside group knows what it is about. It is conducted for the benefit of the very few at the expense of the masses." The quote from Major General Smedley Butler (1935).
"Every gun that is made, every warship launched, every rockets fired signifies in the final sense, a theft from those who hungry and are not fed, those who are cold and are not clothed. This world in arms is not spending the sweat of its labourers, the genius of its scientists, the hope of its children. This is not a way of life at all in any true sense. Under the clouds of war, it is humanity hanging on a cross of iron." The quote from Dwight D. Eisenhower.
"When we say "War is over if you want it," We meant that if everyone demanded peace instead of another TV set, we'd have peace." The quote from John Lennon.
"The world is full enough of hurts and mischances without wars to multiply them" The quote from J.R.R. Tolkien.
"A nation that continues year after year to spend more money on military defense than on programs of social uplift is approaching spiritual doom." The quote from Reverend Doctor Martin Luther King Jr.
"I am fed up with a system which busts the pot smoker and lets the big dope racketeer go free. I am sick of old men dreaming up wars for young men to die in, particular stupid wars of the kind that add nothing to our security." The quote from George McGovern (Senator and President Candidate, 1922-2012).
"Violence is the last refuge of the incompetent." The quote from Isaac Asimov.
"What if they gave a war and no one came? Why, then the war will come to you." The quote from Bertolt Brecht.
"The two most powerful warriors are patience and time." The quote from Leo Tolstoy.
"Is it better to out Monster the Monsters or to meekly be devoured?" - The quote from Frederick Nietzsche.
"Corruption is a battle field where some soldiers hold a mask to hide their faces. Where society turns into an out ragouse shitless army that plans to devour every soldier." The quote from

ThrowingGrenades
.
"War is bad for basically everyone except for the men who will get rich off it." The quote from

Abstract-Mindser
.
"War is a scam to make rich people richer at the expense of the poor." The quote from

jandrewworld
who paraphrased Smedley Butler and Henry B. Gonzalez.
"'Isreal has the only right to exist that truly matters, the right of Conquest." The quote from
roxan.sofurry.com
.
My Politics flag:
.
My Politics Emblem:
.
My Politics and Religions Views:



:thumb139006786:


:thumb128941039:
Here more information on my politics views: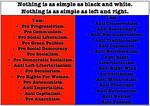 My Favourites bands and musical artists:



:thumb198194663:

:thumb357640909:

My favorite visual artists:
:thumb569704579:
Download Festival:
2014.....
Music Concert I went to:

Linkin Park:
22 November 2014 at Phones 4U Arena in Manchester, United Kingdom.....
Other websites I'm on and other contact I have:
Tumblr:
*Personal Blog:
mr-insanity97.tumblr.com/
.
*Art Blog:
mr-insanity97-art.tumblr.com/
.
*Music Blog:
mr-insanity97-music.tumblr.com…
.
*Political Blog:
mr-insanity97-political.tumblr…
.
Furaffinity:
www.furaffinity.net/user/mrins…
.
Furiffic:
www.furiffic.com/Mr_Insanity/i…
.
Sofurry:
mr-insanity.sofurry.com
.
Newgrounds:
mr-insanity97.newgrounds.com
.
Picarto.TV:
picarto.tv/MrInsanity
.
Twitch:
www.twitch.tv/mr_insanity97/pr…
.
Youtube:
m.youtube.com/channel/UCcJTU9L…
.
NationStates:
www.nationstates.net/nation=ne…
.
NationStates's Forum:
forum.nationstates.net/memberl…
.
The North Pacific (NationStates)'s Forum:
forum.thenorthpacific.org/prof…
.
Facebook:
www.facebook.com/MrInsanity97
.
Twitter:
www.twitter.com/Mr_Insanity97
.
Steam:
steamcommunity.com/profiles/76…
.
Skype: Mr_Insanity97.
Redbubble:
www.redbubble.com/people/mr-in…
.
Patreon:
www.patreon.com/Mr_Insanity
.
PayPal: jrmnk_e@icloud.com
E-mail: jrmnk_e@icloud.com
The Lapfox's Sprites are copyright to

Aneiryndae
.