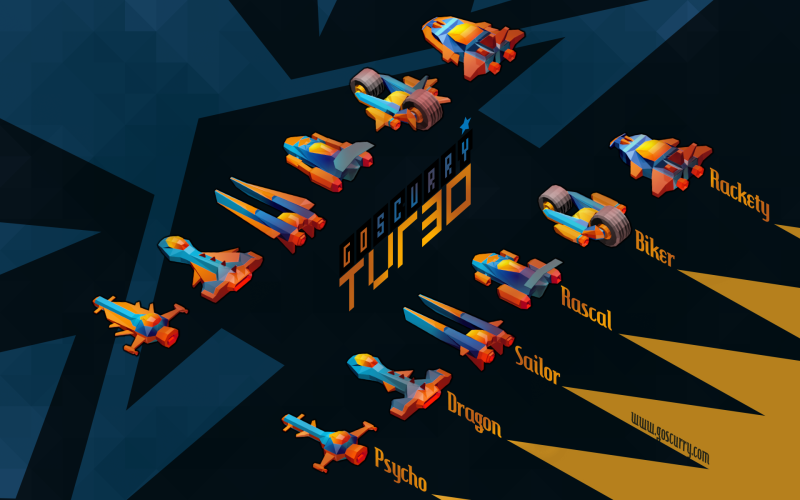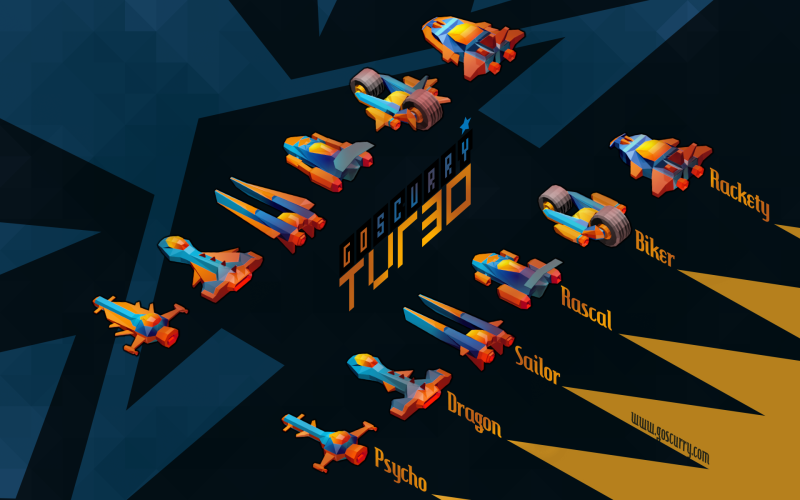 Watch
A wallpaper I made to introduce all the new ships (normal and turbo mode) I made for my game
Goscurry
.

wow, really cool and original design. The game trailer looks awesome too. And hard, lol.
Reply

Hey Rob!

Thank you, and the game is definitely hard! You got a key in your dA notes, from one fellow gamedev to another

Reply

Kinda reminds me of audiosurf o.o
Reply

Not the first time I hear the comparison

I didn't know Audiosurf but when the first person mentioned it I had a heartattack: there's a ship on a road like in Goscurry. For the rest, luckily, it's completely different though

Reply

Holy crap even the music-related mechanics are similar with the game but Goscurry's more well... fucking challengeing especially when your laptop lags in the middle of a song and all the hard work would just explode to bits and pieces of despair, thanks for the game dood! Really appreciate it!
Reply

Ahahah well I have to admit that AudioSurf is much better for what concerns music (at least from the videos I saw): it truly takes your song and create obstacles that you have to hit based on it, so that in a way it's considered a Guitar Hero type of game. For Goscurry I just use default music (made my the awesome Isak), and it's more of a runner

Reply

So what's the difference between normal and turbo? The designs are freaking amazing! Can't wait to play with these. Are the physics the same for each one? I can't imagine they could be different without messing gameplay up.
Reply

Actually turbo is a mistake. It should be "boost", since the upper ships are the way each ship transforms when boost is pressed. I realized I made a mistake after finishing it, but I liked turbo there better so I didn't correct it

All ships will have same physics and controls, except Psycho, which is unlocked only if you reach the end, and that when used will make every mode more difficult and fast, but also more rewarding score-wise.
Reply

'Turbo' works too. I think the idea of the turbo mode changing the physical nature of the ship is super-cool. I love the bike mode. Can't wait to re-enact scenes from Tron. I'm sad that I'll never get to try out that 'Psycho' ship. But oh well. I'd whine and say you need to throw a bone to the gamers who suck, but I like the fact that the game doesn't compromise its screamingly difficult ideals. If you beat this game, you beat it because you are f$#%ing awesome. No other reason. That makes this game a true gem, especially in a world full of games that anyone can beat if they put in the hours.
Reply

The ship changing in turbo mode was mainly born by observation, and realizing that the additional trail effects weren't enough to distinguish it.
I deeply appreciate your appreciation for not compromising the difficulty. Though to be honest, I did compromise almost since the beginning, because I wanted to use only the PRO camera, but Jelena was complaining she couldn't drive so I, uh, compromised

That said, any game can be beat if you put in the hours: Jelena got way way better at it for example, and now can drive PRO without issues (and I swear I didn't enslave her into playing, she's so nice to me that she likes to play it by herself

)
Reply

I'm with Jelena. I cannot manage on pro mode. The spatial and directional demands are just too hard for me. Besides, I think the 3/4 view from the back is more exciting than a simple overhead. I really like hard mode. And I toy around with freak mode just for kicks every once in a while...
Reply

It is a funny game but also pretty hard and that is good for sure! I think I ll need a lot of practice.

Biker and dragon are my favorites among these designs.
Reply

Practice makes perfect, as someones used to say when I was young. Then I grew up and I realized that practice just teaches you that you need more practice

My favorites are Biker and Rackety, but I have a special attachment to Rackety because it was the only ship for months.
Reply

did you program the game? Looks amazing.
Reply

Thanks! I feel the urge to throw you a key for the game for that comment

Check your notes!
And yup, I did everything except the music (done by the great Isak J Martinsson): I have a weird passion for coding other than drawing.
Reply