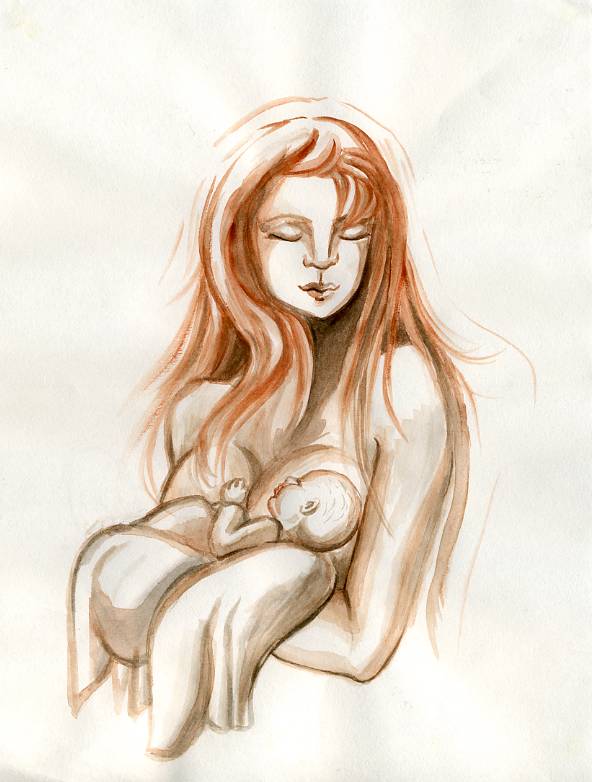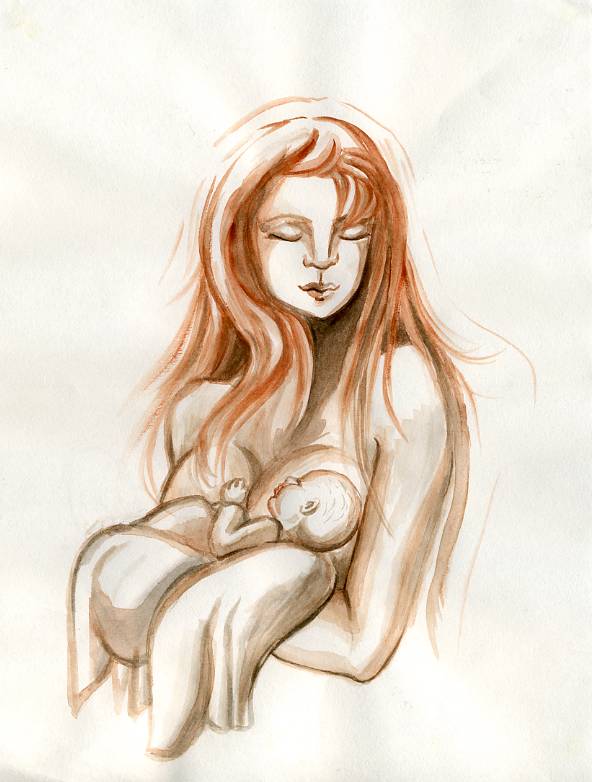 Watch
I don't usually paint themes such as this, but something came over me last summer, and well... here is the result.

Watercolour, obviously.

there is almost nothing as beautiful as a scene like this.
Reply

This is gorgeous. You've captured this loving embrace perfectly. Well done.
Reply

I really like this. The colours are lovely and you've placed your brushstrokes really well. It does have some anatomical faults but I think that the style of it accomadates any little inaccuracies very well. The mothers eyebrows seem a little two far apart - I think perhaps her brow is a little to wide? Also, a babies head is about 3/4 the size of an adults. The head doesn't grow much during life so babies have big heads on little bodies. But, like I said it all seems very stylistic, or deliberate and perhaps it was? It reminds me a little of Picasso's style just pre-cubism
[link]
and no one could accuse that guy of not knowing his anatomy, he painted this
[link]
when he was 15!
Reply

Well, I must admit that most of the anatomical faults are accidental, but it's also true that it didn't start out as something serious so at first I wasn't paying any attention, just doodling with the brush. But I began to have an idea and continued painting it, and was quite unhappy about the earlier mistakes (the eyebrow thing amongs others).
It's strange that whenever I sit down to just do some fooling around on the paper, I become inspired and something really nice is born out of it, but when I sit down to create a 'masterpiece' (

) it just doesn't seem to work. Perhaps in the latter case I'm just too intimidated...
I've never drawn a baby before (in fact, I've never been really close to any: our family consists of old people, and I'm actually the youngest at 23), and I had no idea how to do her/him obviously.

Then again, that's no excuse, so I'll definitely have to do some studies of them in the future.
Reply

Isn't that the truth of it? You're always hit by inspiration when you least expect it. Babies are fun to draw but, proportionally they look nothing like people. However little 'mini-person' babies were the norm for pre-renaissance artists like Giotto di Bondone(before they worked this out) You can see it in a lot of the Madonna and Child images from that period.
[link]
[link]
[link]
Reply

Yes, I remember that from our History of Art classes back in high-school. It's interesting to see how much the study of anatomy changed this in the renaissance.
Reply

its very beautiful....awwwww........im hopin to b a mom one day wayyyy into the future tho lol great job
Reply

Thanks!
For some reason I'm not really enthusiastic about becoming a mother (shame on me, I know it's selfish

): I just feel it's too much of a responsibility for me to be able to handle. Then again I'm only 23 so I have (almost) all the time in the world to decide otherwise. However, I'm pretty sure you'll be a great mom.

Reply

anytime, ur an awsome artist!
o it aint selfish, i feel the same way, that its way too much responsibility to handle, so i aint ready to b a mom yet but i am lookin forward to it lol and plus im only 17 anyways, so i got awhile b4 anythin like that happens. thnx for the confidence boost lol
Reply

Errrm... Okay, this was the first time I made a typo in my DA comments and I'm really annoyed with myself. Sorry! (Of course, I meant 'glad'...)
Reply

its got a lovely tone and flow of lines. soothing
Reply

Aww, that's so sweet!

I love pictures of mothers and babies, and the painting is exquisite.
Reply