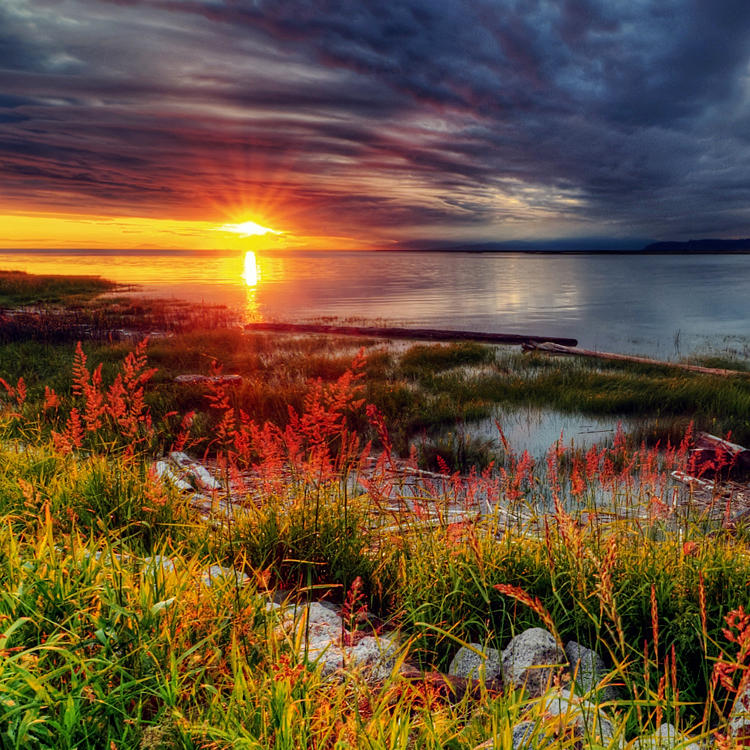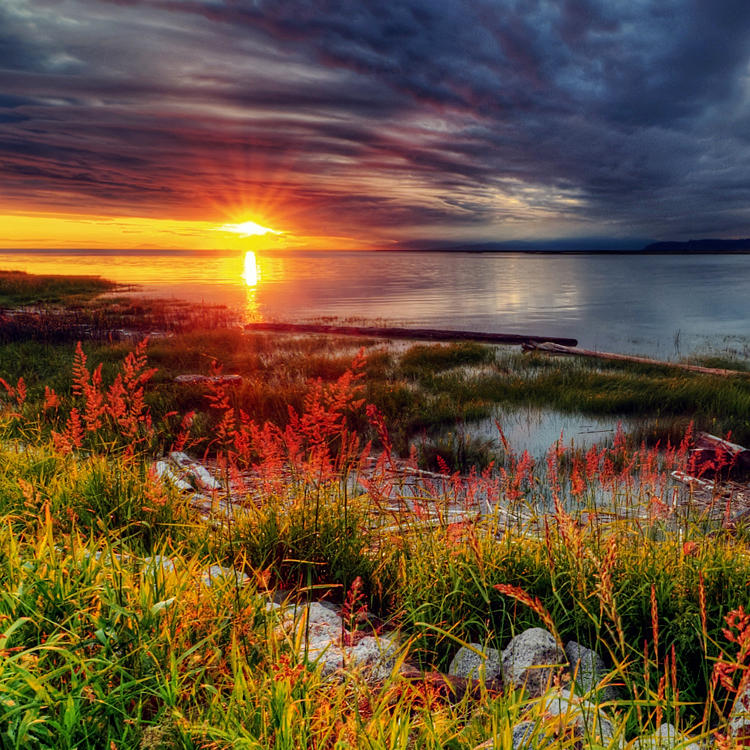 Watch
The 2012 landscape calendar is
now available
! Go check it out

My second "square", since the first one worked out pretty well

I love how this grass looks, but I've become terribly allergic to it this year. I've never been allergic to anything, but after coming near this stuff I sneeze 10 times within a few minutes.
Location:
North arm of the Fraser River, Beautiful British Columbia, Canada.
Equipment:
Nikon D90 + Tokina 11-16mm.
Technique:
Photomatix Pro 4.0 and Photoshop CS5 from 3 RAW exposures.
Follow me on Facebook:
WestCoastScapes

Buy my work as stock photography
from Shutterstock for commercial use
here
Same day as -
Also on the Fraser -
Other -
Поздравляю с днём рождения, желаю меньшего пуза моему братцу Мише

This photograph is taking part in the 'Sunshine' contest organized by the #
inspirational-images
group.
In all honesty, its too much color in the wrong places. The photo should be about the sunset, not the grass on the bottom! It draws the attention away from the focal point (the sun). The "HDR" effect is a one trick pony. I've seen it before, and I'm over it! It's ok to make dark areas lighter, but contrast and depth are important to an image. I also realize art is in the eye of the beholder, which is why I know that other people will love it! To me though, it seems over processed. I'm a bit blunt, so hopefully my critique will be taken as helpful advice and not overly harsh. I *do* like the overall composition and color of the sunset. You use the rule of 3rds well with the sun and the horizon. Great potential

The Artist thought this was FAIR
74 out of 192 deviants thought this was fair.
Contrary to DragonDriver5's critique, I don't think that just because a sunset/sunrise is in a photograph that it should be the focal point by default although I can see how he and others would think that way as suns are symbols of glory.


But one of the main things I love about nature photography is the alternative perspective's it offers and the challenges one has to go through to achieve such such a perspective. So, in my opinion, it is only apparent that good nature photography gives off an obvious sense of perseverance and ruggedness that has some irregularity in it.

With that in mind, I see that the texture of the grass and rocks below is the focal point of this piece with the sun and the soft heavy clouds being complimentary to the more detail below... how many times does one come across grass with red kernels; much less glowing in the sunset/sunrise?!

If this photograph could speak it would say, "Yes, I made it up that cold dank coastline to see this gorgeous sunset and lay in the warm grass before I nod off to sleep.

One simple yet effective aspect I'd like to point out is how the sunrays reflect off the clouds.

One thing that could maximize this perspective is a wide shot or panorama that would show more of how this luminescent/optimistic time-of-day transition contrasts from the dark cloudy scenery that is more towards the right.
The Artist thought this was FAIR
31 out of 33 deviants thought this was fair.