Journal Entry:
Tue Sep 27, 2011, 9:50 AM
Gallery
l
dA Portfolio
l
Watch Me
l
Note Me
I do a variety of other art and crafts commissions: please see the full journal for more details: itti.deviantart.com/journal/Se…
Flavours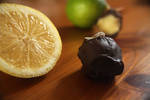 DARK CHOCOLATE AND GINGER
Rich dark chocolate truffle delicately balanced with aromatic ginger, coated in thick dark chocolate. Made using real stem ginger.
RUM BALLS
The perfect adult indulgence - smooth dark chocolate with a rum centre. Rich and chocolatey with a sophisticated taste.
TROPICAL BREEZE
White chocolate truffles with bursts of lemon and lime and a subtle hint of coconut, coated in rich dark chocolate.
PEPPERMINT
A classic combination - smooth dark chocolate truffle with fresh and zingy peppermint, coated in dark chocolate.
IRISH CREAM
Smooth, creamy milk chocolate truffle containing real Irish cream liqueur. Coated in a layer of white chocolate and a dusting of cocoa.
CLASSIC COCOA
Smooth dark chocolate truffle made using the finest ingredients and coated in a thick dark chocolate shell.
WHITE CHOCOLATE AND LEMON
Zesty lemon beautifully complemented by sweet white chocolate. Contains real lemon juice.

Made using natural ingredients and flavourings. All recipes have been tried and flavours adjusted to be the best that they can be. If you want to request a new combination of flavours and I think it'd be viable I'd be happy to try it out - so please do suggest!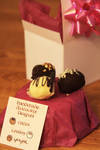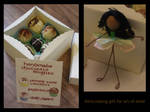 Boxes and Prices
Small box
(roughly 6 chocolates)
1 flavour £6/$11/€8
Choose any of the above flavours or suggest your own.
Large box
(roughly 12 chocolates)
1-2 flavours £10/$17/€13
3 flavours £12/$21/€15
Choose any of the above flavours or suggest your own.
Large mixed box
£8/$15/€10
You don't get to choose the flavours. Selection varies depending on what's available.
Sample box
1 flavour £1/$2/€1.50
2 flavours £2/$4/€3
Choose up to two flavours. Sample limited to one per person/household. If flavours are out of stock you'll have to wait, or commission them!
Postage and Packaging
Please contact me with your order and I will work it out for you! I will use the Royal Mail website to get an accurate estimate of what it will cost to ship to your country.
CSS made by
TwiggyTeeluck
Brushes by
Wizard-Studios

Watch

My mum loves chocolates! I could get some for her. She lives in the UK so postage would be less. Mind you I wouldn't mind some too. How well do you think they would travel (to Canada)? What form would you like the payment to be in? e.g. PayPal.
Reply

They've travelled in the post before, although not internationally (from Basingstoke to Edinburgh, about 250 miles), and arrived in good condition. I think the only issue would be shelf life but I deliberately selected recipes that would keep longer (both in terms of the ingredients themselves and in terms of the coating - if there's a thick layer of hard chocolate around the truffle it will keep longer than one that's just rolled in nuts or cocoa powder) so I don't think that would be a problem either.

PayPal's fine unless you have any other suggestions. I think that's one of the fastest methods.
Reply