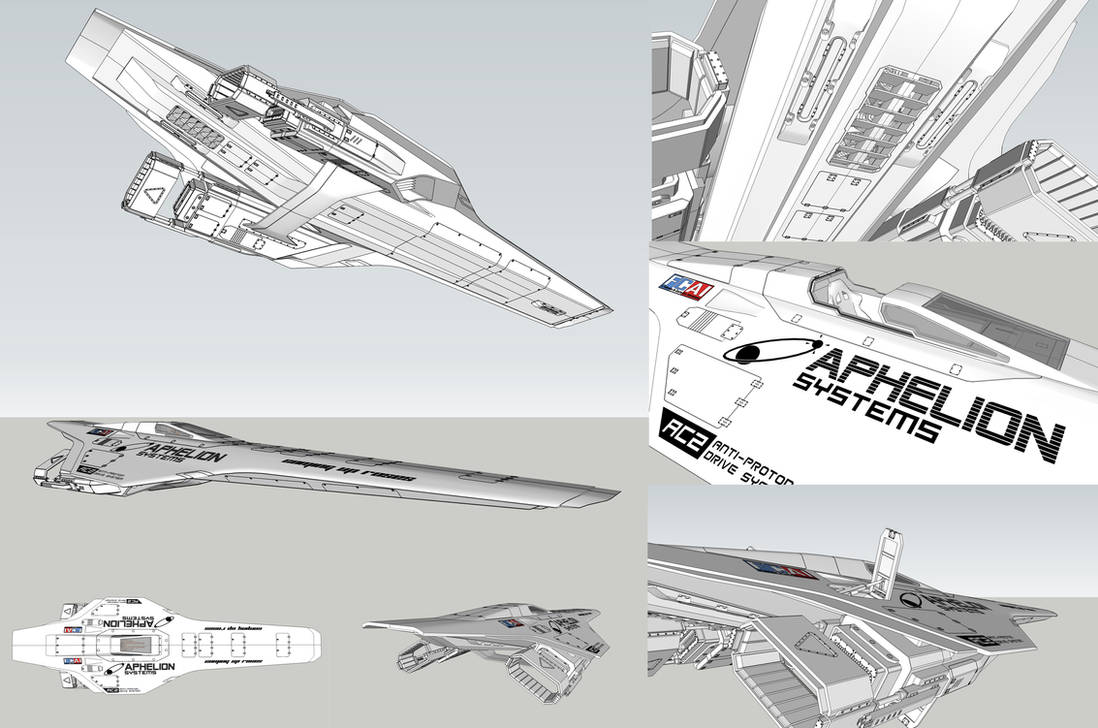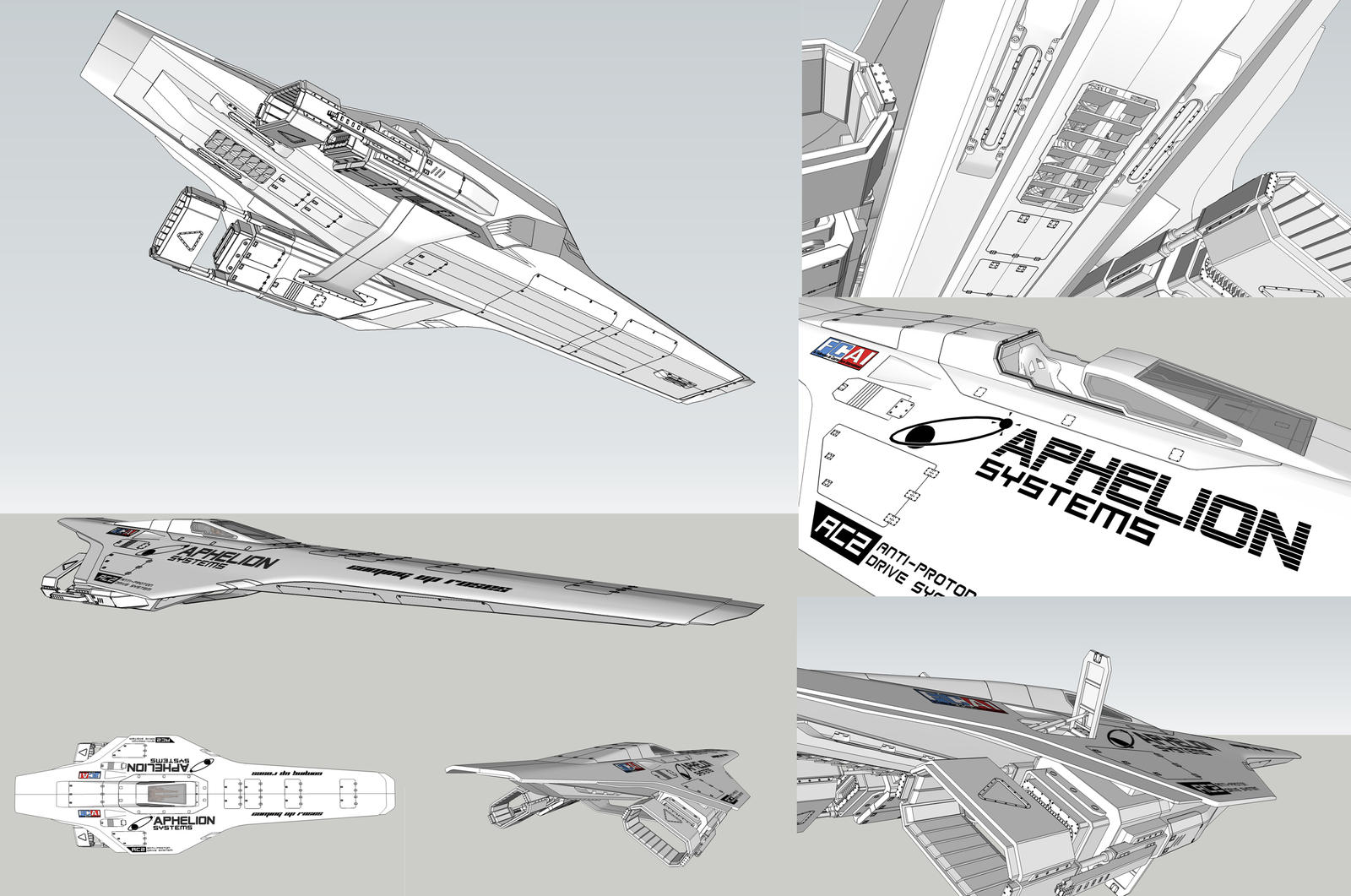 So.. Since
Scifiwarships
submitted a wip of their racer, and then
Marrekie
submitted the challenger and threw the gauntlet out.. I wanted to join in too!
But, I model slowly. So here is a work in progress so I don't feel like I'm not doing anything.
(Why did I model every bolt? UGH)

Hi mate! So.. I have some advice I'd like your opinion on.
I'm struggling with some detailing on the secondary engines on my aeroracer.
First up, the intakes. I have mocked up some new ones, elongated NACA ducts. They're have a ovely sculptural shape, but they don't exactly scream future.. What do you think, do they fit here?
dl.dropboxusercontent.com/u/53…
Second issue I have is with the engines themselves. I have used a system with electric pistons on the main engines, and I want to continue that theme on the secondaries.
However, since the engines are supposed to tilt 90 degr, downward, this system can only be on the underside and my question is whether or not this looks a bit strange.
Here:
dl.dropboxusercontent.com/u/53…
and here:
dl.dropboxusercontent.com/u/53…
Soo.. What do you think? NACA ducts or not? belly mounted pistons or not?
Additional ideas are most welcome, should you have an epiphany or two

Reply

hello! I feel honored to be consulted for design input!
For the ducts, I think they look great! The front non naca ducts.. not sure about those. They look good too but then its starting to get a bit crowded in my opinion. I'm trying to think of this as function over form and you definitely need those naca ducts for those secondary engines. Or some kind of intake, period.
What is it that those engines do that they need to tilt down 90 degrees? Are they providing lift?
For that much rotation travel, you may want to consider some kind of servo drive instead of a linear actuator jutting out into the air. By that, I mean a motor and gearbox system driving an axle where the hinge is, so its just a box that is form fitted onto the side of the engine casing, and it drives the axle to rotate the engine. It would be more aerodynamic and less exposed and wouldn't need to be strangely shaped to handle so much travel. I'm not completely sure on the servo drive, but model it and see how it looks!
Loving this thing so far though, amazing work!
For system cooling and ventilation in the front, I think you could get away with a very tiny set of intake slats or a hole near the leading edge for air to ram into and then on the underside, maybe some louver gills like a manta ray? So air rams into the intakes for system cooling, goes and cools radiators and whatnot, then leaks out of the underside of the wings through manta ray gills hot.
www.johneasley.com/gallery2/ma…
Not sure on that either, just something to consider to get rid of that front rectangular vent which looks different then the naca ducts.
Curious about those engines rotating so far down, are you going to have front engines to help you hover?
Reply

Don't feel honored, feel talented

The rectangles in front are just the fwd engines unfinished and poking through the top fuselage. I forgot to remove them for the pic. The will need a separate intake too.. Hmm..
Yup, the idea is that these engines provide lift, go and tvc.
I agree that it's a bad idea to have the linear actuator jutting out into the air. At the same time I want a system that is visible as well.
I have to give this another go..
I'm very glad you like the NACA ducts, I'm going to fix them in place and see what it looks like.
Reply

Maybe you could have a happy medium and have a control arm coming out of the hinge axle of the engine, and then the linear actuators crank those? So they sit beside the engines on either side and not underneath?
Something like this:
dl.dropboxusercontent.com/u/49…
Reply

Looks excellent !, loving the details, this whole race thing is a hoot

I cant wait to get my racer up and running, see you on the track sometime soon.
Reply

amazing work!

Reply

This is fucking nice, you should 3D print it

Reply

This is shaping up nicely mate..! I am really impressed!
Reply

why thank you! I'm modelling all the inner bits at some point.. I had to stop myself so I could make an outwards pic for a wip for you guys as a progress report!

I already modeled a cooling duct. on the list is the antimatter containment unit and a fusion reactor of some sort, and a cryogenic system.. its gonna be packed in there!
Reply

fusion reactors are a real hoot to design.. I've just made a couple. Damn complicated... In the end I just went for basic resemblance..
Reply

I'm trying to think of what sort of design to go for. A torus, probably. I wanna do that thing you do with all the molding indents in the casing. It's beautiful.
Reply

Reply

Reply

Dude, that's excellent...
Reply

thank you! I aim to make it like under the hood of a car, packed with all sorts of densely populated technology, under every hatch.. I'm not going to be able to show off every angle of this thing because there will be too many by the time I'm done! All of this is inspired by your creations, by the way, since you do the same thing, so I had to up my game to match!
Reply
(1 Reply)

Absolutely fantastic work ! Makes my attempt look a bit sad, will have to try to up my game
Reply