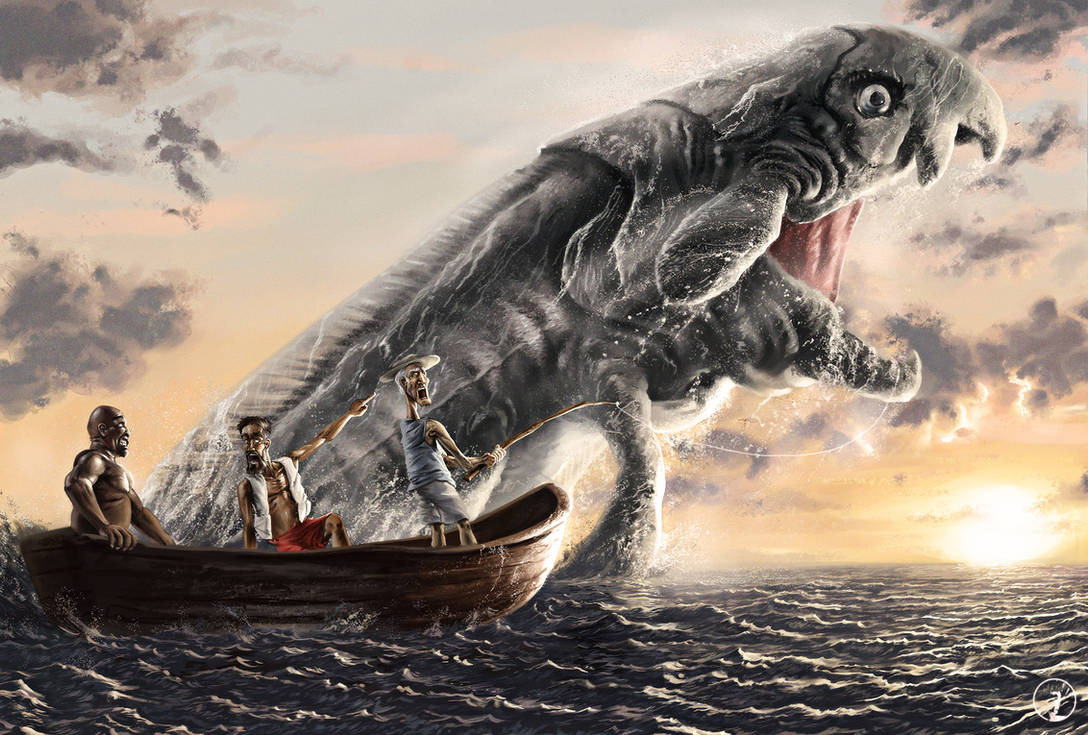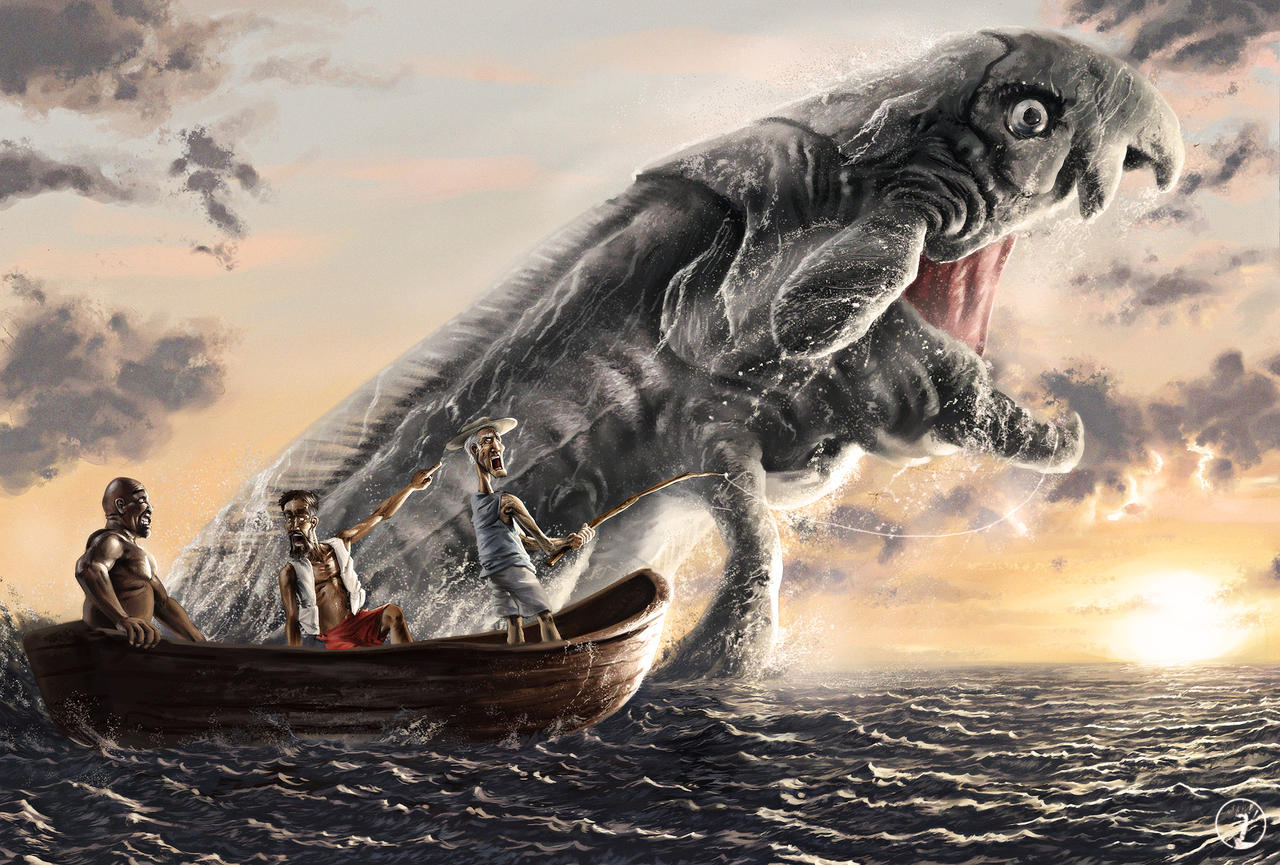 Legends tell of a legendary beast, the Guardian of the Sea. Everyone heard about it, but very few have seen it. Many businessmen and predatorial fishermen all around the shore wanted to take him down to make endless fame and fortune. But all of those who tried that ended in the depths of the ocean.
Until three young fisherman, after seeing that, due to those fierce fishermen, there were no more fishes in their area, decided to go further in the ocean. Then, the Guardian appears in front of them. It was a test. Would they stand still, or would they move?
They moved, but not for hunting him. They noticed that everything they needed was between the Guardian's teeth. Little fishes, bigger fishes, and treasures, all was there! But, to make sure that it wouldn't lack for future generations, they took only what they and their families would need to live for a year. The Guardian saw goodness in them, so he spared their lives.
And so, year after year, they went to the same place of the first encounter, to take what they needed, and go away in peace. But the Guardian would increase the challenge for the fishermen, for the sake of fun, year after year as well.
----------------------------------
It all began with this training, last year:
It's awesome how one can get better 365 days

It was pretty fun to make such a story

And also it shows an important message: we can't take resources that Nature gives us without thinking there will be no consequences in the future. The day we'll leave a not so worse world to the future generations, is the day we can finally start resting in peace.
I hope my English isn't so bad to make you understand the story...it would be so much easier in Portuguese lol
Anyways...Sketches on paper, Digital painting entirely on Painter, no textures.
Hope you'll enjoy it, and let me know what you think of it

Cheers!!
The best digital painting I have seen up to this date! I am in awe of your talent shown in this picture! I would call it a masterpiece if I was qualified.

The most striking thing about this is the detail! Each wave well painted, and unique from its neighbors! Then there is the color. You made full use of your lights and darks. The highlights and shadows (on the sea and fisherman especially) are very realistic and dazzling!
The horizon is a beautiful example of fade out - and great blending. The light, airy style of the clouds is masterfully executed. The sea guardian is superior.
I can't find anything to complain about when it comes to this picture. WELL DONE!

(P.S. I am still

at the fishermen's expressions!)
The Artist thought this was FAIR
9 out of 9 deviants thought this was fair.
WOW!!! First of all I would really like to say how proud you should be of achieving this amazing artwork. This is proberly one of the best pictures I have ever seen on this site. It is brilliant, from the facial expressions on all three characters to the detial of the water bursting up from the sea. The background is really astonishing!!! And the detail you have gone into for the lightin is phonominal!!! I am generaly shocked on how good this is! Searously, I am sure many people would pay for you master pieces and I really respect you for going into the amount of detail you have gone into...
The Artist thought this was FAIR
4 out of 4 deviants thought this was fair.