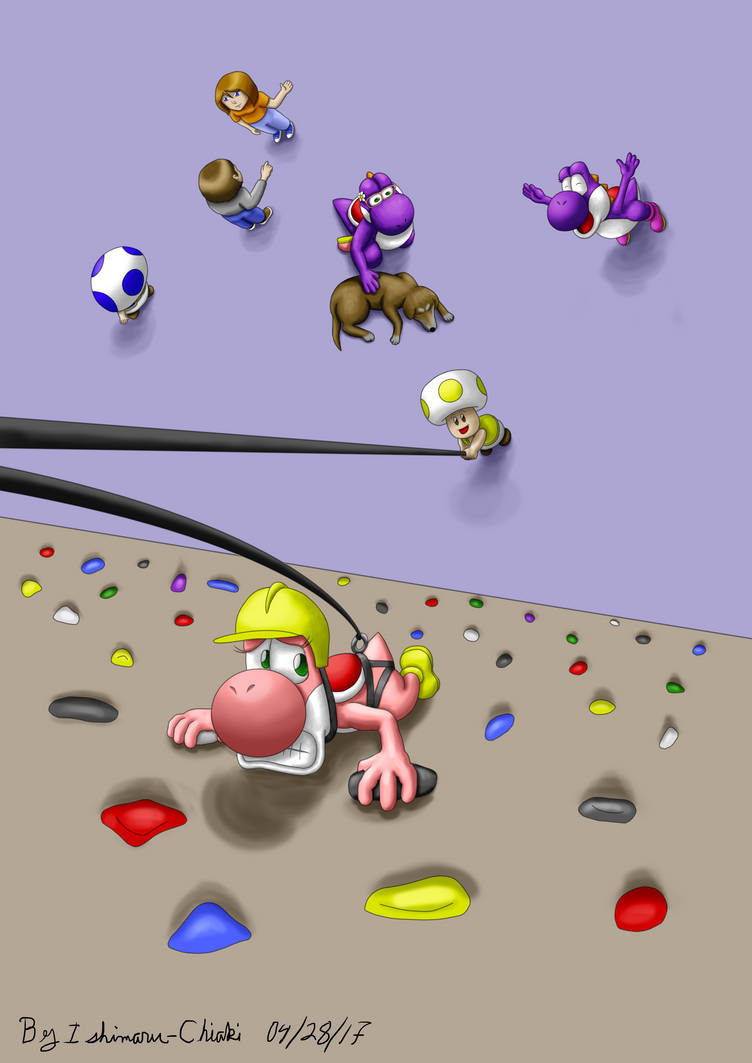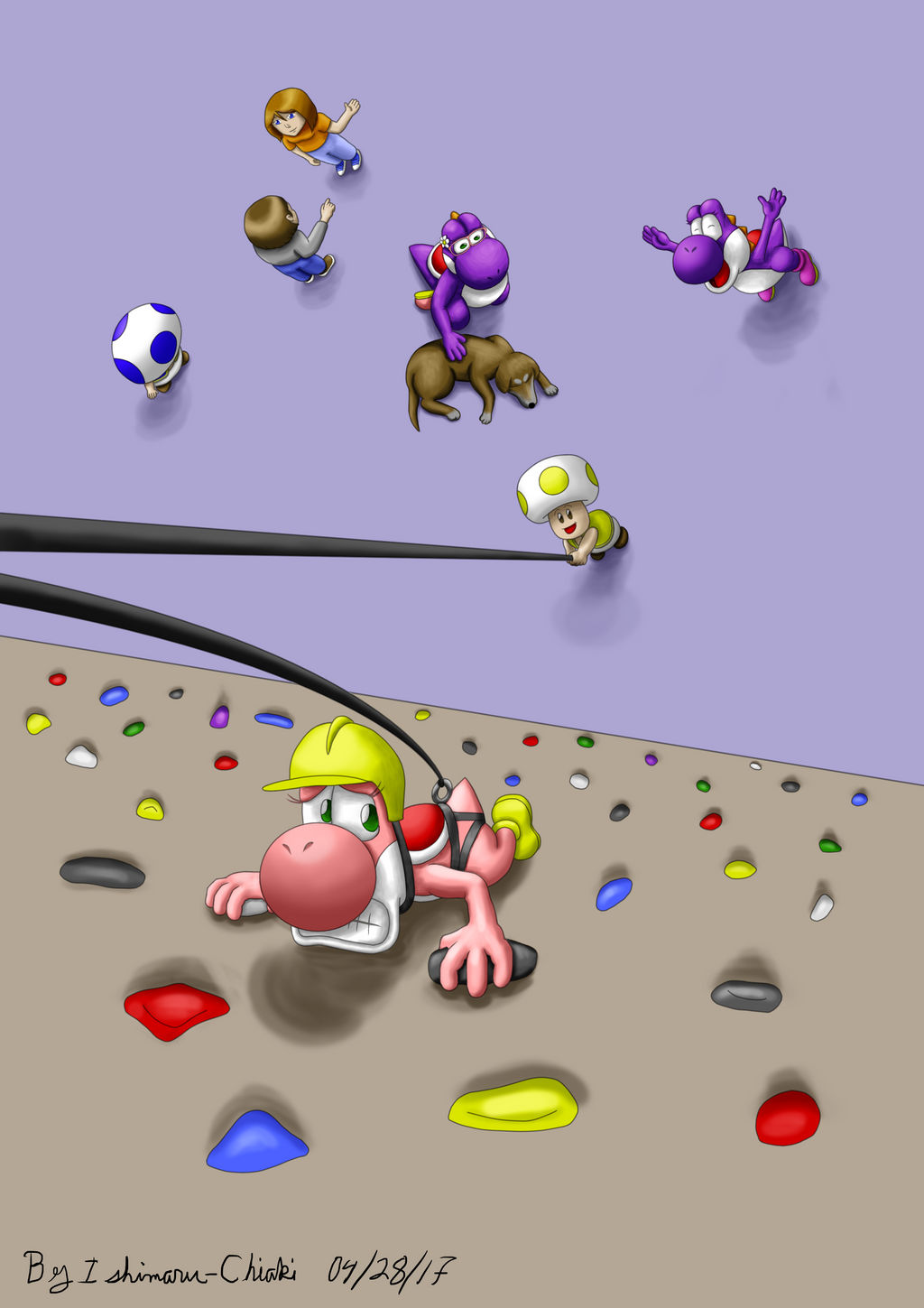 Watch
Yup, it's been a while since my last digital drawing, and this one took a lot of time with the multiple characters.

Next June, I'll take part in the "Move the Mountains" project where I and a group of people with disabilities (physical/visual/intellectual disability and autism spectrum disorder) will climb a mountain way north from my hometown. As it's quite a big project, we have meetings so we can know each others, and in one of them, we had a climbing session. I climbed but my arms couldn't take anymore when I reached the third of the wall's height. Mom climbed too, and she managed to to reach two thirds of the wall before being stricken by vertigo after taking a look below her. And finally my friend managed to reach the top, but she was litterally terrorized when it came to go back to the ground. Meanwhile, Mom stayed close to my friend's guide dog to soothe him.

All of this inspired me this drawing, where Cinn, my friend's almost-blind Yoshisona, is climbing and is quite terrorized, while Ishimaru, my Yoshisona, is cheering. The other purple yoshi with pale pink shoes and glasses is Viola, Ishimaru's mom, and she's soothing Cinn's guide dog who feels his Yoshi partner's uneasiness. I also added a few more people just to show that they were a group taking part to the climbing session.

Fun fact about Viola : From the start, my idea was to make her be a purple yoshi, just like her daughter (as Mom and I look alike), but it wasn't until I work on this drawing that I decided of her shoes colors and her accessories she'd wear to tell her apart from Ishimaru. I made her arms chubbier too.

The drawing was started on paper, then I scanned it so I can work on it with Krita.
Since I was working with perspectived I'm not used to, I had to get help from my little red Yoshi figure so I can get some parts look right while doing the Yoshis. I also tried some stuff, such as a different brush for shading/highlighting, and decreasing the lines opacity. I had to change mode for shading and highlight layers while doing the last characters, so that's why some spots may need some touch-up.

Overall, I'm quite satisfied with how it came out.

Tools : Pencil (sketching), Krita (digital work), Gimp (color profile fix)

Yoshis and Toads ©Nintendo
Cinn, Ishimaru and Viola ©Me
Art ©Me

I really like this drawing, it's funny and got some little details, not to mention the angle, real nice job there.
Reply

Aww~ poor Cinn looks absolutely petrified.
Mind you, I went wall-climbing years ago too... wasn't really comfortable with it... (>.<)
It's not the "heights" that worry me... even though you're strapped in and safe...
...it's just that thought of not getting your footing right and slipping off the rocks

Great pic here~ I really like the perspectives

Good luck with your "Move the mountains" project too


Reply