I lost my grandpa.
There was no warning. The police came and told us about it. I couldn't believe it. This past 6 months I was focused on my dad's death, I didn't think he could die so soon after. His health wasn't perfect but he was in the same health he had been in for the last 10 years. I feel so disconnected. I forgot how important he was to me. I forgot how important it was for me to go to his house, my home away from home, and spend time with him. We would go to French Creek, or fishing, or any of the cool places on Vancouver island, and come home and make dinner together. I'd get a lot of time to draw, too. It was something that I needed in my life, my escape from the everyday. The places we'd go, especially beaches, were very inspiring to me. Vancouver island has a special place in my heart.
He would come over on holidays and birthdays, and I'd make him cards. His bookshelf was filled with my cards, cards my aunt made him, cards my brother made him when he was younger, and other people's cards. I wish I had taken them because they were all thrown out after he died. I wish I'd even just looked through them all. They also threw out all the trinkets he had around the house, so many little fish-related things (he was a fisherman). I wish I had known they would do that, because it's making it so much harder to function. It would be so much easier to get through this if I had some mementos. I can't think about anything else. I'm trying to work, I have this great co-op job, and I need to work but I'm not getting anything done. I took my days off before I knew that his stuff was gone.
My friend Maggie suggested I draw a tribute to him. I've also been thinking of a tattoo, of either a salmon or the oyster tattoo I've wanted for a long time. Any suggestions?
Some pictures I drew for him or I remember being with him at the time...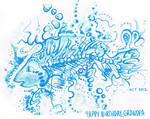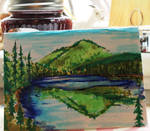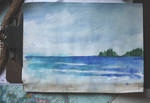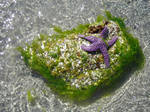 You belong with me
Not swallowed in the sea