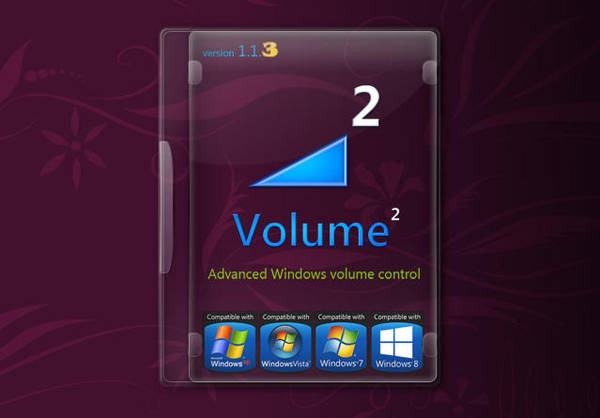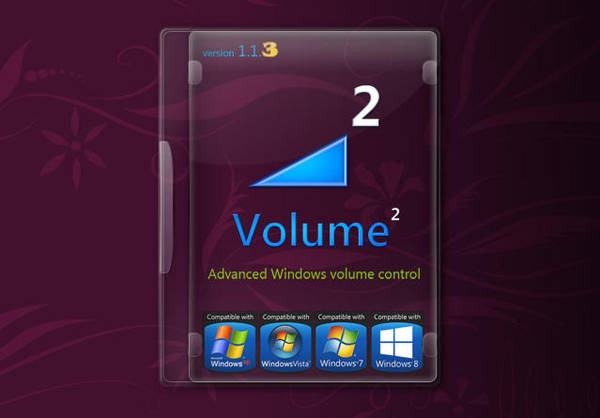 Watch
Volume² 1.1.3.247 Release
Copyright (C) 2012 Alexandr Irza, All Rights Reserved
DOWNLOAD Volume² 1.1.3 Release
DOWNLOAD Volume² 1.1.3 Release(Portable)
Download latest version
DESCRIPTION
Volume² is an advanced Windows volume control, a complete replacement for the standard Volume Control. This application lets you easily change the sound volume just by rotating the mouse wheel or by using keyboard hot keys or just mouse move on screen border. It includes an audio mixer with advanced volume controls support, a scheduler, an on-screen display, command line support, the ability to store and recall different unlimited presets via one mouse click or system-wide hot keys.
Available languages:
Russian, Ukrainian, English, Chinese, Armenian, German, Spanish, Polish, Italian, Arabic, Brazilian, Bulgarian, Byelorussian,
Czech
, Dutch, French, Greece, Hungarian, Japanese,
Korean
, Latvian, Portuguese,
Romanian
, Serbian, Slovak,
Slovenian
, Swedish, Vietnamese
.
CHANGE LOG
*Fixed bug with hang system when connected USB device (on some PCs with Win7 x64)
+Added function disable Volume²
+Added mode OSD "gadget" (OSD always shows)
+Added feature repairing the volume when you start the program (for Win7, when the some users on single PC)
+Added one more place volume control with the wheel: Anywhere on the screen
+In the system tray added option set default device
+Added function Mute all except active application on hotkeys
+Added OSD skin options
+Added new parameter for command string DEBUG (All errors shown on screen)
+Added option auto restart hooks
+Added new function to hotkeys: Set brightness percent
+Added feature Peak Meter on OSD
+Added keys wiche you can set as hotkeys in Volume²: Win+Up, Win+Down, Win+Left, Win+Right
+Add events on hotkey: Power off PC, Reboot PC, Turn off monitor(only for StandBy)
*Fixed bug with volume control in application list(x64)
*Fixed: PeakMeter placement on the second monitor
+Added PeakMeter binding to the device by default (automatic switching)
+Added ability to control the recording devices(Win7/Win8)
SYSTEM REQUIREMENTS:
Windows XP , Vista , Win7, Win8
INSTALLATION
1. Open the zip file with an unzip tool, such as WinZip or WinRar;
2. Run Setup.exe ;
3. After installation, run Volume2 shortcut on your desktop.
UNINSTALLATION
1. Just run Uninstall.exe in Volume2 folder
CONFIGURATION
On Volume² right click button in System tray icon select "Volume²."
REVIEWS
Adjust And Schedule Volume Controls With Volume2
Better Volume/Sound Control For Windows With Volume2
Change Volume With Hotkey or Mouse Wheel in Windows
Volume Sqr: Powerful Volume Control For Windows
CONTACT US
Web Site:
Volume²
Email: irzyxa@gmail.com

Reply

I'm a little confused about why the formatting has changed for the mouse settings. I have two devices that I wish to control with the mouse wheel. But the only way to do that is to make one of them activated all the time in the location specified. I don't want this. I want one hotkey for Device 1 and one hotkey for Device 2. The configuration for the mouse seems really weird. Essentially if you move "Alternative device: a mouse wheel" outside of the "Rotating a mouse wheel over" tree it would fix my problem. Pretty please? Your app is the best volume app available! Thanks for making it!
Reply

Reply

And now I just figured out how to do it in the keyboard settings. I feel stupid.
Reply

in windows 8.1 x64, volume2 always shows the options screen at startup. Can you add an option to turn it off?
thanks.
Reply

You should remove copy of program VolumeČ from autorun(Ctrl+Alt+Del tab Autorun)
Reply

I guess I posted my earlier comment in the wrong thread.

I'm really loving this so far. However, Volume2 won't adjust the volume if the OSD won't display, like in a game - no sound to let you know the new volume, no volume adjustment at all. I test this with a couple DirectX games and got the same result.

It'd also be great if there was an option to play a sound at every increment. Waiting until after you stop adjusting the volume isn't particularly helpful in finding a good volume to go with.

It'd also be nice if the UI had an easy-to-find option to change the increment number. As it is, it seems it can only go by 2's, I'd like to change that to 5's.
Reply

OSD in DirectX hard for realize, and may be will be available in future.
Play sound - need change Config.ini file(close program, change and run again). Set parameter DelayBeforePlaySound to 50.
Increment number - this option named "Volume changing speed" - for increment to 5% need set 20 steps.
Reply

Thanks, the config.ini tweak worked! It'd be great if I didn't have to dig in Appdata/Roaming/Volume2 to find and tweak it, but I'm just glad I can get that feedback now!

I'm glad to hear that DirectX compatibility is being considered, the times I want to fiddle with my volume the most is when I'm playing games.

The increment number isn't changing when I change the volume changing speed. Whether it's set to 2 or 100, there isn't any difference in how fast it changes the volume. It doesn't seem to change anything at all, I think it's broken. If you do fix it again, would it be possible to have it set the speed in percent increments instead of steps? I imagine most people aren't going to know what an arbitrary unit like steps actually means.\

Thanks for the response!
Reply

Reply

To increase or decrease volume with 5 units go to Main and set:
- Control method to Logarithmic
- Volume changing speed to 20 steps

For me, this method has an issue... a little lag, but the other methods works well.
Reply

when i update to win8, the one thing that i realy like - volume bar. and now i can use it in win7. sweeeet, dreams come true. thx a lot. but a little suggestion, maybe if volume at 100 and u try to add more it need to show osd, now it didnt. peace
Reply

I was using 3RVX for a long time, but this, this is even better!
Reply

Reply

Just amazing! I love this software!
Reply

Found a bug,
Entering a keyboard shortcut for switching to NEXT default audio playback device in Win 7,
this version switches to the next RECORDING device instead!

I also found a workaround disabling my second recording device, leaves only one in recording,
and the shortcut now works for playback devices again.

(It worked flawlessly in 1.1.2. I use this functions ten times a day it's great!)

Hope this helps,
and congrats on your work,
this utility is a MUST have!!!
Reply