▼
After the battle on the Moon, Sigma was seemingly defeated for good, along with Lumine and his plans with the New Generation Reploids. X and Zero are just a few steps away from reaching the dreamed peace between reploids and humans... However, dozens, if not hundreds of dangerous Mavericks are still around the world since the fall of the space colony Eurasia, followed by the
Nightmare Phenomena
and the
Maverick Spring
- not to mention
that the viruses are still spread through all the world. Finding and putting an end to these criminals is duty of the Maverick Hunters, and it doesn't seem to be such a hard task now that Sigma is gone... But what if one these criminals build a huge conspiracy to wage another war? What if Sigma is not really gone?

[2018] October 14 -
MMX:U49 comes back next week after a three month hiatus!
This semester has been less productive than I expected, so the comic fell into a hiatus once again. While I still need to do a ton of sprites and backgrounds to finish the Season, I am safe to post the rest of Chapter 17 Frenetic Dance at least.
Check the new schedule:
The Chapter Index of this journal has been updated and hopefully it won't break the table this time. I left only the main pages of each chapter because it was growing way too big.

I have created a Twitter account in this meantime, and I am posting some exclusive stuff there:
twitter.com/IrregularSaturn
[2018] June 02 - My Core membership expires tomorrow. Due to Deviant Art restrictions, I won't be able to edit this journal until I reactivate it. The comics are ready up to Chapter 17 Frenetic Dance's 27th page, so the schedules are safe for one or two months.
Stay tuned for news on my status updates or in page descriptions!

[2018] April 11 - The schedule has been changed. Beginning this Saturday, there will be 5 pages per week.
Winged Rampage Pg 6-45 between April 12th and June 5th
Frenetic Dance Pg 1-11 between June 7th and June 20th
That doesn't change much the start/end dates, but the page frequency is a constant now.

[2018] March 10 -
Hey. I took this Saturday to schedule all the remaining 56 pages of MMX:U49 and I used some stash shenanigans to set the
Previous/Next Page
hyperlinks before the pages are even published.
The schedule is limited by the last week of my DeviantArt premium (3 June), so it will be changed:
Disturbances Pg 25-35 between March 11th to March 31st
Winged Rampage Pg 1-26 between April 2nd to May 22nd
Winged Rampage Pg 27-45 between May 23rd to June 10 (one page per day routine)
I really want to finish Season 2 this year, so if I manage to make around 30 pages in the next two months, the
one page per day
routine will begin earlier.
[2017] December 27 -
I'm in a redesign vibe and some of my classic characters are getting new visuals. I won't be able to change their sprites in the comics already published right now, specially for
Saturn
and
Blue Knight
because they already appeared so many times. I'm still deciding if I should simply change their sprites in the next Season or wait for them to get damaged, but the fact is that those should be their visuals since the beginning of the story.
During that same vibe, I decided to make some hammerings in the remaining plot of Mega Man X: Unit 49. Season 4 and 5 have been inserted in Season 6 in a certain way, because the time intervals between events became much shorter and things should be more intense and intriguing. All that reorganization was a consequence of a little lack of coherence in the subplot involving
Doppelganger
, it was like there was no justification for a
certain major event
to not happen much sooner than I first planned. Still, there are many things I must adjust yet and writing the plot becomes a Tetris game when I try to fit all the battles that I want to happen. Daily problems of having a huge cast.
I should be returning to my normal activities next week, at least I hope so. Happy Holidays for you all!
[2017] November 29 - Got my Core membership back! Due to the many exams beating me in this end of semester, I couldn't make too much pages recently, so the publishing will catch up with the production on December 3rd. After that, I'll take a break of one or two weeks to rest and then plan the several incoming boss fights.

[2017] August 22 -
Season 1's first chapter,
Earth's Army
, has been completely redone. The pages were poorly written and I realized the designs of the counsellors were too generic, so I made new members and gave a unique design for each one of them. In addition to that, the reunion hall of the Winter Base also has a new look. The first chapters are essential to catch the interest of new readers and the old stuff is a little behind my current standard of quality, so don't be surprised if I redo the third chapter soon.
[2017] June 14 - The Mega Man X: Unit 49 Wiki has been updated with all the articles related to the first arc of Season 2. I will need a few weeks to prepare the remaining content for the next arc, so I hope to retake the production in the beginning of July. See ya.
Old News
[2017] May 1 - Chapter 9 is almost finished and the fight turned out to be longer than I expected. The good news is that now I have guaranteed pages up to May 25th. I could break the "one page each 2 days" cycle at anytime, but with the production far ahead of the publications, the risks of hiatuses lower a lot.

Suposing Ineluctable Demise will end around the 25th page, then this arc will finish being published around June 10th. I will need to make a few breaks to study and make sprites for the next arc, so hopefully this interval will cover most of it.

[2017] Feb 23 -
The amount of free time during the week has been severely reduced due to the college and the production will be slowed to a maximum of three pages per week, so maybe I can finish Henry's arc near April or May. Also, deviantART does not allow me anymore to maintain the MMXU49 skin when I update the journal without premium, so I won't update this journal during these times. Thankfully, my brother
Thn001
extended my Core for three more months.
[2017] Feb 8 - I will be moving out tomorrow and I am not sure how many days I will have to wait before I can have access to internet again, so no updates for at least one week. I hope to have some new pages done when it's back.
Also, in the end of the month I will start studying physics in the university, and I am not sure how my energy/free time will be while in my classes period. It's not a preannounced hiatus (yet again), I just know the production will become slower.
[2016] Dec 19 - I have revamped all the pages of the Prologue with better texts and images. I did that not only to update Gigantex's sprite but also to give a better first impression to new readers. The drop of quality after the next few chapters will seem weird, but I don't think it matters that much. You can see how much I evolved since the beginning in January of 2015.
[2016] Nov 27 - After two months of intensive study, I have finally fought the final boss of the high school, the entrance exam for the Federal University, and I'm expecting a grade good enough to let me in. With that said, I have no more obstacles other than the sprites required to continue Mega Man X: Unit 49! I'll take a few days of rest and then return with full strenght, sorry if I let anyone waiting for too long.
[2016] Jun 4 - I forgot tell you that the wikia has been fully updated since the end of April. Also, Submit Your Maverick has already seven finished Mavericks and two pending. Summing up the backstories of Dr. Henry and Saturn (but from Henry's perspective most of time), I could separate the pre-comic arc in nine chapters:
MMX:U49 S0C1: Unsealing the Past - present time, after S1C19
MMX:U49 S0C2: Troublemaking Prodigy - 2174
MMX:U49 S0C3: Ms. Roemer - 2177
MMX:U49 S0C4: Awareness - 2179
MMX:U49 S0C5: Loop of Meanings - 2179 to 2182
MMX:U49 S0C6: Berserk - 2182
MMX:U49 S0C7: A Triumph Before the Disaster - 2182 to 2186
MMX:U49 S0C8: The Chosen Heir - 2187 to 2188
MMX:U49 S0C9: Ineluctable Demise - 2188
I'll control myself to not put too many details in the backgrounds for this arc so I can finish them as soon as possible. With everything ready and without too many interruptions, I'll try to finish this arc in less than month. That means Season 2 will start around August and, with luck, end before 2017.

[2016] Mar 30
- Still with problems about continuing the series, but I was able to update almost all the articles in the wiki after spending some weeks there, go read there if you're interested. Also, check the
Submit Your Maverick
post if you're wanting to give me a hand.
[2016] Mar 02 - My computer has received an upgrade and now I have the double (8GB) of my older memory. No more out of memory issues with Paint.NET. Yay. This week my third grade of high school started and I can't stay up late anymore, my energies will easily run out, added with the lack of motivation and discouraging amount of work to do for the next arc. If I jump directly to Season 2 and leave the prequel arc for later I'll have the same amount of work, but not the same kind of work.
This might be a hiatus.
I'm still updating the wikia.

[2015] Dec 13
- Prototype Chapter 16 is finished a total of 18 pages. It hurts to think that I'll have to redo everything, but at least will be fast since I already know how everything will happen, what sprites to use and etc. I won't need anything for Chapter 18, but for 17 it will be necessary around 4 backgrounds and a few new sprites, this one will be made in the final version at first.
Here's a preview (no relevant spoilers).
[2015] Dec 5 - Updated a few pages in Chapter 4,12,13 and 14 to fix an error in Snacman's sprite. The pages for the next three chapters are being made in prototype versions so I can make sure everything will be schematized and also if I'll need any more sprites. Chapter 16, 17 and 18 will start to be posted in the next weekend.
[2015] Nov 29
-
A new logo for the comic
has been made anc the old one has been replaced in most of the media sources. The banners from the 15th chapter onwards will have this new logo and the 90 pages before may be update someday.
[2015] Oct 17 - The 14th Chapter will be delayed, at this point the backgrounds were supposed to be finished but I spent the last three days writing a complete timeline for the story, beginning in the 2170's to the end, the whole file has more than 15 pages and it's all in portuguese for now. I'll translate everything when I finish the 1st Season (probably next month) and post a version without spoilers here and in the Wiki, then update as the comic progresses.
[2015] Sep 13 - Going to make a mass edit of the first dozens of pages to reduce the size of the fonts and fix minor errors... prepare your inboxes.
[2015] Aug 27 -
The Wiki has been updated with info of the 9th, 10th and 11th chapters, check the whole update note by
clicking here
.
[2015] July 2 - The Wiki has been updated with info of the 7th and 8th chapter, there is still one article missing but I'll write everything at once when I finish the 10th chapter.
[2015] June 7 (2):
As I've increased a lot my CSS skills, I've made a new skin for this journal, reusing some stuff I've made for the
Smack Jeeves
site skin. Also added the synopsis that was missing for some reason.
[2015] June 7 - The wiki has been updated with info of the 4th chapter, go check it if you're interested.
[2015] June 2 - Finally gathered all the seven dragon ba-- I mean, the remaining parts and now I'm back with a computer twice as potent than it was before Paint.NET exploded my memory. I'll be working RIGHT NOW to continue Mega Man X: Unit 49 with everything I have!
[2015] April 6 - Got my computer back, but half of its memory is gone. Finishing this chapter will suck, since with 4GB of RAM I was still having difficulties. Hang on.

[2015] April 3
- Due to recent problems with my computer, the comic will have a break of around four days or more, I'll update this journal again if I'm able to return before.
"Mega Man Unidade 49" was my project of Mega Man X game since I was 6 (more than 11 years ago), I realized later that I couldn't make a game of it with my skill at that time, so I started to make the comic in April 2010. You can read the old version
here
, but it is in portuguese (
very
bad portuguese btw, good luck).
For various reasons, I was slowing the production due to lack of ideas and time, and stopped it once for all in the 57th page in 2013, year that I managed to make only one and a half page.
In the first days of 2014, I began to remake the comic, with a enhanced story. However, I had to halt the production once again due to two sprite comic tournaments.
After winning both
Nitrusland Escape
and
World Spriter's Tournament
, I was finally free to return to my personal projects. I realized that I had evolved a lot during that period, and I would not like to make another style change in my comic. More importantly, I had developed a more critique view and realized the plot was not well planned and decided to erase everything once again.
Since January 2015, I'm making the definitive version of this story, this time putting an actual effort in researches and taking all the cautions to prevent the plot from conflicting with the canon and expanding the lore of Mega Man X. This time I'll continue the story until something forces me to stop once again, but I don't plan to leave it unfinished.
If you are interested, here is
a text about how I write my comic
.
You can check this journal once a week to see if there are new pages or watch me, or follow the comic in its
Smack Jeeves site.
Have a character of yours in the Neo Maverick Army! Check the rules below.


Mavericks already sprited:

Timeline (may contain spoilers)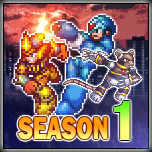 Chapter 1: Earth's Army
Page 1
Page 2
Chapter 2: Hunter's Call
Page 1
Page 2
Chapter 3: The 49th Unit
Page 1
Page 2

Page 3
Chapter 4: Parade
Page 1

Page 10
Chapter 5: Eerie Changes

Page 1
Page 2
Page 3
Chapter 6: Nightly Torments

Page 1
Page 2
Chapter 7: Briefing

Page 1

Page 2
Chapter 8: The Siege Begins!
Page 1
Page 4

Chapter 9: Reception Hall

Page 1
Page 2
Chapter 10: The Sewers
Page 1
Page 11
Chapter 11: Cat and Mice

Page 1
Page 13
Chapter 12: Factory Problems
Page 1
Page 9
Chapter 13: Forgotten Monstrosity
Page 1
Page 5
Chapter 14: Royal Blockades
Page 1
Page 14
Chapter 15: Birth of a Plagiarist

Page 1
Page 2
Chapter 16: Orchestra of Lights

Page 1
Page 18
Chapter 17: Chain Vengefulness
Page 1
Page 10
Chapter 18: Shattered Shine

Page 1
Page 7

Chapter 19: The Evil Settles Up

Page 1
Page 2
Page 3
Page 4
Page 5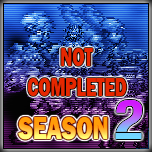 Chapter 1: Unsealing the Past

Page 1
Chapter 2: Troublemaking Prodigy
Page 6
Chapter 3: Ms. Roemer

Page 1
Page 4
Chapter 4: Awareness

Page 1
Page 5
Chapter 5: Loop of Meanings

Page 1
Page 4
Chapter 6: Berserk

Page 1
Page 16

Chapter 7: A Triumph Before the Disaster

Page 1
Page 6
Chapter 8: The Chosen Heir

Page 1
Page 8
Chapter 9: Ineluctable Demise
Page 1
Page 15
Page 25
Chapter 10: Pawns of Sacrifice
Page 1

Page 6
Chapter 11: The New Hands

Page 1
Page 9

Chapter 12: One Step Ahead

Page 1
Page 2
Chapter 13: Unpleasant Synchrony

Page 1
Page 13
Chapter 14: Global Turmoil
Page 1
Page 13
Chapter 15: Disturbances

Page 1
Page 13
Enjoy the reading!