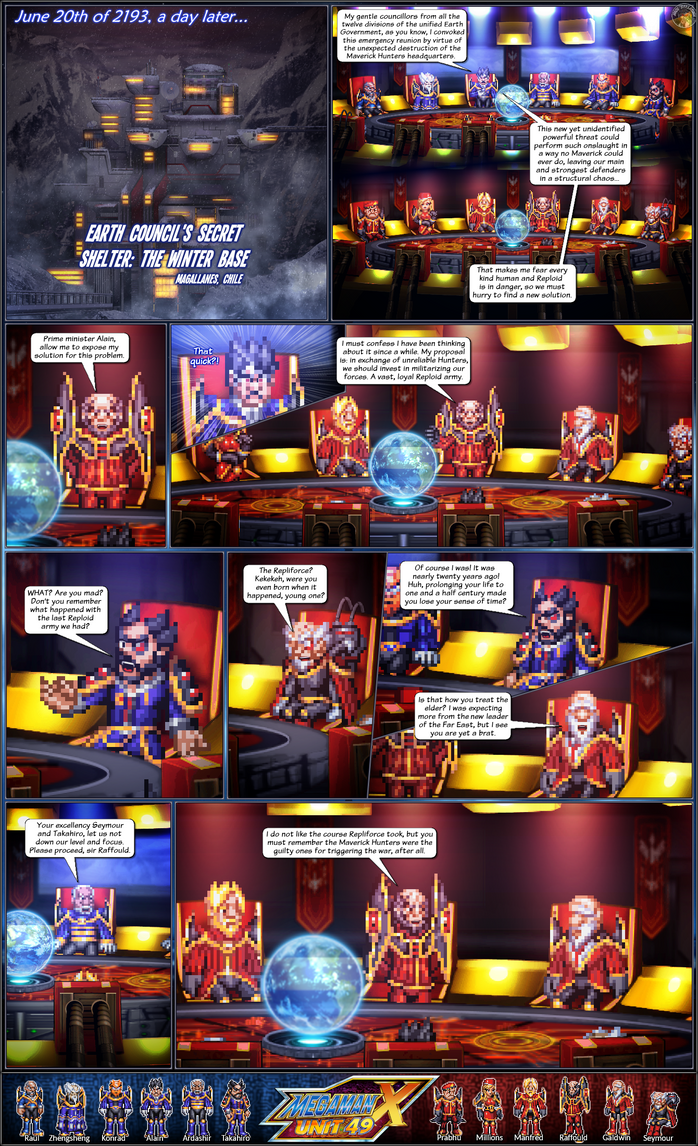 Watch
Update 3 (22 Aug 2017):
The entire page has been redone, including dialogues, background and sprites. Some of the Council member have been exchanged for new ones.
Old page here.
Update 2 (18 Apr 2016):
Updated the image of the Winter Base. Now the quality of the background doesn't fit with the rest of the page LOL
Update (13 Sep)
: Reduced the size and updated the font and fixed minor errors.
One day after the "Doomsday", Earth's leaders reunite in a base hidden in the mountains.
Navigation:
Previous Page
Next Page
Main (Journal)
Credits:
Mega Man X and all of its characters belong to Capcom.
I do not own any of the official arts/sprites/backgrounds used in this comic, if they are present in this page. They're Capcom's ©.
Textures from X8 were ripped by Sprite's INC.
Special thanks to The Mega Man Knowledge Base.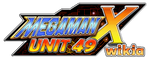 Check the MMX:U49 Wiki by clicking here!

Update (13 Sep)
: Reduced the size and updated the font and fixed minor errors.

I thought Seymour was Dr. Weil for a sec lol
Reply

GRAMMAR NAZI MODE ACTIVATED!!!

"Yesteday"

"Secutiry"
Reply

I've read that word several times in this page and never noticed it, LOL
For some reason, my brain reads some words correctly even when there are typos, and that's why I had to fix minor errors and update at least 1/5 of all the pages of this comic ._.
Reply

Is there a significant reason why there's two groups of color interest?

Republican and Democrats?
Reply

Well, kind of. I won't get get into much details, the red ones try to keep everything under their control and don't trust the Maverick Hunters or any non-government organization. The blue ones think humans and reploids are equal and try to make things in the peaceful way, just like X in X7.
Reply

Sooo.......Do you have any particular plans for pairings like AliaxMegaman X

And maybe a little of ZeroxLayer....?
Reply

For the disappointment of many, I don't think romantic pairs will make any relevance in this story, since it's in a tense situation. It doesn't mean there won't have a bit, for the sake of the fandom.
Reply

did you designed that background?
Reply